Who's ready to talk nerdy?
The time has come for Comic-Con 2017, a four-day gathering for film buffs, TV junkies and pop culture fanatics alike to come together in celebration of their favorite entertainment properties. 
Gone are the days when the annual event only promoted the latest and greatest in the comic book world. Now, major Hollywood movers and shakers make their way to San Diego with a treasure trove of trailers, first looks and BTS insight. Plus! All. Those. Celebrities. 
Attendees wait hours to snag a seat at the many Comic-Con panels scheduled over the long weekend, which guarantee plenty of A-list appearances. (Ryan Gosling, anyone?) So without further ado, we present a small handful of all the hubbub to look out for.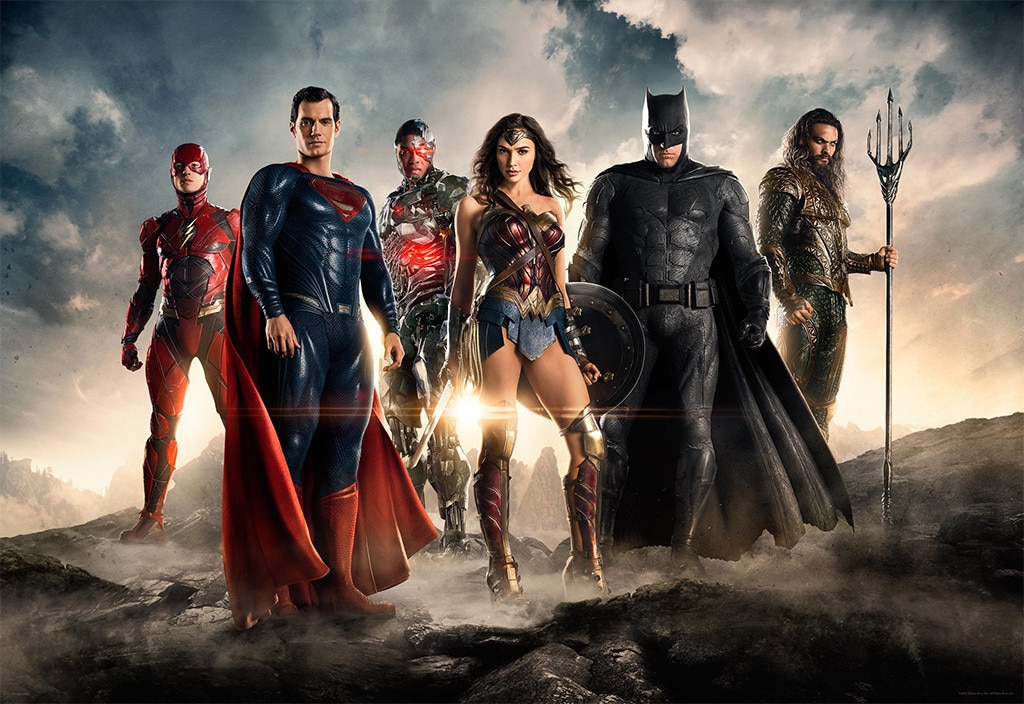 DC Entertainment / Warner Bros. Pictures
1. Have No Fear, Justice League Is Here: Without a doubt, all eyes will be on Warner Bros.' scene-stealing presentations thanks to the buzz surrounding Justice League and Blade Runner 2049. DC Comics diehards will fawn over the star-studded cast of Justice League, as Ben Affleck, Gal Gadot, Jason Momoa, Ezra Miller and Ray Miller are expected to unveil a never-before-scene look at the upcoming flick. 
Additionally, Ryan Gosling and Harrison Ford will step out in support of the sequel to 1982's Blade Runner. We expect Warner Bros. to deliver big on the buzz surrounding their panels. 
2. Marvel Mania: It simply wouldn't be Comic-Con without content from the brilliant minds at Marvel. As per usual, they've kept their panel itinerary completely hidden from eager beavers, but that hasn't quieted speculation. With Thor: Ragnarok's Nov. 3 premiere date right around the corner and Black Panther hitting theaters early next year, it would make sense for Chris Hemsworth and Chadwick Boseman to show up. 
Then there's The Defenders, Netflix's latest collab with Marvel characters comprised of Jessica Jones (Kristen Ritter), Luke Cage (Mike Colter), Iron Fist (Finn Jones) and Daredevil (Charlie Cox). Hall H is the well-known venue for their Friday afternoon panel, so mark your calendars.
3. Nickelodeon Nostalgia: Retro is in these days, and Nick is taking advantage. The network is bringing back its most popular animated shows in a huge way: reboots on reboots on reboots! Ticketholders will experience Rocko's Modern Life, Hey Arnold!, SpongeBob SquarePants, and Teenage Mutant Ninja Turtles in immersive booths at Comic-Con, like actually stepping inside SpongeBob's pineapple home. 
There will also be four separate panels dedicated to teasing the series' upcoming revival projects. SpongeBob SquarePants: The Legend of Boo-kini Bottom? We're in!
4. Something Strange This Way Comes: As the second season of Stranger Things looms closer than ever, the Netflix show's beloved cast and the super impressive creative team will make their Comic-Con debut with a panel sure to knock viewers' socks off. Plus, head over to the "Netflix Experience" booth at the Hilton Gaslamp for a virtual tour of the Upside Down. 
5. Welcome to Westworld: Yet another highly-awaited event is the panel for HBO's stunning drama. Westworld raked in seven nominations for the 2017 Emmys, so it's no wonder most of the cast is expected to arrive with a few juicy secrets from the next season. 
Very little has been released thus far about the twisty mystery, so here's hoping Ed Harris, Luke Hemsworth, James Marsden, Thandie Newtonand Evan Rachel Wood come with the goods.
Check back into E! News throughout Comic-Con 2017 for must-see updates and exclusive content!