Chelsea overachieved to win the Premier League but the problems are mounting up for Antonio Conte, says Jamie Redknapp…
It's a strange situation at Chelsea. They had so much success last year and won the league but you can see there's a lot of friction there now.
It's almost mirroring the 2015/16 season, when Jose Mourinho was in charge. Back then they were defending champions but from the opening day draw at home to Swansea you could tell something wasn't right. Mourinho wasn't happy with their transfer dealings, like Conte now.
The only difference is, so far, Conte has managed to hold it together better than Jose did, with Chelsea sliding down the table that season.
The truth is, Conte did a great job to win the league last year with this Chelsea squad. It wasn't quite of Leicester City proportions but he coached that team to the title. They overachieved.
He realised he had to do it a different way after that defeat by Arsenal which sparked the formation change, and that's what I admired so much about it. You almost went to the games to watch him as much as the team at times, because he was so influential in how they played.
But there's no doubt, when you go to watch Chelsea now, he's much more passive than he was last year. He's not given up but he's not on it like he was last season.
There has been talk about him getting the sack and returning to the Italy job recently, but I hope he sticks with it at Chelsea because he deserves a bit of respect for what he's done there.
However, if they have many more results like that heavy defeat by Bournemouth, you wouldn't bet against the board making a change. You can imagine Guus Hiddink getting his suit out of the wardrobe!
But, really, who would you get? Who is better than Conte who's available? These top managers are hard to find.
Turmoil seems to suit Chelsea, though. It doesn't seem to bother them. And the truth is, it works for them. It's a common theme that has bred success there.
Another recurring pattern we see is that when these Chelsea players go, they go. Just ask Mourinho.
Worryingly for Conte, Chelsea seem to have lost that siege mentality they so often have. Mourinho first brought it to the club in his initial spell and it became a trademark of the team.
But watching them against Arsenal in the Carabao Cup semi-final second leg last month, Eden Hazard was fouled time after time and not once did I see a Chelsea player go to the referee to try to protect their man. It seems like they've become too nice.
It used to be win at all costs at Chelsea and I admired that streak in them. But right now, there's no aggression, no nastiness in that team. That's what you need to win titles – although perhaps Manchester City might be the exception to the rule this year. But go back through Premier League winning teams and they all had it, even Arsenal's Invincibles.
That leads on to Diego Costa and what a loss he's been for Chelsea this season. You don't want to keep harping on about what you haven't got but they do miss him. The trade, selling him and bringing in Alvaro Morata, hasn't really worked.
Costa was an animal for Chelsea. He typified what they were about: he was horrible, nasty to play against but also a winner and a very good player.
John Terry is also missed. Whether he played or didn't last season, he was still influential in getting that dressing room going. Chelsea could do with those big characters now. Sure, Costa will have been a nightmare to train at times, but he would have turned some of their defeats and draws this season into wins.
Another factor, of course, is the spending power of teams like Manchester City. When Roman Abramovich first took over at Chelsea, they were able to write down who they wanted to bring in and then bully the market to sign those players. Now they're the ones being bullied by big-spending sides like Manchester City. It's harder to compete now and it's harder to land those blue-chip players.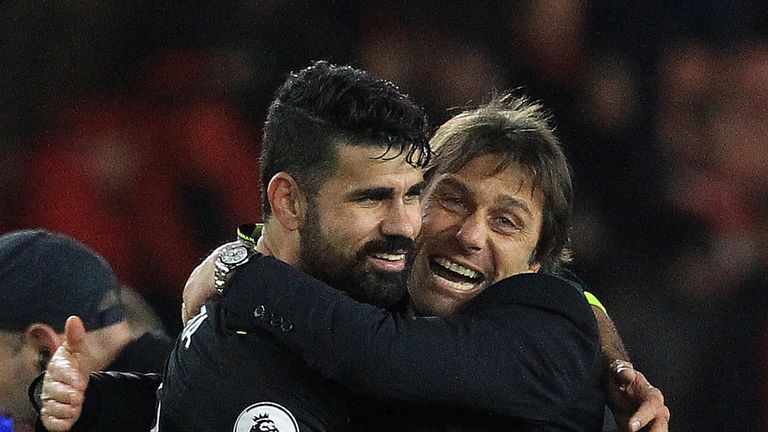 I said a couple of months ago, my two to miss out on a top-four place are Arsenal and Chelsea – and I stand by that. It can so easily change but at the moment you'd say those two are in danger.
So what does Conte do? I think he needs to focus on the football and stop talking too much about the problems. He's got to work harder on the training ground and get back to doing what he does best: getting those players ready to win football matches.
This pressure that's mounting on him, it will ease if they can string some wins together and, right now, he needs to get out of the firing line.
Chelsea travel to Watford on Monday night and it won't be easy for them at Vicarage Road, where Javi Gracia will be taking charge of his first home game. There's the hangover effect of that Bournemouth defeat, too. But this is where you need the big characters.
They have to stick together as a team and say 'that's not happening again'. The problem is, recent history suggests this group of Chelsea players need a new manager in before they pick up again.
Also See:
Arsenal should be targeting Anthony Martial rather than Henrikh Mkhitaryan – Charlie Nicholas
Gary Neville criticises Pep Guardiola for naming only six substitutes against Burnley