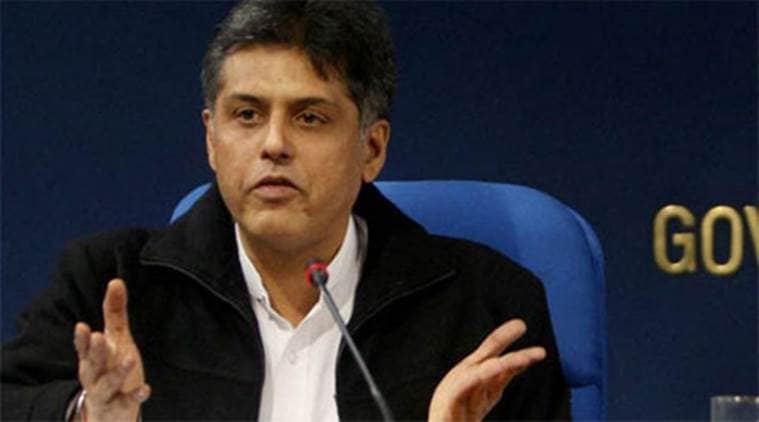 Congress leader Manish Tewari. (File)
FORMER UNION Minister and Congress leader Manish Tewari on Sunday said that the Chandigarh Police diluted charges against Haryana BJP president Subhash Barala's son Vikas Barala even when after Nirbhaya's case in 2012, a panel under the UPA Government had amended Section 354 of the IPC to ensure that offenders face stringent action.
Tewari was a member of the panel as minister of information and broadcasting along with former union ministers Kapil Sibal, Salman Khurshid, P Chidambaram, Ashwani Kumari and two others.
"After Nirbhaya's case, the UPA government had constituted a committee under the late Chief Justice J S Verma to recommend how laws for women's safety could be made more stringent. Subsequently, a group of ministers on the panel had made recommendations for special amendments to the IPC by adding specific sections to punish eve teasing, molestation, stalking, even staring at women in an obscene or ominous manner," Tewari told Chandigarh Newsline.
The Congress leader said that the UT Police could have invoked all relevant sections so that the accused couldn't have walked free. "Instead, they diluted the matter which could have been potential abduction with an intent to rape or murder — that is what the victim alleged. Had the policemen invoked Section 354-D read with attempted abduction with intent to rape and that too when those men were in a drunken state, they wouldn't have been released on bail," Tewari added.
However, the former minister lauded the police for acting swiftly. "The way the PCR acted on time is commendable. How the sections have been dropped indicates that there was political pressure. There should be a probe as to who called up the Chandigarh Police for dropping important charges," Tewari said.
Reacting to Haryana Chief Minister Manohar Lal Khattar's statement, Tewari said that the BJP leaders used to speak in a different tone at the time of Jessica Lal's case.
"I am sure that the Punjab and Haryana High Court would take suo moto cognisance of the matter since this happened in a city where all VVIPs — judges, senior bureaucrats — stay. It is shocking that this happened in a city which is considered to be the safest city in the country," he said.
Takes a dig at MP Kirron Kher
Former union minister and Congress leader Manish Tewari said MP Kirron Kher "did not speak a word" on the issue despite being a woman MP. "The MP and her husband Anupam Kher are in the habit of commenting on small issues but did not say a word on this issue," Tewari said.
However Kher said, "He should react to the incident and not try to pull me into everything. His greed to fight from Chandigarh makes him blind to the good work being done for everyone here. The incident with the young girl is unfortunate, should not happen to anyone. And we must never play politics with a woman's dignity, be it the young girl or the woman MP of Chandigarh."
For all the latest India News, download Indian Express App