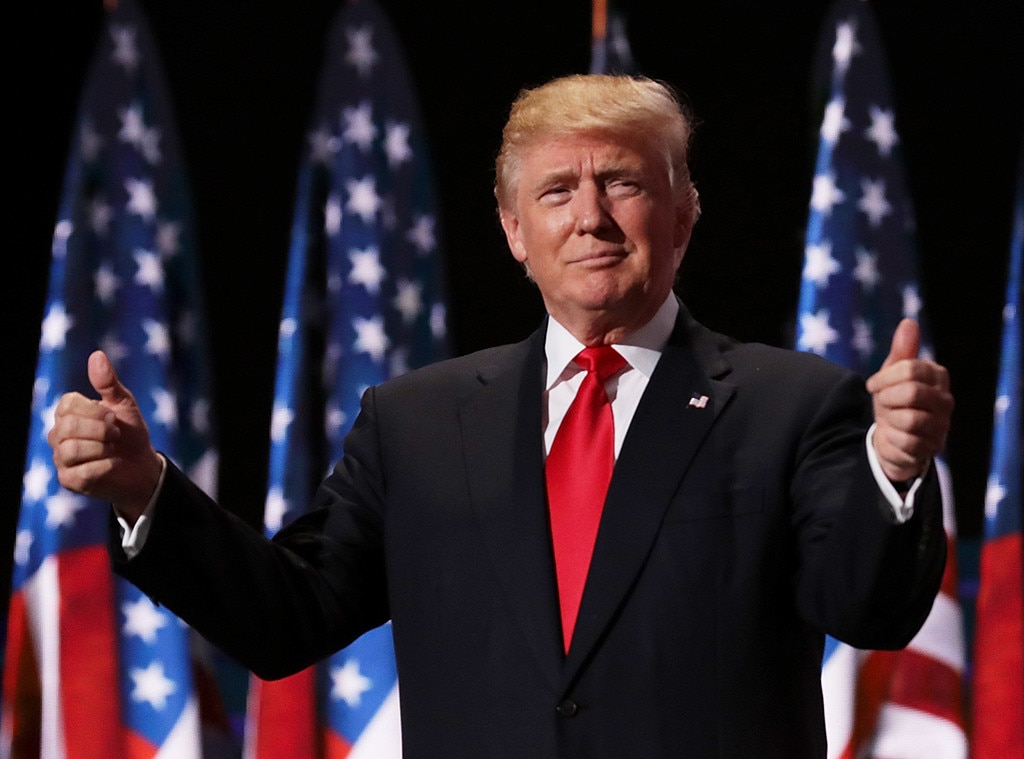 Chip Somodevilla/Getty Images
At midnight, President Donald Trump tweeted, "Despite the constant negative press covfefe."
The nonsensical tweet quickly became one of the commander-in-chief's more popular posts of the year. About six hours later, the president deleted the message and poked fun at his viral Twitter typo, writing at 6 a.m. ET, "Who can figure out the true meaning of 'covfefe' ??? Enjoy!"
Needless to say, celebrities had a field day on Twitter:
When they go low, we covfefe.

— billy eichner (@billyeichner) May 31, 2017
Really bummed he beat us to the chase but, #Covfefe is the villain in Frozen 2.

— Josh Gad (@joshgad) May 31, 2017
No, there is no sign for #covfefe. But I sure wish there was! ?

— Marlee Matlin (@MarleeMatlin) May 31, 2017
I'm gonna try and go back to sleep now. Everyone stay #covfefe

— James Corden (@JKCorden) May 31, 2017
Y'all I don't have what it takes to even laugh at Covfefe

— Lena Dunham (@lenadunham) May 31, 2017
"If you ever need KGB extraction team to get you out of White House Agent T, just Tweet out 'covfefe.'"

— Patton Oswalt (@pattonoswalt) May 31, 2017
I like that we all quickly googled covfefe just to make SURE first.

— Kal Penn (@kalpenn) May 31, 2017
It's happened! #Covfefe has united everyone from all across the world. To laugh and live as one.. Basically Covfefe is trumps nightmare

— Ruby Rose (@RubyRose) May 31, 2017
what makes me saddest is that I know I'll never write anything funnier than #covfefe

— Jimmy Kimmel (@jimmykimmel) May 31, 2017
Donald's tweet inspired at least two parody accounts: Covfefe the Strong (@CovfefeS) and The Wizard Covfefe (@CovfefeW). The president returned to his normal Twitter routine later in the morning, slamming Democrats over the probe into Russia's alleged involvement in the election.
Nine months ago, Today's Matt Lauer asked future First Lady Melania Trump which habit she hoped Donald would break. "Let's see," the model said, pausing for a moment. "The tweeting."
Kathy Griffin, wisely, decided not to join her peers in mocking the tweet. On Tuesday, the comedienne came under fire for participating in a photo shoot that featured her holding up a severed head resembling Donald. She asked photographer Tyler Shields to remove the images. "I'm a comic. I cross the line. I move the line, then I cross it. I went way too far," Griffin said later. "The image is too disturbing. I understand how it offends people. It wasn't funny. I get it."
(E! and NBC are both members of the NBCUniversal family.)