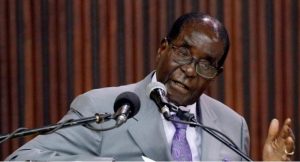 A cash shortage in Zimbabwe has forced people desperate for money to camp along pavements, sleeping in what are bank queues as they wait to access their savings.
Zimbabwe is short of dollars due to its moribund economy. Cash shortages in the last 12 months have seen banks impose daily maximum withdrawal for most Zimbabweans of sometimes as little as 50 U.S. dollars per day.
People sleeping outside in the cold and with limited options for toilets say they have been left with few choices.
"The situation is terrible we have to brave the chilly weather because we have no option but to sleep here at the bank hoping to get cash in the morning. It's bad," said Harare resident, Godfrey Nyangani.
"How can I pay school fees, pay rent, feed my family with 30 US dollars. Besides, landlords don't have swipe machines they want their money in cash so we end up sleeping here hoping to get cash. I have been sleeping here for the past week," said Andrew Brown, another Harare resident.
Banks in the country close at 3 pm on weekdays and about noon on Saturdays.
Customers who don't make it to the teller before the close of business are forced to wait in line until the next day.
The southern African nation last year introduced bond notes to ease the cash shortage but the International Monetary Fund says Zimbabwe needs comprehensive reforms instead, to address the problem.
Shortages of foreign currency and cash have hit consumer spending, with businesses struggling to pay for imports and repay foreign loans.
Some businesses, especially those importing goods, are now offering discounts on cash purchases in U.S. dollars while charging more for mobile or card transactions.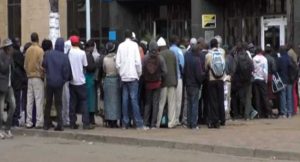 Nelson Banya is an economic analyst based in Harare.
"The crisis is basically a crisis of confidence in the economy in general and the financial sector, the banks in particular and this is shown by the dearth of new cash deposits into the system.
"The financial system does say in terms of official figures that they are sitting on 6 billion dollars in deposits but anecdotal evidence points to the fact that there is very little if any physical cash deposits going into the system, so what you have and that is then manifesting in the long lines that refuse to go away. People are simply drawing cash out from the system," he said.
Zimbabwe abandoned its own hyperinflation-hit currency in 2009 in favour of the U.S. dollar, but a widening trade deficit, lack of foreign investment and a decline in remittances by Zimbabweans abroad have helped to fuel foreign currency shortages.
Reuters