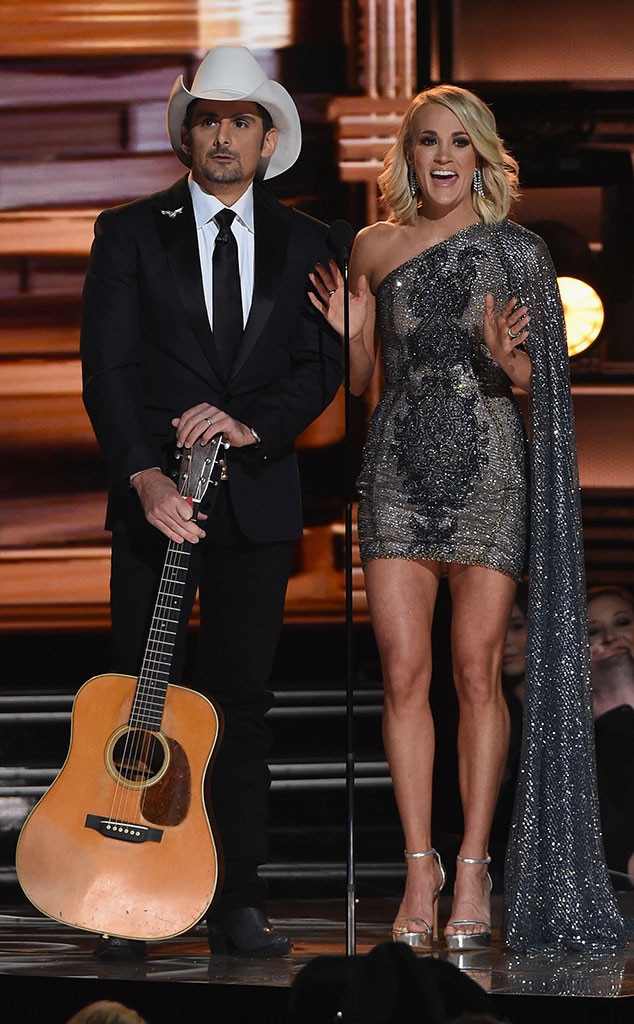 Rick Diamond/Getty Images
Yee-haw!
Carrie Underwood and Brad Paisley are teaming up yet again to host the 51st Annual Country Music Association Awards for the 10th straight year. The event will be hosted at Nashville's Bridgestone Arena on ABC on Nov. 8.
Country star Vince Gill has hosted the show the most amount of times, a whopping 12 times, fronting the show from 1992-2003.
Along with the announcement, the Country Music Association posted a photo of the twosome with the caption, "So excited they're back! @BradPaisley & @CarrieUnderwood are returning to host their 10th consecutive #CMAawards on Nov 8!"
Paisley, who has claimed 14 CMA Awards, including Entertainer of the Year Award, sat down with Billboard to reflect about the big announcement. 
"Well, it's extremely flattering, and for me, I take it seriously, and doing a good job means a lot to me personally. Every year we have figured something else out that would make it better for the next year, so I think we've been able to improve on our performance each year," said Paisley. "But simply, just the fact that the CMA asked us again, I am very flattered and honored."
As for how things began all those years ago with Underwood, the 44-year-old said, "You know, when [the CMA] first asked, it was pretty late. I think it was in August, as I remember, so my first thought was that someone must have turned them down. But seriously, I believe that show producer Robert Deaton had the original vision that we'd be good together."
The "Remind Me" singer said that their relationship has evolved over the years and has only added to their strength as hosts: "I think that over the years, Carrie and I have not only grown into our roles, but that we have also slipped into our individual characters. The time has helped us to complement each other and build a chemistry together."