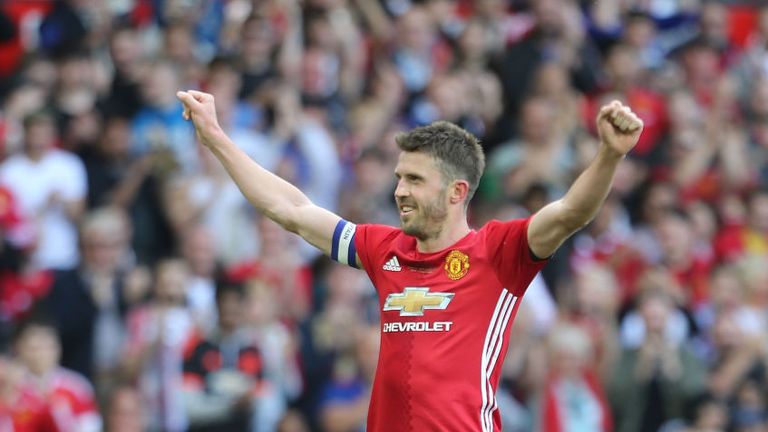 Michael Carrick is the new Manchester United captain
Michael Carrick has been named Manchester United's new captain following Wayne Rooney's departure.
The midfielder, who has made 479 Premier League appearances and has 34 England caps to his name, was revealed as the club's new captain in a tweet posted from the club's official account.
The 35-year-old, a five-time Premier League winner with United, joined from Tottenham in July 2006 and has been a key figure in the club's success, securing a host of silverware during his 11 years at Old Trafford.
Gary Neville thinks Manchester United need a holding midfielder – and Chelsea's Nemanja Matic would "fit the bill".
Carrick has claimed the Champions League, FA Cup and FIFA Club World Cup during an illustrious career and hosted his testimonial last month to celebrate his 11 years at the club.
Speaking of his delight at becoming club captain, he told MUTV: "It feels great. It's such a huge honour to captain such a great club. It's my twelfth year now and I came as a 25-year-old and never thought I could be here this long and be able to achieve so much.
"To now try and lead the boys and look after the young boys, to try and guide them in some way, is a nice thing to be. It's a real pleasure.
"I came to this club as a footballer and I'm now a huge fan. I've grown to love this club over the years and to be in this position is very special for me."
Carrick stressed he has no intentions of changing his character for the role and admitted he has a laid-back approach.
Romelu Lukaku has taken part in a Manchester United training for the first time since his 75 million pound transfer from Everton.
"I will just be myself. You can't change. It's wrong, I think, to suddenly become a new role and to change, shouting and screaming at everyone telling them what to do. I'm not like that," he added.
"I'll obviously speak when I need to speak but I'm quite laid-back and chilled out really, trying to lead by example if I can."