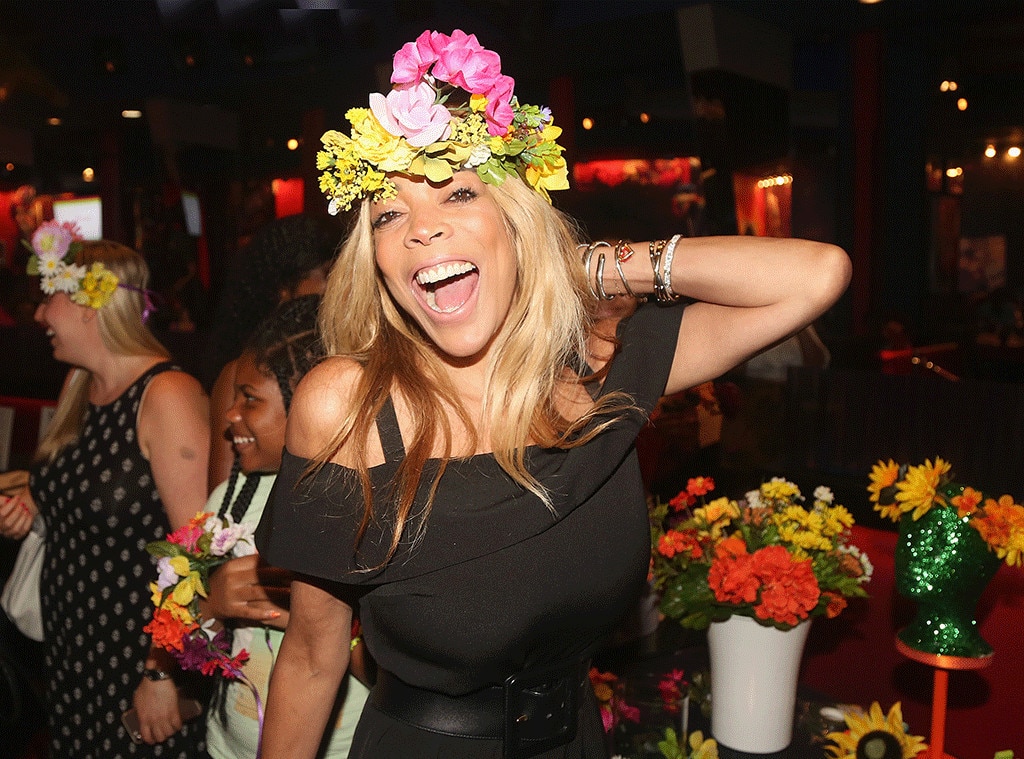 Bruce Glikas/Planet Hollywood
When you say it like you mean it, chances are you're going to make some noise.
For Wendy Williams, it's given her the opportunity to deliver "Hot Topics" to millions of viewers for nine straight seasons on The Wendy Williams Show.
Whether it's discussing Mama June's weight-loss surgery, recapping last-night's Real Housewives episode or analyzing the latest feud, no topic is off limits for Wendy and her co-hosts who aren't afraid to express themselves in the audience.
As Wendy celebrates her birthday today, we decided to take a look back at just some of the moments on The Wendy Williams Show that created headlines of their own.
Regardless of if it's a tense interview, jaw-dropping opinion or a touching surprise, you just never know what to expect when Wendy asks: How you doin'?
[youtube https://www.youtube.com/watch?v=MsPvGmajaS8?rel=0&wmode=transparent&w=560&h=315]
Wendy vs. Omarosa: In one of the earliest seasons of the show, Wendy invited Celebrity Apprentice contestant Omarosa Manigault to the show where things got real tense real quick. "Did you have a nose job?" the reality star asked. Wendy would admit to Botox before suggesting her guest get some Restylane to fix her wrinkles. "They say good black doesn't crack; it's cracking," she said before thanking her for coming on "MY show." Zing!
Weight Loss Journey: Once her show ends after 60 minutes, Wendy often appears on her official after show where she once revealed some personal news. During a Q&A video chat, the host shared with fans that she lost 50 pounds over the past three years. "This is as good as it's going to get," Wendy told E! News about her weight-loss. "I'm not gonna fight my body anymore, I've lost the weight, I feel fantastic."
Conversation or Confrontation: Wendy is always known to keep it real when she answers burning questions from audience members during "Ask Wendy." As for her celebrity interviews, she also always asks the questions viewers want answered. As a result, sometimes a buzzworthy discussion will follow. Back in 2016, Wendy and Alyssa Milano debated breastfeeding in public. "I don't need to see that because, I just don't want to," Wendy proclaimed. "Breastfeeding is only a particular amount of time, [but] the rest of your life, your breasts are sexual things." Alyssa added, "But biologically, they're not made for sexual things. That's what we've done to them."
[youtube https://www.youtube.com/watch?v=ZWOUxnJQ4LU?rel=0&wmode=transparent&w=560&h=315]
Tearful Tributes: While Wendy may joke that shade is her middle name, The Hunter Foundation supporter is the first to get emotional when it matters. Back in May, the host took a moment to pay tribute to Martyn Hett who was supposed to be in the audience for two shows. Unfortunately, the 29-year-old was killed in the Manchester attack outside of Ariana Grande's concert. "He saved for two years to have a fabulous time in New York and come to our show. He called it a 'trip of a lifetime' on his social media and he was really popular on Twitter and he had his own pop culture website and he's remembered as a man who loved life, like all my people, with passion, courage and laughter," Wendy shared through tears. "I spoke to his best girlfriend over in London and told her that I was doing this and she was floored. So Martyn, in honor of you, we're keeping that chair open."
[youtube https://www.youtube.com/watch?v=IIHHBnGX-_I?rel=0&wmode=transparent&w=560&h=315]
Down She Goes: How you doin' down there, Wendy? During her Sit Down Tour…Too Real For Stand Up comedy show in Houston, the talk-show host's misstep led to a pretty dangerous fall. "Shut the f–k up, okay? There's the fall that never happened!" she joked to the audience after the incident. "Put that on YouTube." Trust us, people totally did and she even created a "fall of shame" segment on her show.
Got Feuds?: While fans love that Wendy is honest, some celebrities appear to think otherwise. Over the years, the HSN fashion designer has found herself feuding with Kim Zolciak-Biermann, LeAnn Rimes, NeNe Leakes, Holly Robinson Peete and others. Ultimately, many of these disagreements end up with a peaceful reunion on the purple couch. After all, Wendy just wants to talk it out.
Find out when The Wendy Williams Show airs in your neighborhood by checking your local listings.