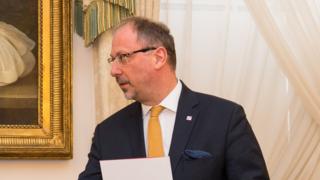 Poland's ambassador to the UK has written to 800,000 Polish nationals, advising them to "seriously consider" leaving the country after Brexit.
Arkady Rzegocki said living standards in Poland were improving, providing "a very good opportunity to come back".
He called on Poles living in the UK to secure their future by either applying for settled status there or returning.
Mr Rzegocki described the current number of applicants to the EU settlement scheme as "alarmingly low".
He wrote: "To date, around 27% of Poles living in the British Isles have applied for settled status.
"This is an alarmingly low level, meaning that thousands of Polish citizens may be exposed to complications related to the lack of regulating their status."
The Home Office said the EU Settlement Scheme application process is supposed to be "as easy as possible".
Minister Victoria Atkins said: "[EU citizens] are our friends, our neighbours, we want to make this as easy as possible."
She said the government had dealt with 1.1 million applications already, with another 300,000 currently being processed.
Mr Rzegocki said although a significant number of Poles remain in the UK, many are considering a return to Poland.
"Last year 116,000 left [Britain]. There are still about a million here but you can see there is a discussion being had," he added.
"Soon, Great Britain, which has been home to thousands of Poles for generations, will most likely cease to be a member of the European Union – which we regret, but we also see this process as an opportunity to strengthen the bond between our two countries," he said.
The most recent data from the Office for National Statistics suggests around 832,000 people born in Poland were resident in the UK in 2018, the joint highest overseas-born population alongside India.
EU citizens who are already living in the UK under EEA freedom of movement rules (rules for the EU countries and also Iceland, Liechtenstein and Norway) will have until 31 December 2020 to apply to the EU Settlement Scheme if the UK leaves without a deal.
The scheme aims to register an estimated 3.3 million EU citizens and provide them the right to continue living and working in the UK after 30 June 2021.