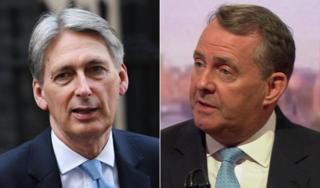 International Trade Secretary Liam Fox has refused to back Chancellor Philip Hammond's warning that a "no-deal" Brexit could damage the economy.
Speaking on the BBC's Andrew Marr show, he said: "This idea that we can predict what our borrowing would be 15 years in advance is just a bit hard to swallow."
Treasury analysis estimates that by 2033 borrowing would be around £80bn a year higher under a "no-deal" scenario.
It also forecasts no deal could mean a 7.7% hit to GDP over the next 15 years.
Asked by Andrew Marr whether he accepted the figures, Mr Fox said: "Can you think back in all your time in politics where the Treasury have made predictions that were correct 15 years out. I can't.
"They didn't predict the financial crisis. No-one could."
Pressed on whether he agreed with the chancellor, Mr Fox said: "I don't believe that it's possible to have a 15-year time horizon on predictions of GDP."
"So the answer's no," said Marr.
Divisions have deepened within the party in recent months as Brexiteers accuse Mr Hammond – who is seen to be pushing for a softer version of Brexit – of embarking on "another instalment of dodgy project fear".
Meanwhile, there is growing pressure on the prime minister to win support for her Brexit plan, known as the Chequers agreement.
The plan would see the UK agreeing a "common rulebook" with the EU for trading in goods, in an attempt to maintain friction-less trade at the border.
But critics say it will leave the UK tied to EU rules and prevent Britain from striking its own trade deals in years to come.
In his interview, Mr Fox said he was behind the Chequers plan and and could not imagine many things worse than remaining in the EU.
---
Analysis: Opponents target May's Brexit plan
By Susana Mendonca, BBC political correspondent
The prime minister may be promising to stand firm on no second referendum but that is not stopping opponents in her own party from gearing up to take down her Chequers plan for Brexit.
International Trade Secretary Liam Fox – who's stayed inside the PM's camp – has warned that there's no point in trying to unseat Theresa May because "changing the leader doesn't change the party arithmetic".
While David Davis, who resigned over Chequers, has suggested that the prime minister limited his influence over the negotiation process. He said while he was the Brexit secretary, whether he "controlled events" was "another matter".
Mr Davis has never been one to shy away from making his views known and now that he is on the outside of the tent – he will join the chorus of Brexiteers doing exactly that, as Mrs May heads into the final stretch before she does or does not get a deal on Brexit.
---
In an article for the Sunday Telegraph, Theresa May has insisted she would not be forced into watering down her Brexit plan during negotiations with the EU.
The PM wrote that she would "not be pushed" into compromises that were not in the "national interest".
But David Davis, the former Brexit secretary who resigned over the Chequers agreement, said the caveat – "except in the national interest" – was an "incredible open sesame to all".
Also interviewed on the Marr show, he admitted he would vote against Mrs May's plan in any Commons vote, saying it would be "almost worse" than staying in the EU.
Another Conservative MP, Nick Boles – a former minister who backed Remain – said the Chequers policy had "failed" and he could no longer support it.
Also writing in the Sunday Telegraph, he said the EU was treating the plan as "an opening bid", and the UK was facing "the humiliation of a deal dictated by Brussels".
In his interview, David Davis said concerns over maintaining a soft border between Northern Ireland border and the Republic had been "heavily overemphasised" in the past.
"This is a much more straightforward issue to deal with if we choose to, if we put the political will behind it, we and the Irish Republic, the two together," he said.
However he said he did agree with Mrs May that a second referendum should not take place.
In her article, she said it would be a "gross betrayal of our democracy and… trust" to "give in" to those calling for another vote.
Her objection to it comes as a movement pressing for another referendum – the People's Vote – continues to gather high profile backers, including Sir Patrick Stewart and BBC football anchor Gary Lineker – as well as donations.
One supporter, Labour MP Chuka Umunna, said the impetus had shifted toward a public vote over the summer and it would be a "betrayal of democracy" for Mrs May "to force a bad deal – or no deal – on Britain without giving the public the chance to have a final say"