[youtube https://www.youtube.com/watch?v=dxWvtMOGAhw?wmode=transparent&w=560&h=315]
Bow down to T'Challa!
ABC premiered the first teaser trailer for Marvel Studios' Black Panther during Game 4 of the NBA Finals between the Cleveland Cavaliers and Golden State Warriors. The sneak peek gave fans their first look at the blockbuster before the movie claws its way into theaters on Feb. 16, 2018.
"Black Panther follows T'Challa who, after the death of his father, the King of Wakanda, returns home to the isolated, technologically advanced African nation to succeed to the throne and take his rightful place as king. But when a powerful old enemy reappears, T'Challa's mettle as king—and Black Panther—is tested when he is drawn into a formidable conflict that puts the fate of Wakanda and the entire world at risk," Marvel Studios said in a press release. "Faced with treachery and danger, the young king must rally his allies and release the full power of Black Panther to defeat his foes and secure the safety of his people and their way of life."
Chadwick Boseman returns in the role of T'Challa/Black Panther; the character made his onscreen debut last year in Captain America: Civil War, where he initially went head-to-head with Captain America (Chris Evans) and other heroes, only to realize they're on the same side.
Before Black Panther hits theaters, here are five fast facts fans need to know: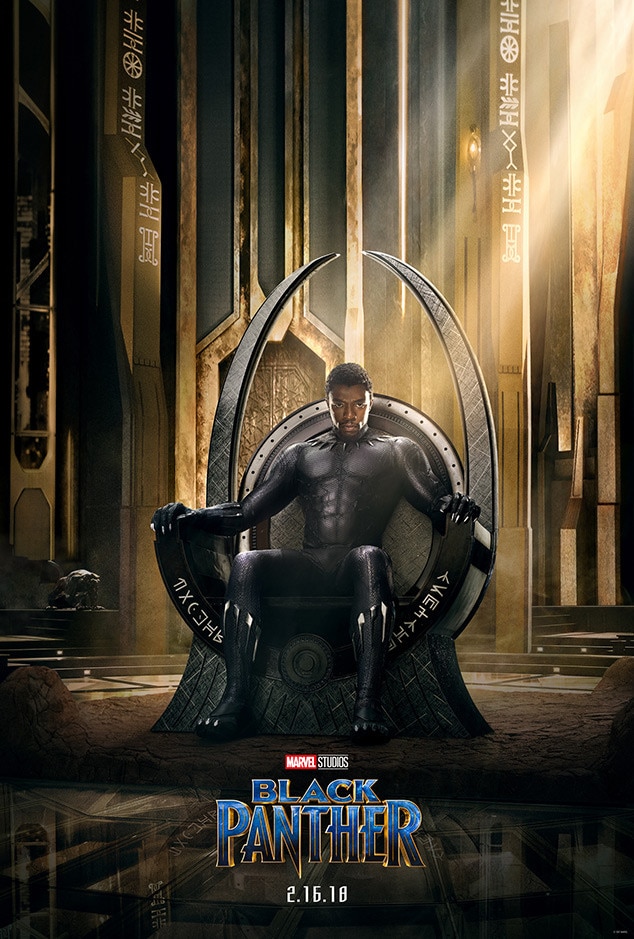 Marvel
1. Director Ryan Coogler Assembled an All-Star Cast
In addition to Boseman, Angela Bassett, Sterling K. Brown, Winston Duke, Martin Freeman, Danai Gurira, Michael B. Jordan, Daniel Kaluuya, Lupita Nyong'o, Phylicia Rashad, Andy Serkis, Forest Whitaker and Letitia Wright make up the ensemble cast. And don't be surprised if at least one other character from the Marvel Cinematic Universe pops up. After all, Black Panther will be part of Avengers: Infinity War, premiering just two months later May 4, 2018.
2. Black Panther Has Been in Development Since 1992
Wesley Snipes announced his intention to develop and star in a movie based on the comic book character 25 years ago. Various delays, ranging from script issues to Snipes' involvement in the Blade series, plagued the project until it was shelved indefinitely. At long last, in October 2014, Marvel Studios president Kevin Feige announced Black Panther would be released on Nov. 3, 2017, with Boseman in the leading role; the release date was later pushed back three months.
3. The Movie Is Set in the Fictional Nation of Wakanda
Good luck finding Wakanda on a map—it doesn't exist. To the uninitiated, the imagined African nation was created in 1966 along with the titular character. Principal production on the movie began on Jan. 21, 2017 at EUE/Screen Gems Studios and Pinewood Atlanta Studios. Additional filming took place throughout South Korea. Filming ended after three months on Apr. 19, 2017.
4. Ludwig Göransson Is Composing the Score
Coogler has worked with Göransson—a.k.a. Ludovin—twice before, on 2013's Fruitvale Station and 2015's Creed. His other movie and TV credits include Warner Bros.' Central Intelligence, Yahoo's Community, ABC's Happy Endings, Fox's New Girl and Warner Bros.' We're the Millers.
5. There Is No Sequel Planned…Yet
Marvel Studios has several films in the pipeline after Black Panther and Avengers: Infinity War, including Ant-Man and the Wasp (July 6, 2018), Captain Marvel (March 8, 2019) and an untitled Avengers film (May 3, 2019). Once Phase Three is over, two other movies—Spider-Man: Homecoming 2 (July 5, 2019) and Guardians of the Galaxy Vol. 3 (TBA)—have been announced. Beyond that, the film studio has not announced which—if any!—of its franchises will continue.