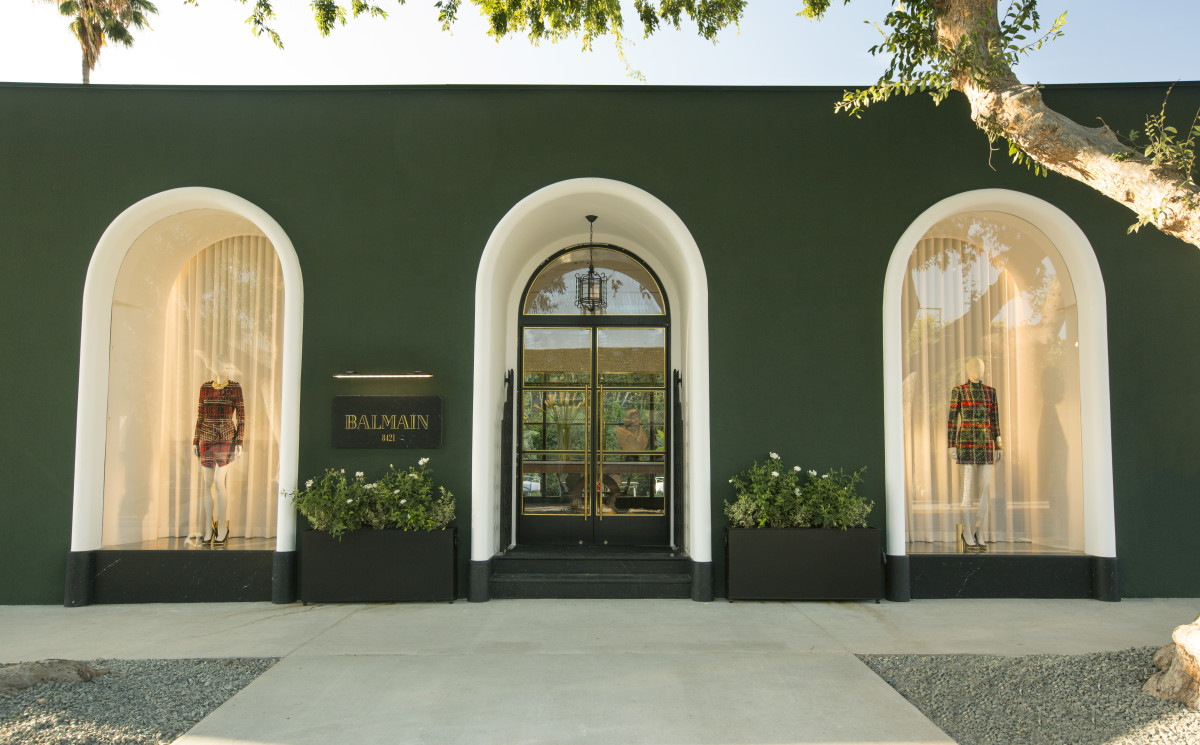 When we heard Balmain was opening its first store in Los Angeles, we were most surprised by the fact that the brand didn't already have one. When you think of European luxury brands who have embraced celebrity and popular culture, Balmain is among the first that come to mind, thanks to Creative Director Olivier Rousteing.
"I think LA is a symbol of the American dream," he told me on a sofa in the beautiful back patio of Balmain's new Melrose Place boutique Wednesday morning. "It's more than just opening a store; it's a celebration of all that I believed in." Rousteing has been obsessed with LA since he was a kid and gets inspired by the city's glamour and energy. "I feel really young and I do young things [when I'm here]," he said. "I was doing bonfires on the beach in Malibu, driving in the desert, so many things that make me feel like, not only a fashion designer, but a human being."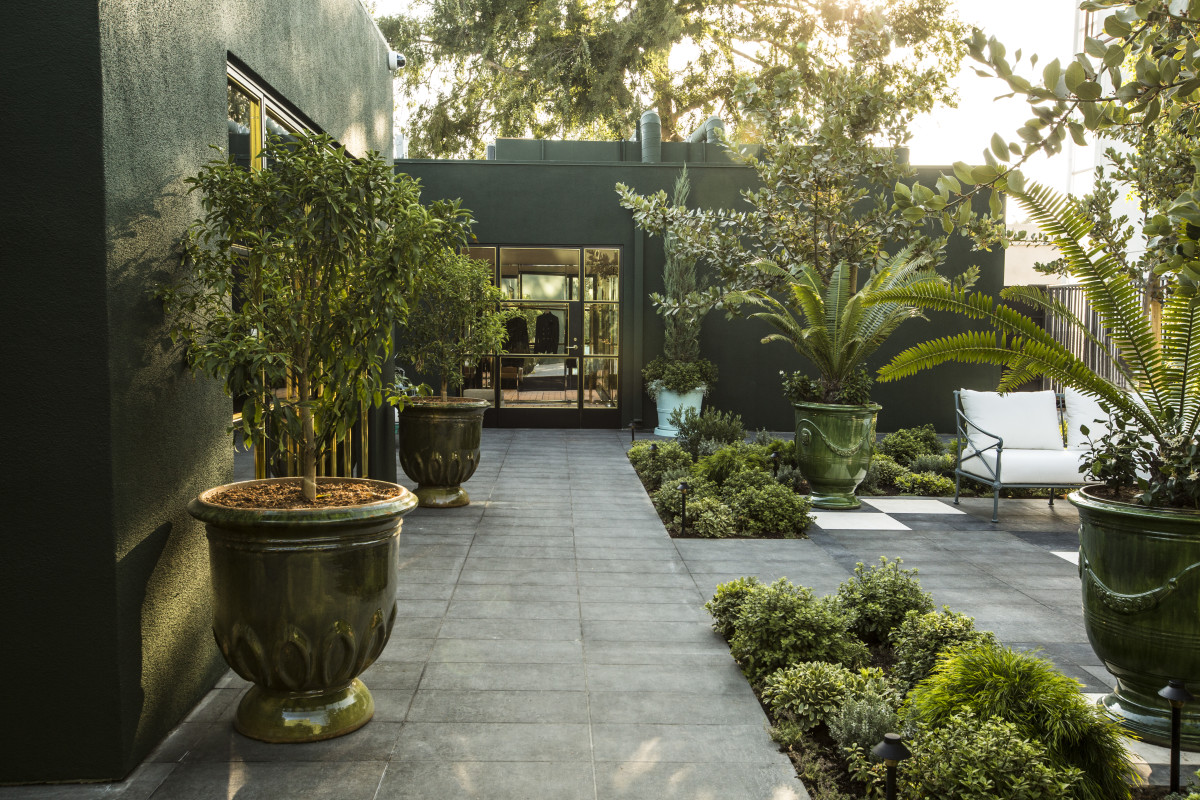 From the Kardashians to hip hop, Rousteing explained how he's been judged for, as the creative director of a luxury house, embracing certain celebrities and music from LA. But now, a few years later, fellow luxury fashion houses have become more infatuated with Hollywood than ever with brands like Dior, Moschino, Hermès, Louis Vuitton and more staging shows in Southern California in recent seasons. "So many choices that I did that have been inspired by LA that have been controversial at one point, and today, it's not, and I think it's funny to see how people change their minds," said Rousteing.
Rather than stage a full-fledged runway show — which he said he's open to doing in the future now that the store is open — Rousteing hosted a very LA party at a private residence in Beverly Hills, which we heard through the grapevine once belonged to Michael Jackson. In addition to the new store, the event also celebrated Balmain's new collaboration with Beats by Dre on a chic set of headphones — another example of Rousteing's ties to pop culture. Guests were invited to put on the headphones and listen to playlists compiled by Rousteing while exploring little activations on the property; one was set up to resemble a desert landscape, another to feel like a jungle. It was in the latter that I nearly bumped into Kim Kardashian taking a selfie.
"Kim has been such an inspiration for so many women," Rousteing told me that morning, discussing the success of Balmain's year-old line of very expensive kids' clothes, which has its own dedicated section in the LA store. "No matter what people say, the reality is when she started to dress North, it was really interesting to see how parents start to become really obsessed with [wanting] to dress their kids, as well."
Later in the evening there was a brief fashion show followed by a performance by Migos. Rousteing still refers to Balmain's circle of influential supporters as his #BalmainArmy, and members at this particular event included, in addition to Kardashian, Teyana Taylor, Hailee Steinfeld, Kate Bosworth, Poppy Delevingne, Giovanna Battaglia and Harry Brant.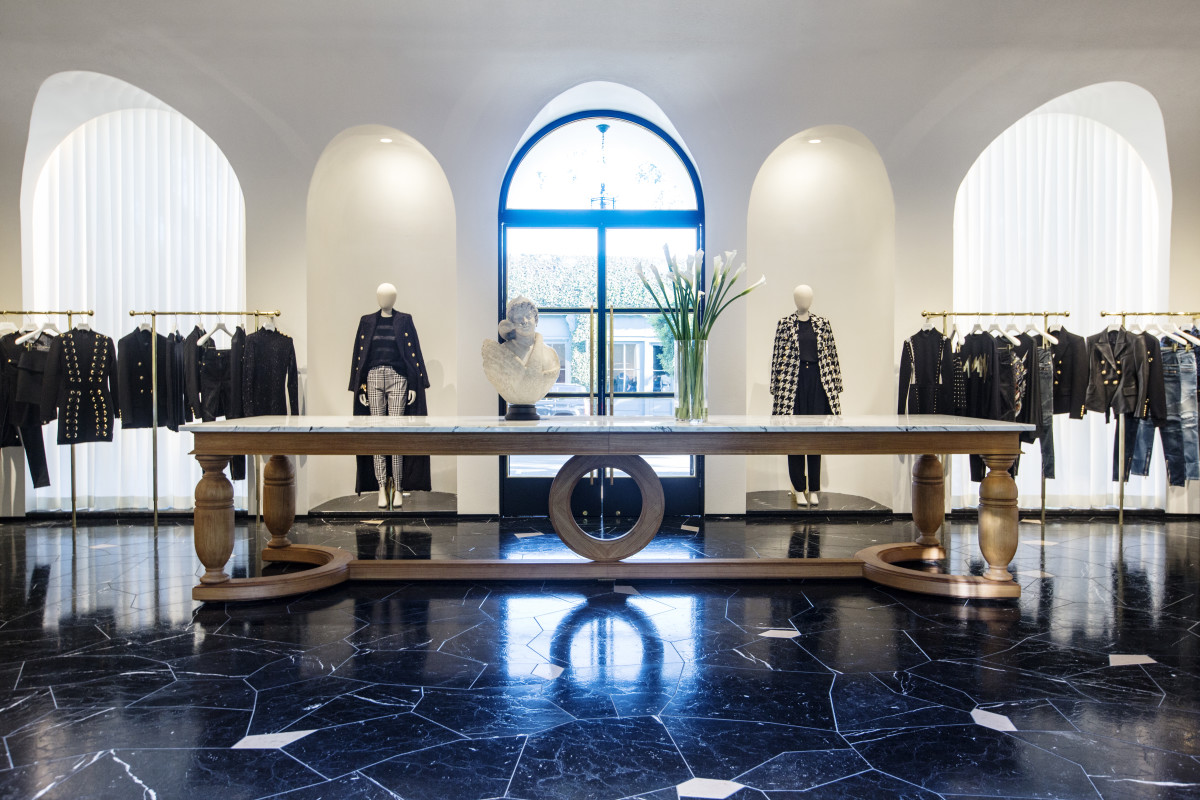 Rousteing may have been rubbing elbows with celebrities for years, but this did feel like a culmination of all that Hollywood relationship-building, and evidence that a very Parisian brand can also be very LA. This cohesiveness owes to Rousteing's singular vision as a creative director — a role that recently expanded to include photography: He pulled a Karl Lagerfeld and, for the first time, shot Balmain's Fall 2017 ad campaign himself. "I think there are three points when you're a designer for a house: First is being a designer, creating clothes, having a sense of proportion; second is being creative director, to have a sense of vision, what you want to express with your clothes; and third is how to express [that vision]. When you shoot the campaign it's exactly those three points, because you know your clothes by heart and how they look good; you know the meaning of those clothes," he explained. "I enjoy it so much because I was in control from the creation to the communication."
Rousteing said he plans to continue shooting his own campaigns. "People say, 'Oh my God, he's doing everything on his own,' but at the end of he day, I don't care what people say; I'm just proud." Since taking over Balmain as a relatively unknown 25-year-old six years ago, Rousteing has led the French fashion house to massive growth, at least in terms of mainstream brand awareness, so we have no reason to stop trusting his vision now; and expansion into LA really does make perfect sense.
He may have already made it in Paris, but Rousteing deserves a slice of the American dream, too.
Want the latest fashion industry news first? Sign up for our daily newsletter.