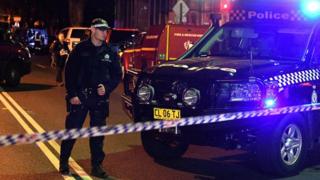 Counter-terrorism police in Australia have stopped a suspected plot to bring down an aeroplane, Prime Minister Malcolm Turnbull has said.
He was speaking after four people were arrested in raids across Sydney.
Investigators said they had information that the plot to blow up an aircraft involved the use of an "improvised device".
Mr Turnbull said the raids had been a "major joint counter-terrorism operation".
He said extra security had been put in place at domestic and international airports.
The raids took place in the suburbs of Surry Hills, Lakemba, Wiley Park and Punchbowl, Australian broadcaster ABC reported.
Australia's national terror threat level remains at probable.