Aaron Ramsey lit up the Emirates Stadium with his stunning second goal against CSKA Moscow on Thursday night. Here's why tying him to a new contract should be a priority for Arsenal.
Mesut Ozil was the man of the match but there was no doubt that the standout moment of Arsenal's 4-1 thrashing of CSKA Moscow belonged to Aaron Ramsey. His leaping volley, ingeniously guided over Igor Akinfeev to put Arsenal on the brink of the Europa League semi-finals, will go down as one of the goals of the season.
Also read: Juventus 0-3 Real Madrid: Cristiano Ronaldo
It was Arsenal's third and Ramsey's second on a night when the Welshman was a constant menace to the visitors. He had the ball in the net in the seventh minute only to see it ruled out for offside, but his opener, coolly dispatched from Hector Bellerin's cut-back, arrived soon afterwards. In the end, he was only the width of the post away from claiming a hat-trick.
His excellent performance was a continuation of a fine run of form. Since returning from a hamstring injury at the end of January, Ramsey has contributed six goals and one assist in eight starts. There was a hat-trick against Everton, an important goal against AC Milan at the San Siro, and now this. Arsenal's recent upturn in form owes a lot to him.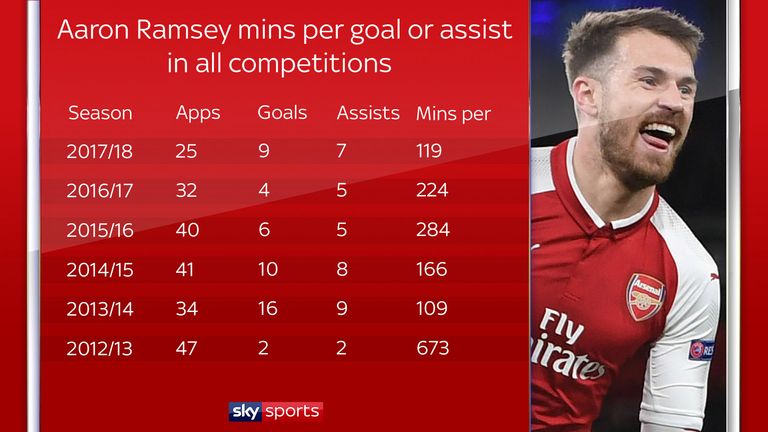 Injuries have limited his involvement at times this season, but Ramsey has been one of Arsenal's best performers overall. In 25 appearances in all competitions, he has scored nine goals and provided seven assists. His combined total is equal to Ozil's despite playing fewer games.
Ramsey is averaging a goal or assist every 119 minutes, according to Opta, making the current campaign his most effective since his memorable 2013/14 season, when he scored 16 goals and provided nine assists in 34 appearances to clinch Arsenal's Player of the Year award.
His recent displays are positive news for Arsenal but the excitement is tempered to some extent by the element of uncertainty that surrounds his future. Jack Wilshere's contractual situation has dominated the headlines recently, with no sign of an extension as he enters the final months of his current deal, but what's more concerning is that Ramsey is only a year behind him.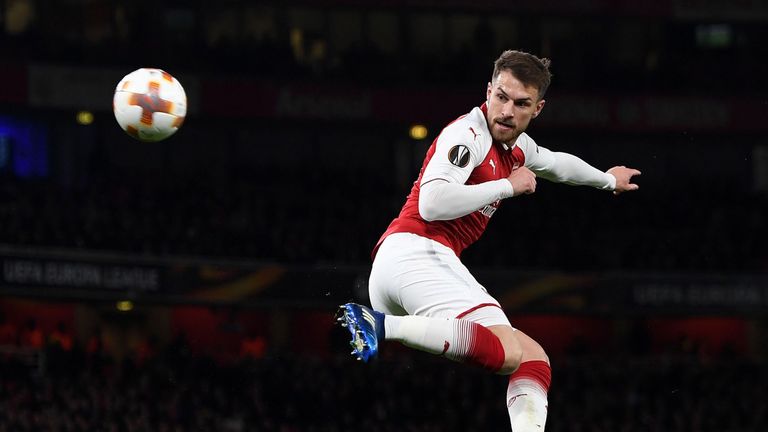 Sorting out his future should be a priority. Arsenal's midfield still requires surgery, but there can be no questioning Ramsey's place in it. The 27-year-old's tireless stamina is a vital attribute to Arsene Wenger's side, and so too is his instinct for arriving in the opposition's box at exactly the right moment – just as he did for his opener against CSKA.
Ramsey's goals from midfield are invaluable to Arsenal and he also has a knack for producing them at key moments. Back in 2014, it was his strike which secured Arsenal's FA Cup final triumph over Hull City. Last season, he repeated the trick to see off Chelsea and lift the trophy again.
Of course, Ramsey's time at Arsenal has not been without obstacles. His performances have suffered when moved to the flanks in previous seasons, and his fitness has been a persistent problem too, with injuries interrupting his progress at regular intervals since his broken leg against Stoke in 2010. Wenger, though, is encouraged by the progress he has seen lately.
"For Aaron Ramsey it is always the same; [whether] he can have consistent presence in the side, without being stopped," he said on Thursday night. "I personally think he has overcome his problems, he has no injury problem at all anymore.
"And when you can add game after game, you see that not only is he involved in the build up a lot, but he goes to the end. What has changed since 2013 is that he's a much better finisher these days. He's calmer, the way he finishes is composed. Before he rushed his finishing a bit."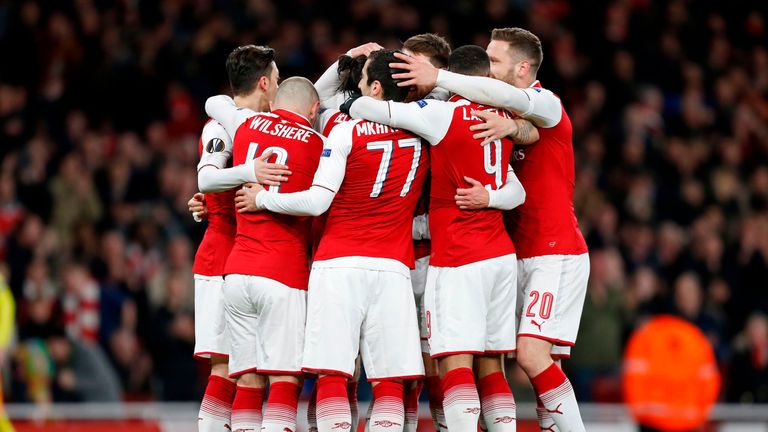 His importance is evidently not lost on his manager, but with the ongoing uncertainty that surrounds the Frenchman's position, does Ramsey's future risk being overlooked? The midfielder said there was "nothing to comment on" when asked about it as recently as February. "I think they've been busy to tie up other contracts at the moment," he added.
It suggests there is work to do. Arsenal will be desperate to avoid a repeat of the doubts that preceded Alexis Sanchez's departure and Ozil's new contract this season, but in order to do that they must act sooner rather than later. Ramsey's dazzling display on Thursday was a reminder of what he brings to Arsenal. It was also a reminder of the need to tie him down.