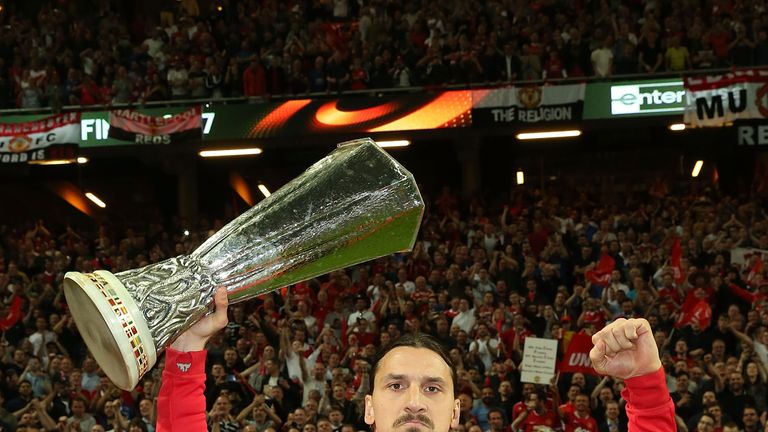 Zlatan Ibrahimovic celebrates on the pitch following Manchester United's Europa League win
Zlatan Ibrahimovic wants to stay at Manchester United next season and will hold talks with the club this summer about his future, according to his agent Mino Raiola.
The 35-year-old enjoyed a fine first season at Old Trafford, scoring 28 goals in 46 appearances, before sustaining "significant knee ligament damage" during United's 2-1 Europa League win over Anderlecht in April and was ruled out for the remainder of the campaign.
Ibrahimovic subsequently underwent surgery at the University of Pittsburgh Medical Center, though it is as yet unclear what the precise timetable for his recovery will be.
The Swede has been rehabilitating in Pittsburgh under the care of the surgeons who operated on him and Raiola is adamant the striker will return next season, preferably at United if the club are open to extending his contract for another season.
Asked if Ibrahimovic wants to remain at United, Raiola told Talksport: "Oh, yes. He wants to stay in England he wants to stay at the top and if he sees that he can be a valuable asset for Manchester United, then why not Manchester United?
"He can be a valuable asset for some other top clubs also. But I think it is respectful to talk to Manchester United and to see what all parties want."