Last Updated: 31/05/17 6:00am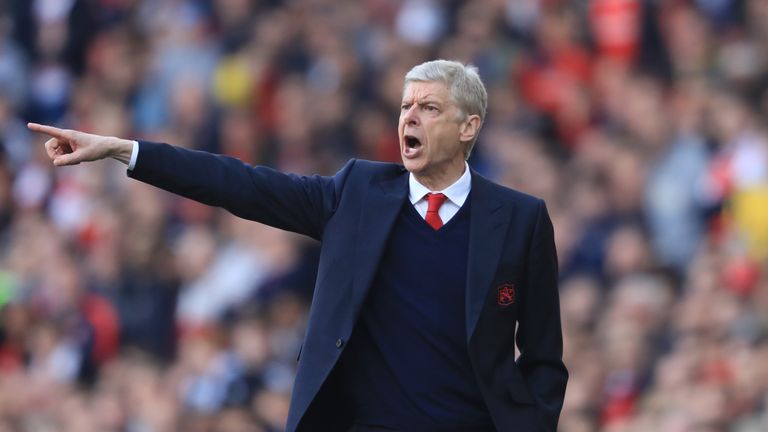 Arsene Wenger has work to do to improve his Arsenal team
Arsene Wenger will be staying on as Arsenal manager – but how can he improve the team next season?
After months of speculation over the Frenchman's future, the Gunners boss has followed up Saturday's FA Cup final win over Chelsea by signing a two-year deal.
With Wenger's future decided, Arsenal's focus can now turn to next season and stepping up after their ultimately disappointing 2016/17 Premier League campaign, which saw them miss out on Champions League qualification.
Here we look at five key areas to address..
Transfer business
Any Arsenal supporters hoping for a host of new signings this summer are likely to be disappointed, with Wenger saying after the final game of the Premier League season he only needed 'one or two' additions. "We don't need a lot. We don't need many. But we need maybe top quality," he said. The problem will be securing that 'top quality' level of player.
Arsenal have found that hard in recent years – and the challenge of attracting world-class players will be tougher this summer, given the Gunners' lack of Champions League football and the spending power at Chelsea and the Manchester clubs.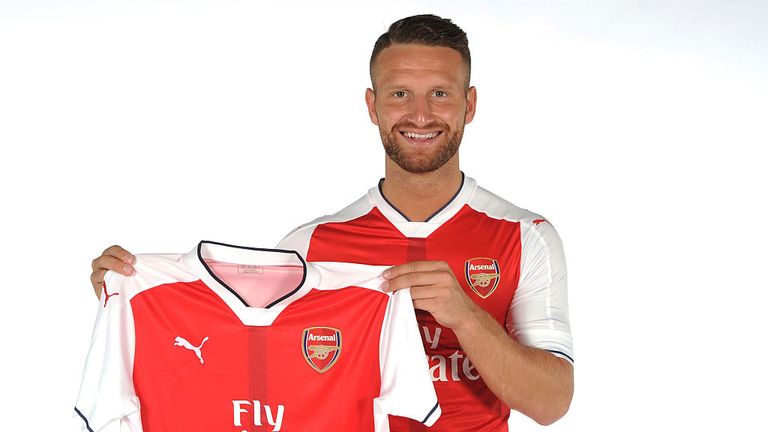 Arsenal had already dropped five points in the Premier League by the time they signed Shkodran Mustafi last summer
The timing of the signings will also be important. While Granit Xhaka's arrival was confirmed last May, Arsenal had already dropped five points by the time, Shkodran Mustafi was bought on 30 August, and deadline-day addition Lucas Perez failed to establish himself in the first team.
Manchester City have moved quickly to snap up Bernardo Silva already this summer. Arsenal would be well advised to secure their key targets early, too.
Central midfield
So which players could Arsenal target this summer? Paul Merson told Sky Sports earlier this season that his old club needed a new spine of key players – a goalkeeper, a centre-back, a central midfielder and a striker. Certainly, the centre of midfield appears to be an area to address.
At the start of the 2016/17 campaign, Arsenal appeared to have an abundance of options in that position. By the end of the season, it still seemed unclear what their best combination in the centre of the park was.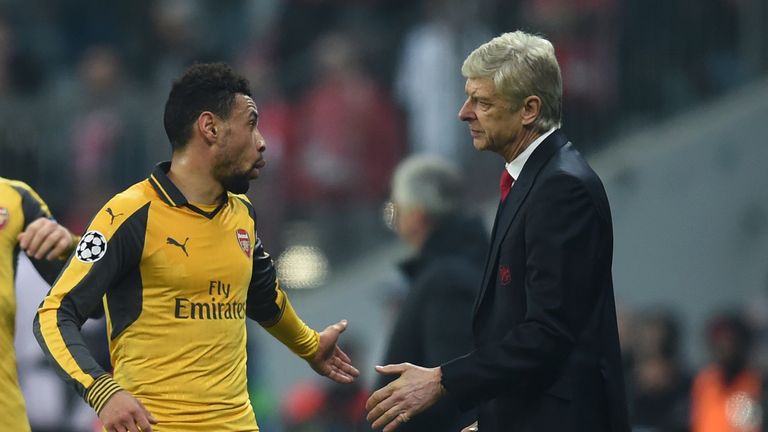 Francis Coquelin is among Wenger's central midfield options
Although Aaron Ramsey and Granit Xhaka enjoyed good cup final performances, Santi Cazorla's injury in October had a clear impact on Arsenal's year and without the Spanish playmaker Wenger struggled for a solution.
Searching for a mix of security and creativity, he rotated Xhaka, Mohamed Elneny, Francis Coquelin, Ramsey and Alex Oxlade-Chamberlain in central positions without real sustained success.
Wenger's title wins in the first half of his Arsenal reign were built on talented, tough-tackling and dynamic central midfielders, such as Patrick Vieira and Emmanuel Petit. He must re-find that balance and brilliance in this key area.
Sanchez and Ozil futures
Wenger admitted the uncertainty over his future had a negative impact on his players but now his future is cleared up he must address concerns over Alexis Sanchez and Mesut Ozil.
The pair are contracted to Arsenal until next summer but it's imperative the club tie them down to new, long-term deals.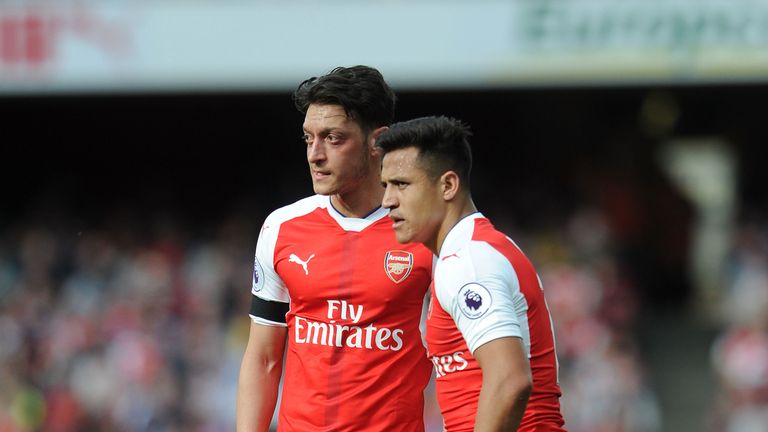 Alexis Sanchez and Mesut Ozil's futures are unclear
While both players were targeted with criticism at different stages of the 2016/17 campaign as Arsenal's season slumped, their goal and assist returns highlighted their importance to the Gunners' ambitions.
Sanchez finished the season with 24 goals and 10 assists – plus the important opener against Chelsea on Saturday – while Ozil's eight Premier League goals was his best return at Arsenal.
Wenger will be hoping they follow his lead and commit to the club.
Tactical flexibility
Defensive problems were an ongoing concern for Arsenal through the season, with the team conceding more goals in the Premier League than they had in any of the last four campaigns.
While Per Mertesacker rolled back the years on his first start of the season at Wembley to cover for an injury and suspension-hit backline, there is a feeling that – even when everyone is fit and firing – this is still an area in need of improvement.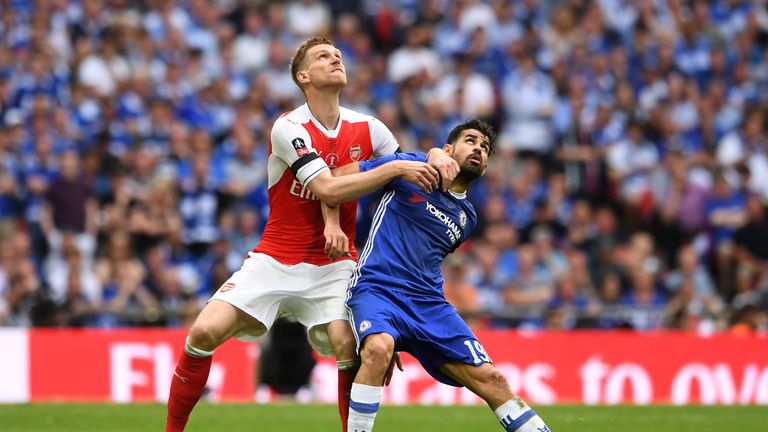 Per Mertesacker impressed in the FA Cup final in a 3-4-3
To add extra protection, Wenger made a switch to a three-man defence in the final stages of the season. It was a tactical change which had the desired effect, with Arsenal winning their final five Premier League fixtures and the FA Cup.
But was a three-man defence really required against already relegated Sunderland as Arsenal searched for an opener deep into the second half? There's pressure on Wenger to be more flexible with his formations.
"I just think tactically Wenger has lost it," Merson told Sky Sports. "Sometimes you've got to play games like horses for courses. Jose Mourinho goes to places, sets up and makes sure they don't get beat, Wenger does not play that game. He opens the game up and says: 'You have a shot, we have a shot, best team wins'."
Add leadership
It was a telling moment when Wenger conceded after Arsenal's April clash with Manchester City that he didn't know who had captained his side in the second half of the match. Contrast that with the impact Mertesacker had wearing the armband at Wembley and the importance of a real leader on the field is clear to see.
While Wenger's first 10 years at Arsenal were characterised by captains Tony Adams and Vieira, this is an Arsenal team which has appeared to be lacking leadership this season, with Mertesacker out injured for much of it.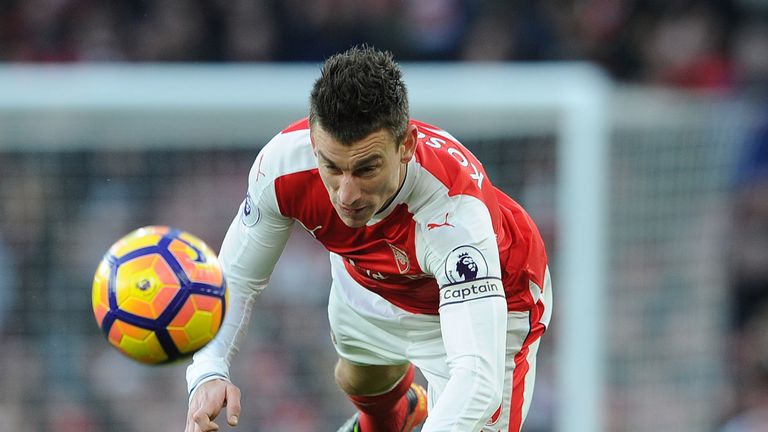 Laurent Koscielny has worn the Arsenal captain's armband
For example, Jamie Carragher was damning in his criticism of Arsenal's character after their 3-0 defeat at Crystal Palace. "They bottle it, they're cowards, they duck out of challenges," said the Sky Sports pundit.
Neither Mikel Arteta in 2015/16 or Mertesacker in 2016/17, Arsenal's last two club captains, started a Premier League game in those respective seasons. Wenger must find on-field leaders who can inspire their team-mates when they're up against it next year.