Last Updated: 11/06/17 7:29pm
Watch the incident which saw the Republic of Ireland denied a winner against Austria when Shane Duffy's header was chalked off by the referee
See what happened when Republic of Ireland thought they'd scored a winner against Austria – but were furious as it was disallowed.
Jonathan Walters equalised for Martin O'Neill's side in the 85th minute of Sunday's World Cup Qualifier in Dublin, but there was controversy two minutes later when they had the ball in the net for a second time.
Robbie Brady's corner was scooped into the air by Austria's Florian Grillitsch and Shane Duffy jumped with Stefan Lainer on the goal-line and turned the ball into the net.
But Irish celebrations were cut short as the referee chalked it off – although it wasn't clear if Duffy had been penalised for a foul or for handball.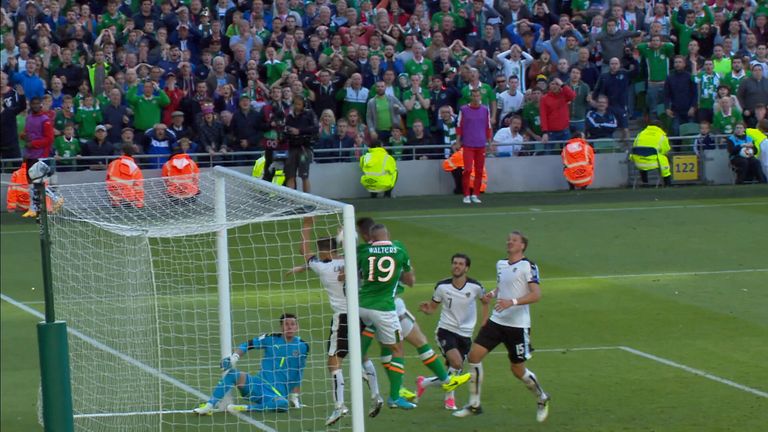 Duffy thought he had put the Republic ahead, only to see the goal ruled out
Winger James McLean was visibly angry when he spoke to Sky Sports after the game, saying: "I don't want to get myself in trouble, but everyone's watched the game and everyone's clearly seen why we haven't got the three points. We're bitterly disappointed and rightly so.
"We've seen the replay back and at the time it was the same thing. You tell me what's wrong with the goal. It's a clear goal and it's cost us three points."
Speaking after the 1-1 draw, former Republic of Ireland international Phill Babb said: "Duffy leads in with his left arm. We can't really tell if it's hit his back or the top of the shoulder, but ultimately the ref has blown his whistle very, very quickly."
Former Wales striker Dean Saunders said the referee got it right, saying: "If you look at it closely, it was a foul and he could have given handball as well."
Did the referee get it right? Watch the video at the top of the page and make your own mind up.