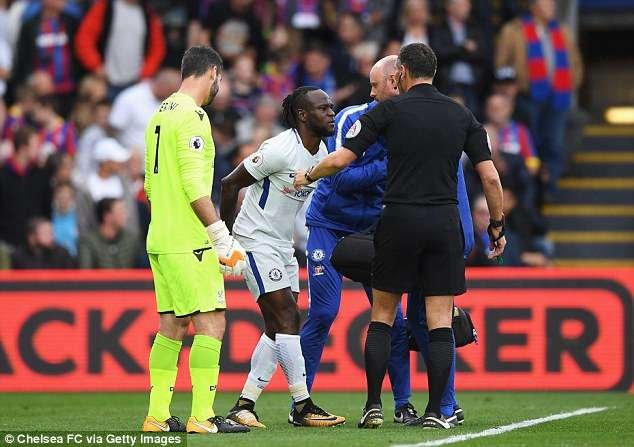 Chelsea wing-back Victor Moses has been ruled out for four weeks with a hamstring injury he suffered in the 2-1 loss at Crystal Palace on Saturday, October 14.
Moses suffered the hamstring injury after raising his leg to collect a ball and had to substituted in the 40th minute of the game which Chelsea went on to lose.
After a scan, Chelsea initial diagnosis put the recovery time of the wing-back at a minimum of four weeks which means he will miss games against Roma (Champions League), Watford and Manchester United.
Moses hamstring injury is Chelsea's third following similar injuries to N'Golo Kante and Alvara Morata.
While Morata is expected to be fit for the Wednesday Champions League clash against Roma, Kante is set to be out for the rest of October.
"I think, in this moment, for us it's a very difficult moment. When you start a game without Morata and without Kante, it's not simple," Chelsea manager Antonio Conte said following the injury to Moses.
"Above all if, during the game, another important player in your team has an injury too like Moses. I hope to have him back very soon because this moment is very difficult for us."
"To lose three or four players, it's a big problem for us. But, despite this, we have to find the will to fight.
"I think this season will be very difficult and, for this reason, we have to put 150% in.
"It's not enough to put 100 percent in like last season. I think this season, me first, the staff and the players have to put in 150 percent because the season will be very difficult.
"We want to try and be competitive in all competitions, but it won't be easy.
"For sure Moses is out because he's injured. I don't know if his injury is serious or not. I hope not.
"Kante and Drinkwater are still out, and I hope to have Morata back for this (Roma) game."
Champions League Echoes of George Best as Manchester United and Benfica collide Benfica, famously, were the team United defeated at Wembley in 1968 to become the first English side to win the European Cup.