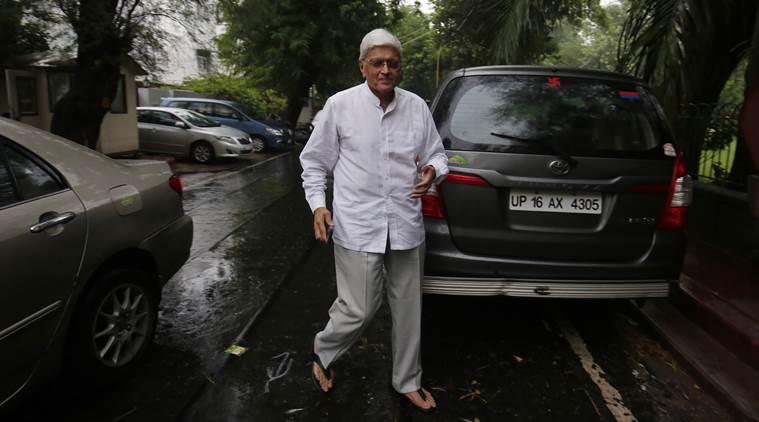 Gopalkrishna Gandhi said the Vice-Presidential election saw two victories, one for Venkaiah Naidu and another for free speech. (Express Photo/Anil Sharma/File)
Opposition candidate and former West Bengal governor Gopalkrishna Gandhi on Saturday congratulated Vice-President elect Venkaiah Naidu for being elected to the post and wished him the best for the new office. Speaking to the media after the results were declared, he thanked all MPs from the Opposition parties for voting for him. "I thank those who voted for me. I was expecting a handsome performance by the united vote of Opposition parties and I'm more than satisfied," he said. "The election saw two victories — one of Naidu, another of free speech; the second victory belongs to all the people of India," he added.
Former union minister and NDA's pick Venkaiah Naidu defeated Gopalkrishna Gandhi after securing over two-thirds of the votes cast in the election. Naidu won 516 votes while Gandhi received only 244. The elections, which saw 771 MPs from both Houses of Parliament exercising their franchise, recorded a polling percentage of 98.21.
Taking to Twitter after the results were announced, Naidu expressed gratitude to all those who supported his candidature. "I promise to uphold the Constitution and high standards set by my esteemed predecessors. It's an honour for me to become Vice-President from a family of an ordinary farmer. This Speaks for the beauty and strength of our democracy," he said.
Prime Minister Narendra Modi, who called on Naidu on Saturday evening and felicitated him at his residence in New Delhi, said he is confident that Naidu will serve the nation as a diligent and dedicated Vice-President, committed to the goal of nation building.
Naidu, who is India's 13th Vice-President, will succeed Hamid Ansari after his tenure ends on August 10.
For all the latest India News, download Indian Express App