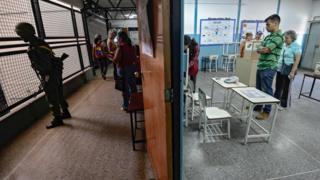 A leading candidate in Sunday's assembly elections and an opposition activist have been killed in Venezuela.
The killings took place before voting started to elect a new assembly with powers to rewrite the constitution.
The opposition says it is a power grab by President Nicolás Maduro and is boycotting the vote.
The government says the constituent assembly is the only way to bring peace back to the country after months of violent protests.
José Felix Pineda, a 39-year-old lawyer running in the election, was shot in his home on Saturday night local time, a senior Venezuelan minister said.
Ricardo Campos, a youth secretary with the opposition Acción Democrática party, was shot dead during a protest, the head of the national assembly said.
Venezuelan newspaper El Universal said two other men were also killed in protests.
On the eve of the vote, protesters blocked roads in the capital in defiance of a ban on demonstrations.
The security forces have used armoured vehicles to dispel protesters in the Caracas district of El Paraíso amid the sound of gunfire, AFP says, citing local reports.
---
Why is the assembly election happening?
President Maduro wants to form a new constituent assembly, that will have the specific purpose of drafting or adopting a new constitution
He said the new assembly would promote "reconciliation and peace", but did not give details of exactly how rewriting the constitution would achieve such broad aims
He also said that the constituent assembly would promote dialogue in the polarised country
The opposition says it is a way for President Maduro to maximise his power and cling on to it for longer, as well as delay future elections
Some loyalists of late President Hugo Chávez are also unhappy, as they treasure the old constitution drafted in 1999
---
Mr Maduro cast his own ballot shortly after polling stations opened at 06:00 (10:00 GMT).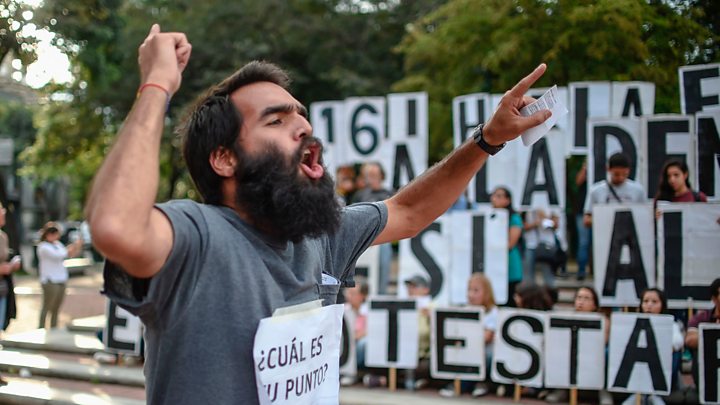 In a speech broadcast on TV, the president predicted a "big victory", calling the vote "the most important election held in Venezuela's political system".
However, electoral council chief Tibisay Lucena acknowledged that some voting machines had been attacked and burned in parts of the country.
Four months of protests against Mr Maduro and his plans for the assembly have left more than 100 people dead.
The election has been heavily criticised by other Latin American countries as well as the European Union and the United States, which last week imposed new sanctions on members of Mr Maduro's government.
Venezuela, a major oil producer, is gripped by a political crisis, with soaring inflation and daily food shortages.
Many residents in Caracas were stocking up on essential items on Saturday in case unrest left shops closed into Monday, correspondents said.