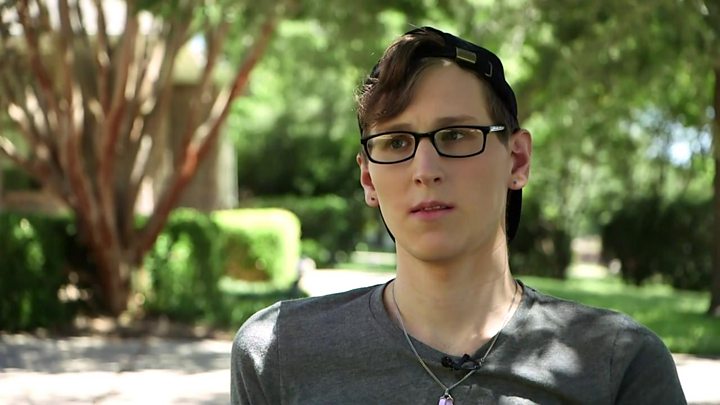 The White House has not yet decided how it will implement the president's ban on transgender people serving in the US military.
Mr Trump's surprise Twitter announcement on Wednesday has been met with criticism from rights groups.
Spokeswoman Sarah Sanders said the administration would work alongside the Pentagon to decide how to proceed.
It is not yet clear how the announcement will affect current transgender service personnel.
"The United States government will not accept or allow transgender individuals to serve in any capacity in the US military," Donald Trump tweeted.
"Our military must be focused on decisive and overwhelming victory and cannot be burdened with the tremendous medical costs and disruption that transgender in the military would entail."
Asked at a press briefing if troops on battlefields would be immediately sent back, White House spokeswoman Sarah Sanders said the policy had yet to be worked out.
"The decision is based on a military decision. It's not meant to be anything more than that," she said.
However, some US media outlets questioned the spending justification. The Washington Post drew attention to an analysis that the US military spends almost $42m a year on the erectile dysfunction medication Viagra – several times the total estimated cost of transgender medical support.
Meanwhile, Poltico reports that the move was prompted by threats from Republican hardliners over a spending bill which would provide funding for Mr Trump's promised military spending and border wall plans.
One Republican lawmaker had already tabled an amendment to the spending bill to prevent the military paying for transgender surgical procedures.
---
Why has the president decided on this now?
Anthony Zurcher, BBC North America Reporter
The timing of this transgender ban is almost as interesting as the move itself.
Why now? With the Trump administration being buffeted by the Jeff Sessions political death watch, the ongoing multi-prong investigation into the Trump campaign, the healthcare drama in the Senate and the impending Russian sanctions bill, perhaps the administration decided this was a good time to change the subject and rally conservative forces to his side.
Republicans have long used cultural issues as a wedge to divide Democrats and energise evangelicals. As one White House insider acknowledged, this is straight out of that playbook.
While Mr Trump campaigned as sympathetic to LGBT rights, he needs the traditional religious conservatives to stay loyal to him now, more than ever.
The president's action will create a furore among liberals and the media commentators whose disdain for the current administration is not a new development. This is a fight the White House will welcome.
---
What is the status of transgender service personnel?
The decision to allow transgender people to serve openly in the military was made by the Obama administration last year, but left a one-year review period for its implementation.
The policy included a provision for the military to provide medical help for service members wanting to change gender.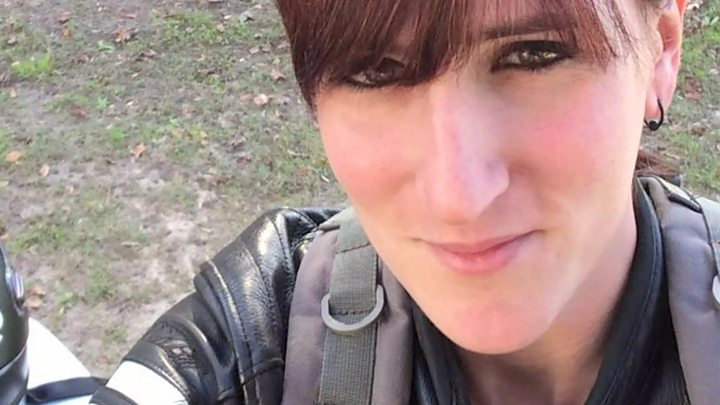 But in June, Defence Secretary James Mattis agreed to a further six-month delay.
In 2016, the independent Rand Corporation estimated that about 4,000 US active-duty and reserve service members are transgender, although some campaigners put the figure higher than 10,000.
Rand also predicted that the inclusion of transgender people in the military would cause a 0.13% increase in healthcare spending (approximately $8.4m).
What do affected personnel say?
Kristin Beck, a retired elite Navy SEAL, issued a challenge to President Trump in an interview with Business Insider: "Let's meet face to face and you tell me I'm not worthy."
She said that during her decorated military career, she had been "defending individual liberty".
"Being transgender doesn't affect anyone else," she said. "We are liberty's light. If you can't defend that for everyone that's an American citizen, that's not right."
Army reservist Rudy Akbarian, in Los Angeles, said: "My heart dropped a little bit, you know. It hurt."
"Not everyone responded well after learning I was transitioning," he said. "But after spending time on missions and realising we all share the same love for the country, we worked together and got the job done.
"The discrimination I'm facing now is from those outside the military – not the people who work with me."
What is the reaction from defence professionals?
Mr Trump said his decision was based on consultation with his generals, but there has been a mixed reaction.
Former Defence Secretary Ash Carter, who lifted the ban last year under President Obama, said: "To choose service members on other grounds than military qualifications is social policy and has no place in our military."
Chairman of the Senate Armed Services Committee, Republican John McCain, said major policy announcements should not be made via Twitter.
"Any American who meets current medical and readiness standards should be allowed to continue serving," he added.
Several British military generals also condemned Mr Trump's decision, including the commander of the UK Maritime Forces, Rear Admiral Alex Burton, who said "I am so glad we are not going this way."
What about those in favour?
"Each dollar needs to be spent to address threats facing our nation," Congresswoman Vicky Hartzler, a long-time opponent of the Obama administration's position, said in a statement.
"The costs incurred by funding transgender surgeries and the required additional care it demands should not be the focus of our military resources," she said.
Trump supporter and political commentator Scott Presler is among those who disagree with the military carrying the cost of such interventions.
While disagreeing with the ban, he added that "generals know more about war than I do."
"I don't think this is an attack on the LGBT community … I'm mixed, but I have confidence in the guidance that President Trump is receiving," he said.
"I don't think for a second he's prejudiced."