Tom Cruise's mission, should he choose to accept it, is to heal ASAP.
In a statement to E! News, Paramount Pictures said, "During production on the latest Mission: Impossible film, Tom Cruise broke his ankle while performing a stunt. Production will go on hiatus while Tom makes a full recovery, and the film remains on schedule to open July 27, 2018." While Cruise has not addressed his injury, the film studio said, "Tom wants to thank you all for your concern and support and can't wait to share the film with everyone next summer."
While filming the blockbuster in London Saturday, Cruise tried to run and jump from one platform onto another structure (while wearing a safety wire). But the 55-year-old actor—who insists on doing his own stunts—missed the mark and slammed into the building, inuring himself in the process. Cruise then hobbled around the set as crew members rushed to his aid.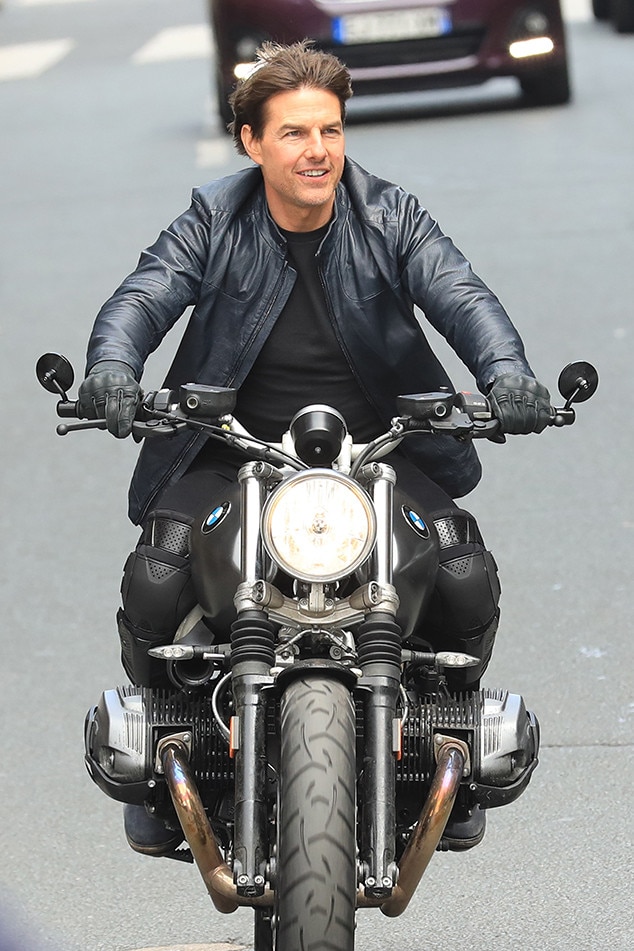 Best Image / BACKGRID
The actor has always been a daredevil. "Whatever I can do to really put the audience in the scene with the character and in the movie, that's what I want, so whatever it takes," Cruise told E! News in 2015. "Whatever it takes! I prefer to do everything live in camera. I think that…Look, CGI, we're lucky to have it because it's a tool, just like practical stunts are a tool. And it takes everyone. It takes a village making these movies. They're incredible, top to bottom, these guys."
At the time, Cruise joked that he'll continue star in the Mission: Impossible franchise until he's 90 years old. "They'll be throwing me out of planes in my wheelchair at that point," said Cruise, who has played Ethan Hunt since the first film in 1996. "So, whatever it takes, we'll keep going!"
That same year, Cruise explained why he's always been willing to take big risks on the big screen. "For different films, whether it's an action movie or not, making a movie is very demanding," the movie star told E! News. "I'm constantly training for one thing or the other."
Mission: Impossible 6, written and directed by Christopher McQuarrie, also stars Alec Baldwin, Angela Bassett, Sian Brooke, Henry Cavill, Rebecca Ferguson, Sean Harris, Vanessa Kirby, Michelle Monaghan, Simon Pegg and Ving Rhames. The action movie will be distributed in 3D.