Todd Chrisley is very vocal about how protective he is over his children, especially when it comes to who his daughters date.
Needless to say, when news broke that Savannah Chrisley is dating basketball star Luke Kennard, we couldn't help but wonder how he feels about it.
Well, E! News' Jason Kennedy caught up with the Chrisley Knows Best dad who surprised us (and himself!) with his positive comments about his daughter's new beau.
"When you have children, you pray religiously that your child brings someone home who they're evenly yoked with—that they have come from a similar background, and she has done that," he admitted. "They're young. Whether the relationship turns into a full-fledged, lifelong relationship, who knows! As of right now, if the relationship ended tomorrow, she would walk away a better woman because of the impact he has had on her."
Todd continued, "We love him. He's a good, decent, honest, honorable young man. He's very strong and committed to his faith. His family are quality, good, decent people."
He even admitted, "For me to be able to come on E! and say I actually like someone that my children are dating, there's a God!"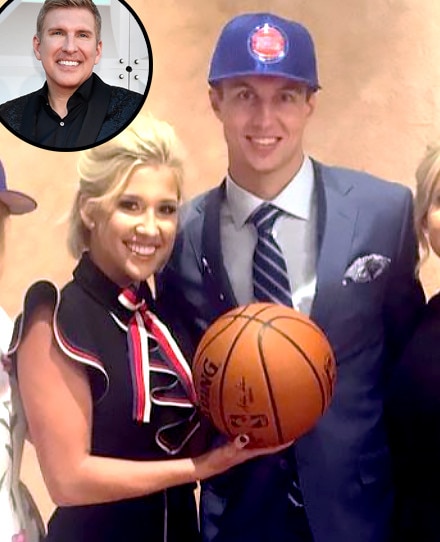 Instagram; Getty Images
Todd also dished the adorable story behind how the couple met.
"We were actually at a restaurant—at Craig's (in Los Angeles)—having dinner," the proud dad recalled. "He came in with his agent and his family, and their table was right beside ours. After we left, he sent her a message on Instagram and told her how beautiful she was. He didn't want to come over and bother our family but that he wanted to let her know how beautiful he thought she was."
But Luke had been waiting a long time to say something to her.
"After they started seeing each other and talking, I found out from the father that [Luke] had been wanting to message her for a year," Todd smiled. "So when that happened he thought that was God telling him that's what he should do."
As for his feelings about Savannah dating an athlete, Todd thinks she found a good one.
"We're OK with Luke because we don't believe that he'll step outside his faith," he said.
Watch the full interview with Todd above and don't forget to tune into E! News at 7 and 11 p.m. for more!