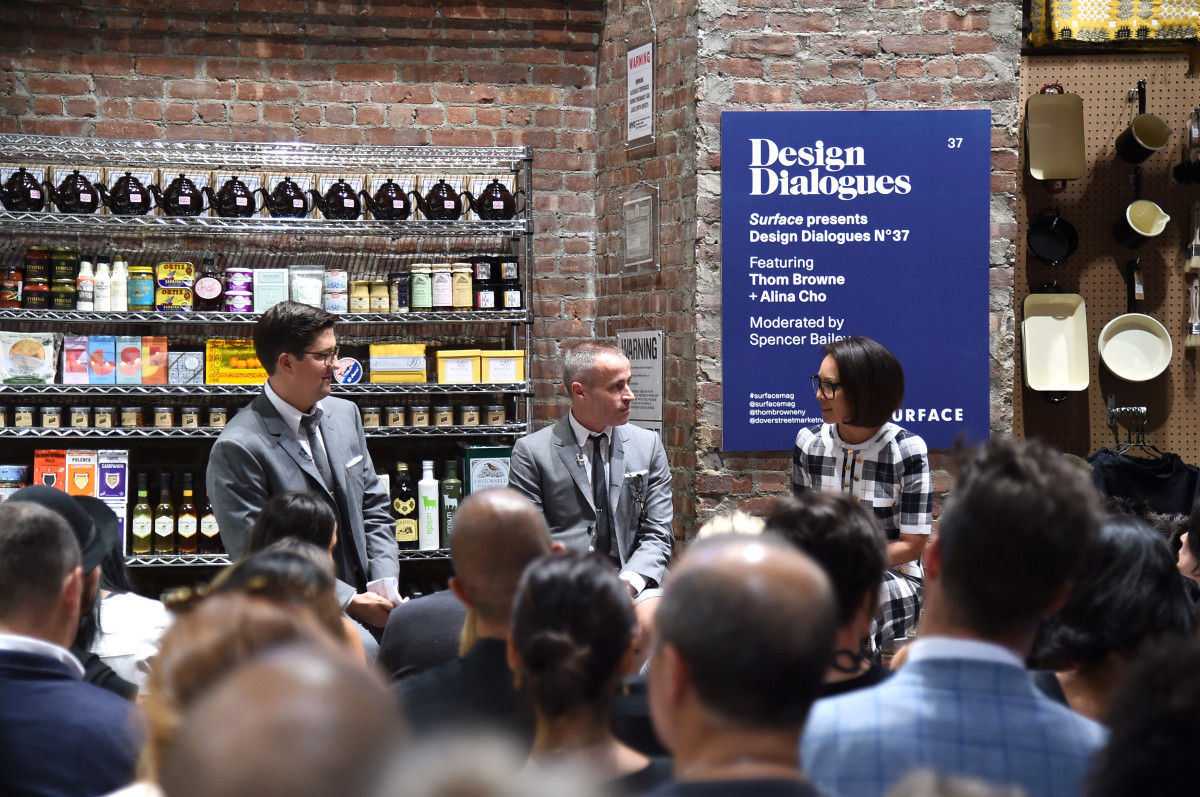 As Surface Editor-in-Chief Spencer Bailey introduced June/July cover star Thom Browne and journalist Alina Cho for the magazine's latest "Design Dialogues" at Dover Street Market on Wednesday night, Cho — in true reporter form — wanted to cut to the chase and discuss Browne's switch to Paris Fashion Week. "Anybody who's familiar with Thom's work is familiar with his fashion shows, which are really less fashion shows and more theater," says Cho. "And I would say Thom's show is probably one of the most anticipated shows at New York Fashion Week."
"I'm looking forward to the challenge," says Browne on his upcoming runway show. "I'm not approaching it any differently. I'm going to really approach it the same way as I have always showed here." The "most underestimated designer in New York" has joined a number of American labels that have decamped for Paris, including Altuzarra, Rodarte, Proenza Schouler, Vera Wang and Monique Lhuillier, which has left the fashion industry buzzing about the current (and future) state of New York Fashion Week. (Though the CFDA assures us not to freak to out.)
"Whether it be New York or Paris or Milan, people approach [fashion shows] their own way," says Browne. "It's very easy to say, 'Oh, New York is not interesting anymore.' Well, it is in a way because New York's important responsibility in the world may be more on the commercial side and there's something very valid to that, so people can approach those shows in that mindset. Paris may be a little bit more conceptual, so I think it's just a different way of approaching the shows. But I am very old school in the way that I do think that the shows are important to fashion."
For Browne, the move to Paris was his plan all along. And considering his fantastical take on fashion shows, the French fashion capital is a perfect fit. "I've thought about it for a while and honestly, I didn't know what the big deal was," he tells Bailey and Cho. "I've been showing men's in Paris for a while, so I have a presence there. I loved showing here in New York and [the decision] really had nothing to do with New York. It was more the idea that Paris is honestly just a bigger audience, and it was time for our audience to get bigger." A very valid point, as Browne had secured a majority investor — Sandbridge Capital — in 2016. Since then, his namesake label has made a number of big business moves: Rodrigo Bazan was hired as CEO from Alexander Wang, and new stores have opened in London, Milan and a women's flagship in New York.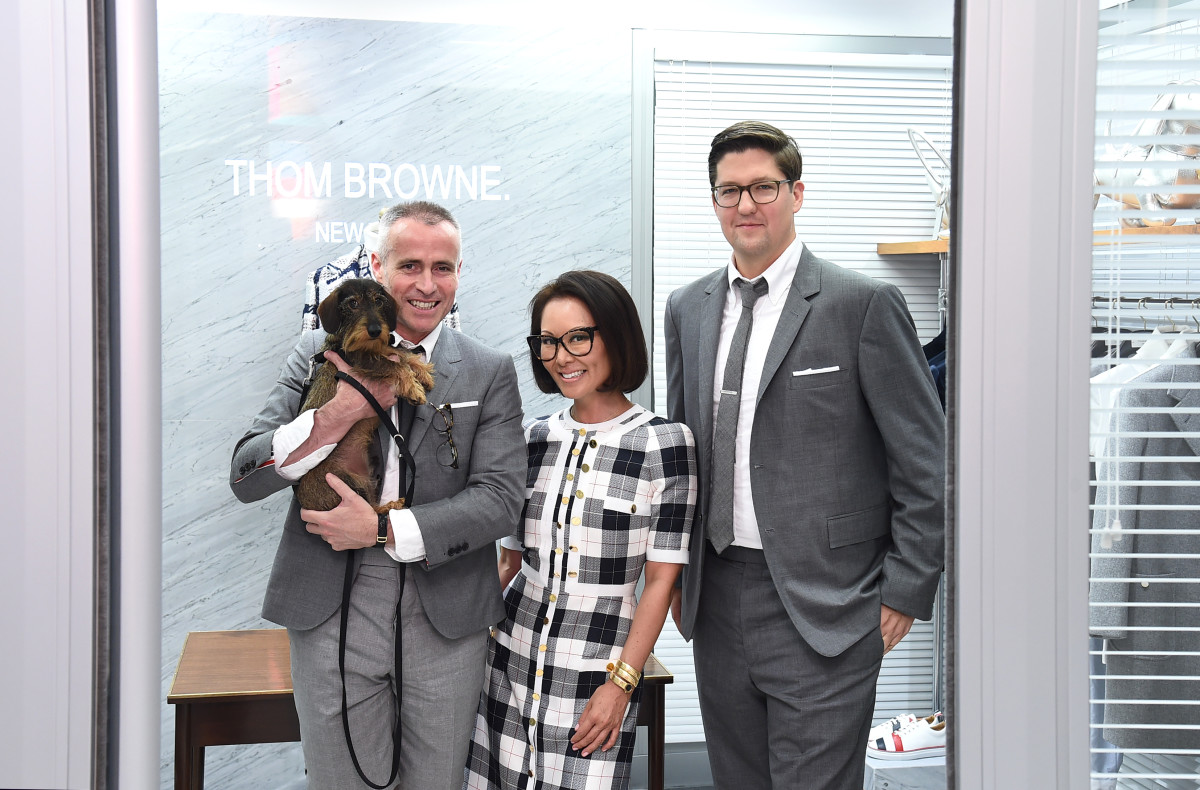 In addition to more specialty retailers, the brand has also been diving into e-commerce. "The only time I ever shop is online because I don't really shop in stores," says Browne. "But I think our approach is such a really intelligent way of making the world of today work for us." Social media is important to the designer, too, especially if it brings more eyes towards his runway shows — or his adorable dog Hector. "The investment in doing a show and knowing that only like, 600 people get to see it I think is ridiculous," he says. "I wish we could have a Jumbotron outside because you spend so much time and there's so much work that goes into them. The idea that only a select [can see it] is a very pretentious kind of idea."
But will we ever see Browne tap into the "see now, buy now" movement? After all, designers like Tommy Hilfiger and Tom Ford (albeit for one season only) have taken on the newly adopted business strategy. "You see the photos on Instagram and social media, you kind of want the clothes right away, but there's something to be said for waiting for them," says Cho. As for Browne? His response was simple and swift: "No interest."
Homepage image: Thom Browne at his Dover Street Market shop. Photo: Courtesy
Want more Fashionista? Sign up for our daily newsletter and get us directly in your inbox.