There's no occasion quite like the Fourth of July to celebrate all things American. Here at Fashionista, we'll be spending the week examining the fashion industry in our own backyard, from the state of U.S. apparel manufacturing to American-born models on the rise. You can follow all of our coverage here.
A few years ago, I was digging through an old shoebox of family photos after my grandpa died. There were some gems — shots of my brother and me burying each other in sand at the beach, and my parents 20 years prior, giggling on lawn chairs. I took just a few pictures back to New York with me, including a great shot from my hometown's annual blowout Fourth-of-July parade.
Judging by my haircut (ear-length; bangs), I was no older than 11, and I'm wearing one of Old Navy's flag tees — a white one, with a distressed American flag screenprinted across the front. I don't remember that exact Fourth of July, but we probably walked over to that parade spot — the same corner every year — from my grandparents' house, after which we'd eat watermelon and hot dogs on their patio. I'd wear that Old Navy flag tee, or some variation of it, every year, until I wore Limited Too instead.
My own Old-Navy-flag-tee story isn't particularly novel, and you likely have one that sounds an awful lot like what I just detailed above. Old Navy has heard stories like mine and stories like yours, and the company is flattered to have been a part of your childhood if you were still an adolescent after 1994, when the flag tees first launched.
The San Francisco-based apparel giant — founded by retail maven Mickey Drexler — introduced its Fourth of July T-shirts the same year it was founded 23 years ago. "We've always been a brand grounded in Americana and the democracy of fashion," explains Chris Jordan, Senior Director of Graphics Design at Old Navy. "The flag tee was an ideal celebration of our new place in the American retail market."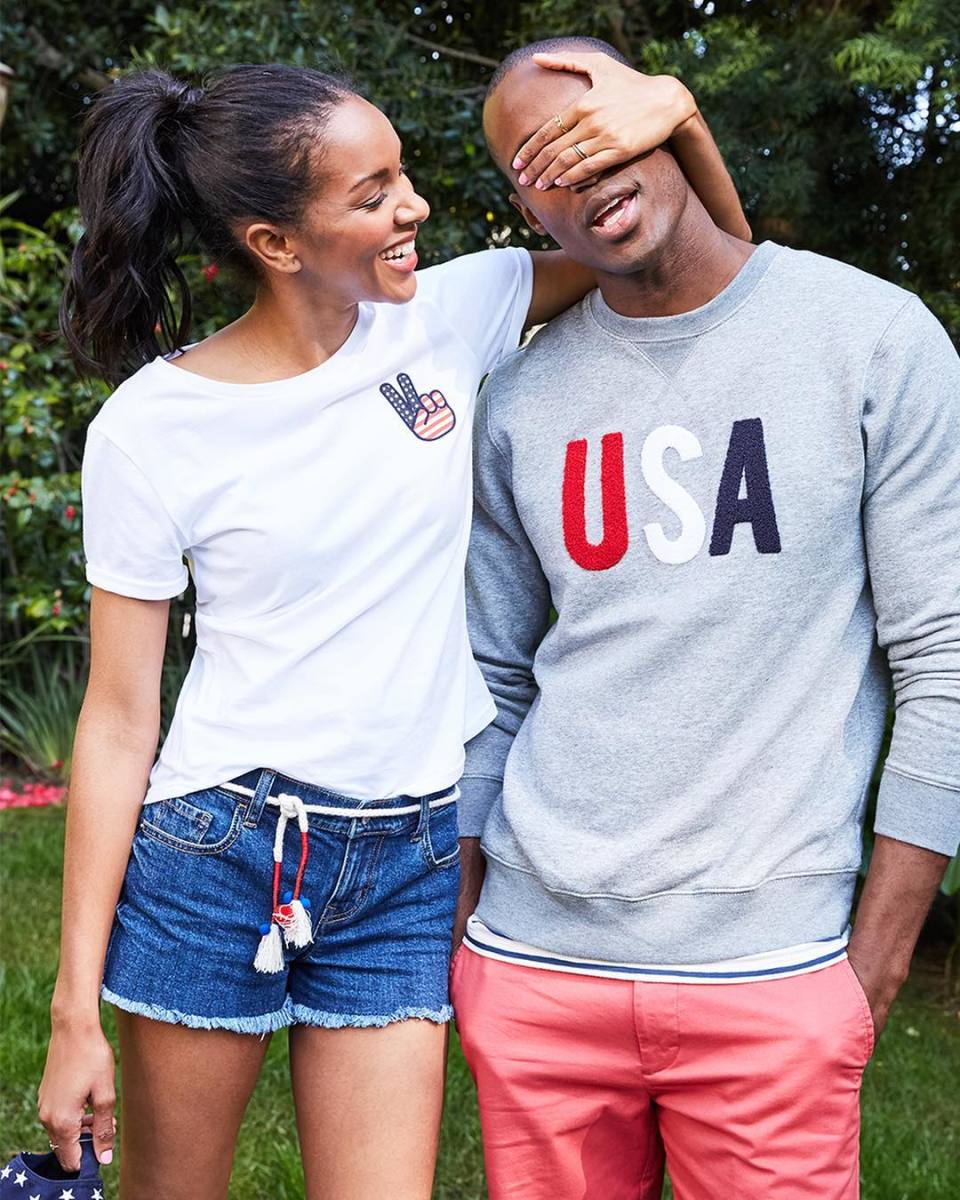 In the last two decades, the trajectory of Old Navy has mirrored much of what has occurred in the domestic retail space. When the company opened its first locations in the northern California towns of Colma, San Leandro and Pittsburg on March 11, 1994 (before the Great Recession), people shopped a lot — for furniture, for cars, for electronics, for homes and, of course, for clothes. By 1997, Old Navy became the first apparel retailer to surpass $1 billion in its first four years in business; by 2000, it had 500 stores across the country. But tides changed, and Old Navy underwent several rebranding efforts, first in 2005 to address competition with teen retailers like Hollister and American Eagle Outfitters and again in 2012, hiring H&M executive Stefan Larsson after losing ground to rival fast-fashion brands.
Through it all, much of Old Navy's tenets of retail have remained the same by design — its campy television ads and punchy graphics are still part of the company's fun-laden branding — but the success of its flag tee was a happy accident. Jordan tells me that Old Navy had no expectations when the shirt first launched, though it didn't take long for the company to identify an opportunity. "We realized we were onto something special that could become a signature product," he says.
Jordan explains that it took a few years for executives to pick up on an interesting consumer trend: Customers were purchasing the tees for themselves and their whole families year after year. "They weren't only collecting the tees but actually making new family traditions because of the tees," he says. "Old Navy flag tees created a reason for friends and family to gather for annual family photos."
Ashley Gonzalez, a 26-year-old designer, grew up just 15 minutes from Manhattan in Secaucus, N.J., where her mother had a tradition of buying Old Navy's flag tees for the entire family; Gonzalez and her cousins would get matching ones. "It was a big thing," she tells me. "She'd take us, and we'd pick them out — you'd choose your favorite one. Sometimes they'd have cute little puppies on them, back in the day." Come the Fourth of July, Gonzalez, her brother and her parents would wear the tees to watch the fireworks from the New Jersey State Fair.
I discuss the same with T. Kyle MacMahon, who was raised 50 miles south of Gonzalez in Monmouth County, N.J. Though MacMahon has lived in New York City for nearly 11 years, now working on a late-night television show in production and digital, he looks back fondly on the Old Navy flag tees as a token of his childhood.
"Growing up in Jersey, the summer months are when all the tourists come down from New York and Pennsylvania and North Jersey," says MacMahon. "I associate [the tees] with summer and the beach and being hot and sweaty and going to a picnic — just that summer feeling, it's all part of that and my memory of it." He laughs, adding: "Like, the shirt you'd wear to the beach to get gross in was the Old Navy summer American flag T-shirt."
MacMahon says he first turned to Old Navy, where his mom would take him and his siblings shopping, for its performance fleeces — "I see so many pictures of myself as a kid wearing [them], and I thought it was so fashionable and so cool," he says. "You would see the T-shirts there, and I think it was because they were always super cheap that we would buy them and wear them around the summer months," he says. "I have memories of my mom wearing them, too."
To MacMahon's point, the tees have always been inexpensive, even by Old Navy's standards and are located in high-traffic areas of the store, often near the registers. This year, the shirts start as low as $4.50 and range in styles from tank tops to V-necks and categories that include maternity and baby.
With the flag tee now being such a product staple, Old Navy's graphics team begins the design process a full year in advance, says Jordan, "to balance this year's customer response with next year's trend forecast to guide how the flag tee should be updated and refreshed."
"We begin the season with high-level concepts to guide the overall aesthetic for the collection – a color palette, key silhouettes, graphic and print direction," says Jordan. "From there, each design team uses those filters to start designing for their specific category. Our Graphics Team is constantly researching new trends across apparel, art and design that help guide us through the process to ensure we're creating the most compelling and relevant product for our customer."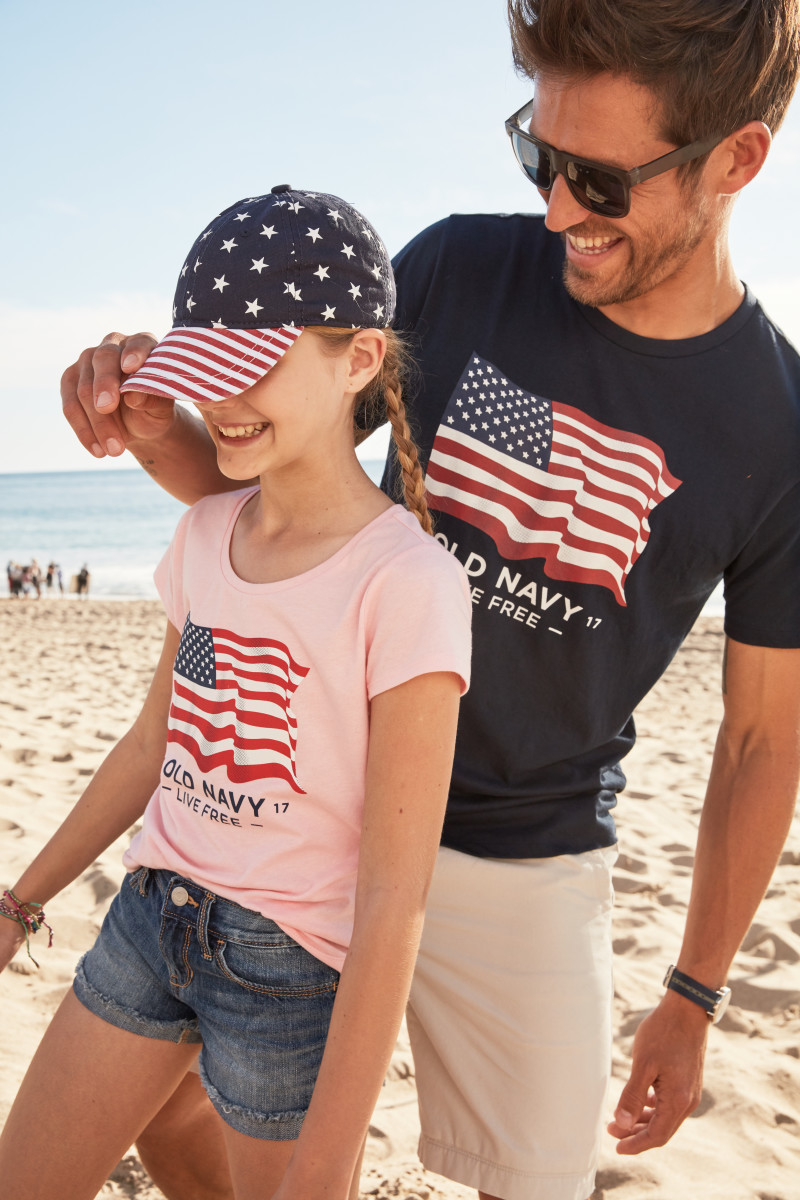 Old Navy is more than aware of the nostalgic significance the shirts hold for consumers like Gonzalez or MacMahon or myself, even if we stop wearing them at a certain point in our lives. Gonzalez and MacMahon both explain that they no longer wore the flag tees by the time they got to high school, and that's normal — but for every teenager that may outgrow the concept, there are new families each year who are building their own memories with them on.
"We think of ourselves as a quintessential American brand, so it is incredibly gratifying to be associated with the most American holiday," says Jordan. "It's both a piece of our heritage and theirs. We're honored to create something that is not just a piece of clothing, but also brings people together year after year."
As Gonzalez gets farther from her childhood, the flag tees instantly evoke those summer nights she spent enjoying hot dogs and burgers, watching the fireworks with her family. "It's tied to very nice memories for me, you know?" she says. "It reminds me of home."
The sentimentality exists for MacMahon, too. "I still shop at Old Navy now, and they're always something I see and think, 'I remember wearing that as a kid. That's so cute that they still do it,'" he says. "I almost expect to see them, and I never want to see them go away even though I don't personally buy them."
For me, they'll always represent those afternoons I spent with my grandparents watching floats go by, when my biggest concerns were drinking enough lemonade and staking out a prime parade spot. 
Homepage photo: Old Navy
Never miss the latest fashion industry news. Sign up for the Fashionista daily newsletter.