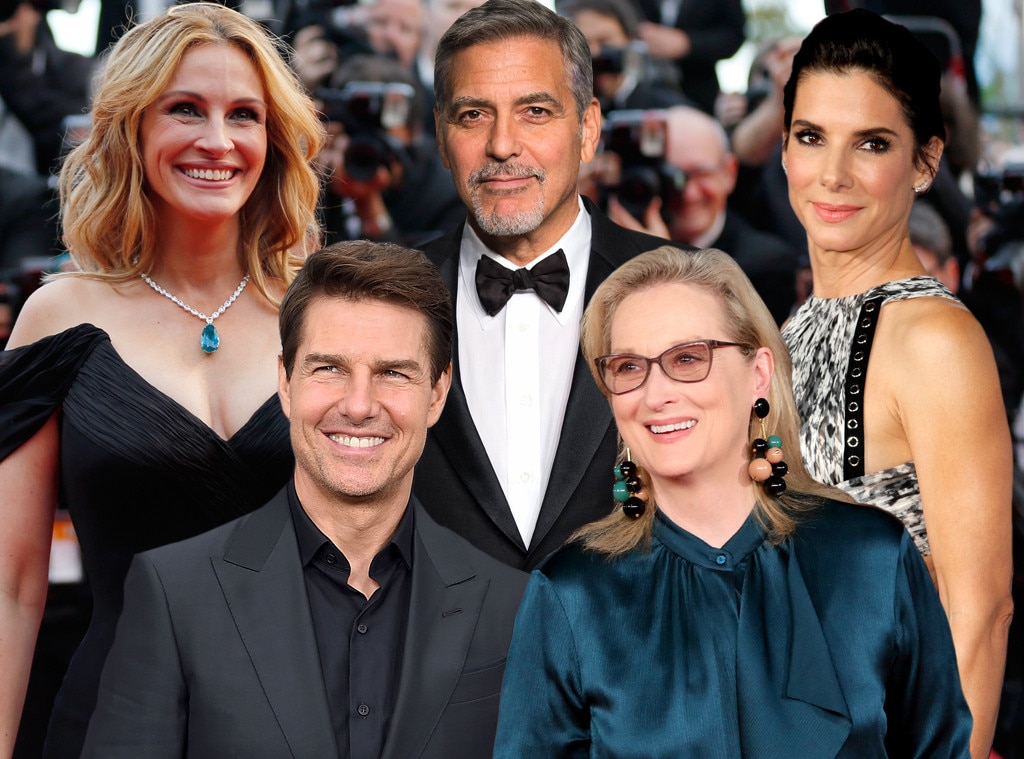 Getty Images/E! Illustration
Once upon a time there was an A-list. This list was exclusive, it was impossible to get into, and most of all, it was short. 
In the most recent heyday of Hollywood glitz and glamour, the power was held by a few. It was the George Clooneys, the Meryl Streeps, the Brad Pitts, the Tom Cruises, the Sandra Bullocks, the Julia Roberts. They were the Oscar winners, the Golden Globe nominees and the keepers of box office gold. Think Oceans Eleven or Notting Hill or Mission: Impossible. These stars easily commanded $20 million or more per picture and were one of the few doing so. They were on magazine covers, the most-watched at every red carpet, the ones that first came to mind with the term movie star. 
And they were beloved, but in a different way—admired is more like it. The A-list was mysterious and private and truly the epitome of glamour. Their fans constantly wanted to know more about them: Where did they live, where did they vacation, what were their marriages like? To find out, the stars often had to appear on a magazine cover. The masses, hungry for info, had to wait around for the latest issue of, say, Vanity Fair, to hit newsstands. We put their posters on our wall and spent every last penny on their movie tickets, but could barely name their children, let alone their best friends. 
At the risk of sounding overly nostalgic, it was a Hollywood era like no other. But today that A-list isn't what it used to be. 
That's not to say that the original crew isn't any less famous: The name George means only Clooney, Sandra means only Bullock, and you can bet your a– that there will never be another Meryl. These actors still command exorbitant salaries for every film and for a reason best left to be debated another time, the studio is still making those Oceans movies. Meryl and Brad are still winning Oscars and Julia Roberts was just crowned People's Most Beautiful Woman (for the fifth time over a period of 26 years, no less). But the names on our movie theater marquees have changed. 
The original early aughts A-list has grown up, gotten married, had children (some of them later than others…we're looking at you, George). Now that most of them are reveling in their second or third decade in the business they've earned the luxury of choice. They appear in movies only if and when they feel like it. Streep says yes to a starring role here and there. Bullock has only had one major onscreen role since 2013's Gravity. And for a while Julia Roberts wouldn't leave Malibu for anyone less than Garry Marshall. And who can blame her?
A discussion of the A-list is still required to include them, but they've also become solidly veterans. They're past the moment of the constant flashbulbs and the forced red carpets and constant rumors. (Unless, of course, you are one-half of Hollywood's biggest split in years. Then all bets are off.)
Since Hollywood, and the movie industry in particular, is a revolving door of star power, a new group naturally had to move in. The young replace the old, in Tinseltown as in nature. There's a new A-list now, but it's nothing like before. Using that term in and of itself frankly feels outdated and dusty and highly elitist. The industry thrives on elitism, but there's a time and a place and, most importantly, a degree to which everyone can stomach it. Today's biggest stars operate on completely different terms than their predecessors. Nothing is promised in this world, least of all fame. 
The next gen movie stars are, for lack of a better phrase, all millennials. It's Jennifer Lawrence, obviously. And Emma Stone, Reese Witherspoon, Blake Lively, Zac Efron,Ryan Reynolds and all the Chris' (Hemsworth, Evans, Pine, Pratt…are we missing any?). These actors live out loud in every sense of the word. Their fame is as pervasive as their personalities. Rather than exuding an air of mystery like their predecessors, we know everything about them. 
Rather than feeling completely unattainable to the common fan, they are completely accessible. As much as everyone loves Julia Roberts or George Clooney, they are are actually quite intimidating. Instead of wholly untouchable to an almost royal degree, the A-list is reachable. We collectively love Jennifer Lawrence because we could have a beer with her. And even more, if we saw her at a bar we would absolutely try to sit down at her table and drink that beer. This isn't a case of overly-inflated fan ego but rather an environment that convinces them it's okay. The old guard stayed famous by being hidden, ensuring the public always wanted to know more, but the new guard stays famous by being constantly visible. 
Take the recent epidemic of stars lashing out against anyone who would deign to ask for a photo—even the absurdly affable Chris Pratt himself has recently said he'll now offer only a handshake. No one is denying that the A-list's level of privacy has dropped to a shockingly low level, but the fact that it's even a problem in the first place is exactly the difference between the old and new guard. 
Blame it on Instagram, too. Back when Clooney and Pitt were ruling the roost the Internet was just someplace you traveled occasionally when you needed to check your email, rather than a behemoth with a mind of its own. Instagram allows celebrities to get ahead of their own narrative and put out messages in their own world, but it also allows fans to interact with them the way they would a classmate or coworker. Would the Oceans Eleven crew have had as much caché if they had been Snapchatting from the set? Probably not. 
So what's the solution, then? Searching for a solution would imply that there's a problem that needs fixing. While cinephiles (especially those partial to the aughts) might lament the loss of mystique or long for an era when the biggest stars were only in the news when they wanted to be, the byproduct of the new normal is a whole lot of fun. Actors aren't taking themselves nearly as seriously as they once did and the relationship between fan-and-star is more of a give-and-take.
Imagine a scenario that put Sandra Bullock or Julia Roberts facing down a leaked video of their late-night European nightclub dalliances—now try to imagine that same actress reacting with the same DGAF attitude that Jennifer Lawrence so refreshingly displayed after her own slightly embarrassing drunken snafu. 
JLaw might argue that the best world is one in which no one videotapes her and, more importantly, no one cares enough to put it on the Internet. But that ship has long sailed, so we can at least ask for the biggest star in the world to have the freedom to laugh it off. With all due respect for our beloved women of the old guard, laughing it off isn't one of their strengths. So instead of mourning the disappearance of the past, let's embrace the hand we've all been dealt.