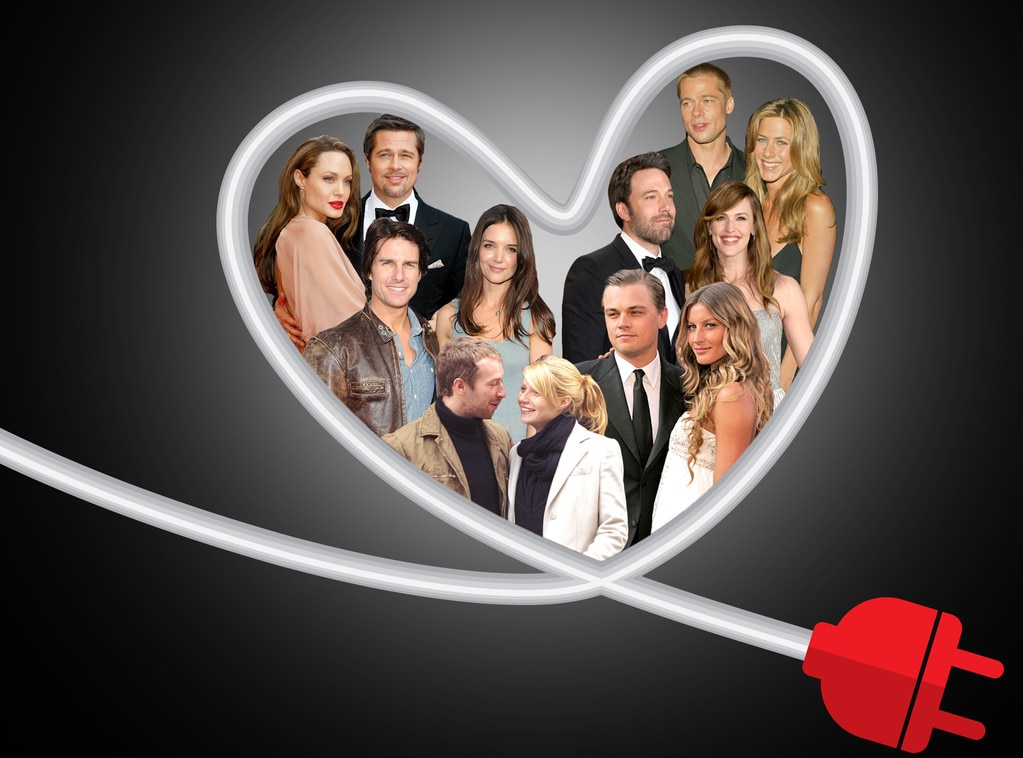 Melissa Hebeler / E! Illustration
It's been eight months since Brad Pitt and Angelina Jolie made their breakup official, and the fallout is still developing. The actor's recent GQ Style interview brought out new questions and topics of debate for the divorce that shook Hollywood: Is Brad Pitt the victim? Will they be able to co-parent smoothly? What's going to happen to Brad Pitt's love life now—especially what with all that pottery.
But it also shined a light on an issue that's been slowly coming to the surface: Was Brangelina the last true Power Couple?
Now there will always be powerful couples in Hollywood. Success attracts success, beauty attracts beauty and money attracts money. That will never change. But anyone with a slight inclination toward nostalgia will recall an era in which the biggest A-listers dated the biggest A-listers, creating a hybrid of influence that was truly unmatched. 
Before Brangelina, there was Brad Pitt and Jennifer Aniston. Jen was at the height of her Friends fame and Brad was deep into his movie career, with Oceans Eleven and Troy, among other blockbusters. They were, arguably, Hollywood's most beautiful couple, and were definitely the one that garnered the most attention. Any time they set food on a red carpet simultaneously, that moment became instantly iconic.
Ben Affleckand Jennifer Garner gave the world the same feels—whether they were canoodling at a Red Sox game or attending the Golden Globes, the world was enamored. Ben was in the middle of his career-high resurgence (although most would argue that, despite missteps like Gigli, his star factor never really wavered) thanks to Gone Baby Gone and Argo and Jen was deep into her track record of being so absurdly adorable that she was irresistible to America (see the many many magazine covers for proof). 
This golden era of power couples also gave way to the likes of Leonardo DiCaprioand Gisele Bündchen (remember them?), Gwyneth Paltrowand Chris Martin, and Katie Holmesand Tom Cruise, among others. It was a time when most huge stars flocked to other huge stars—before there was Tinder, one simply made the Hollywood party rounds or asked her people to talk to his people. It made for seamless A-lister stalking, because all of the biggest and brightest were, basically living together.
But things can't stay the same forever. Slowly, those couples and their collective power status began to erode. (That is of course to say nothing of their individual star power). Brad and Jen ceased to be and their status was transferred over to Brangelina. Ben and Jen are deep into conscious uncoupling and coparenting, much like their counterparts-in-separation Gwyneth and Chris. Leo's actress dating history gave way to his current penchant for Victoria's Secret models. 
There are constantly new couples cropping up in Tinseltown, but none has been quite so simultaneously A-list, and there certainly hasn't been a Movement like there used to be. So, should we be mourning this demise? Quite the opposite actually.
See, the demise of the Hollywood Power Couple the way we used to know them is actually a good thing. We don't wish ill on any of these A-listers and their romantic endeavors, but it was starting to feel like an exclusive clique with no room for anyone else. What we're facing down now is the democratization of dating in Hollywood, which will hopefully give way to the democratization of Hollywood altogether. 
In the old days, power couples looked pretty much exactly the same: They were actors and actresses, they were white, and, well, that's all you have to know. It wasn't exactly relatable. Fans want (and deserve) to look at romance on the biggest stage and at least see a little bit of themselves. The biggest couples in the industry today are far more varied than just the faces on current movie posters. 
Take our reigning King and Queen: Beyoncéand Jay Z. Back in the early aughts musicians fell firmly below actors in the ladder of influence, but not anymore. Truly no one has more influence, more glamour, more success and more money than these two. Their combined net worth and popularity is something that no one can rival; to look directly at them is to stare straight into the sun. And yet they are beloved on a human level, their comeuppances in the industry are marveled at and they have a diversity that Jen and Brad could never offer. 
The same could be said, with slightly less emphasis on the aforementioned money, of Kim Kardashianand Kanye West. It's truly a sign of the times that a reality star's name could be uttered in the discussion of power couples. Or Chrissy Teigen and John Legend. Or Jessica Bieland Justin Timberlake. And Selena Gomezand The Weeknd are hot on everyone's heels.
Another phenomenon that has overcome the dating scene is the (gasp!) idea that one A-lister doesn't have to date another A-lister of their same stature. Couples are simply elevated based on the fact that they're in a relationship—if they even care about that at all. Lady Gaga, the mother monster herself, is dating an up-and-coming singer. Taylor Swift has eschewed her past high-powered celebs for the fresh face of one Joe Alwyn. Jennifer Lopez left Hollywood (romantically-speaking) altogether, instead turning to the world of sports for her latest love (that would be Alex Rodriguezof course).
Other A-listers still have simply chosen to date civilians. Paltrow, who has dated everyone from Ben Affleck to Brad Pitt, is now in a serious relationship with the television producer Brad Falchuk. Reese Witherspoon, who was once married to man-of-the-hour Ryan Phillippe, is happily married to an agent. And until their very recent breakup, Amy Schumer was ensconced with a furniture designer from Illinois.
Hollywood loves a fad, so it remains to be seen whether this pattern will continue or if A-listers will slowly gravitate back towards each other like in the old days. But for now, we appreciate being able to ooh and ahh over an entirely different set of stars. We're still not over the loss of Brad and Jen, but this at least makes it a little bit easier every day.