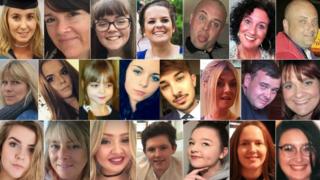 The public must do more to tackle terrorism by standing up to hate, a group of terror attack survivors and relatives has said.
In an open letter released ahead of the Manchester bombing anniversary on Tuesday, they set out a five-point plan to help stop future plots.
Among the 41 signatories is the widow of murdered Fusilier Lee Rigby.
Others are survivors and relatives of those killed in attacks in London, Manchester, Paris, Tunisia and Bali.
Brendan Cox, whose wife Jo Cox was murdered in 2016, helped co-ordinate the letter, while Bethany Haines, the daughter of the British aid worker David Haines who was killed by the Islamic State group, has also signed it.
Dan Hett, whose brother Martyn was one of 22 victims to die in the Manchester Arena attack on 22 May last year, said terrorists hoped to "turn our communities against each other" by spreading fear.
"That's why we're asking people to join the fight against terror, by all playing our part," he said.
"Most importantly we're asking people to take on the hatred that leads to terror – no matter where it comes from, or who it's directed towards."
Speaking on BBC Radio 4's Sunday programme, Mr Hett added that the group behind the letter – Survivors Against Terror – wanted to reach people earlier on in their lives.
"This is much more about being pro-active versus responsive once things happen," he said.
---
Survivors Against Terror's plan to tackle terrorism
Please keep your focus on honouring the memory of those who have been killed. Terrorists often attack partly to gain notoriety. We should deny them it; their names don't deserve to be remembered.
Give to appeals to help the victims of attacks and demand government provide the high quality services that survivors need.
Ask media and social media organisations to do far more to take on and shut down those driving hate.
Support our emergency and security services to do their job. If you know something or suspect something, tell them.
Take on hatred wherever you find it. Very few of us will ever meet a terrorist, but lots of us will experience those driving hatred. Hatred is the sea that terrorists need to swim in, if we take on that hatred, we dry up that sea.
---
In addition to asking the public to address everyday prejudice and hatred, the letter said people should deny terrorists any "notoriety", support emergency and security services and donate to survivor advocacy and support groups.
Social and traditional media also needed to "do far more" to "shut down those driving hate", the letter said.
It continued: "Hatred is the sea that terrorists need to swim in, if we take on that hatred, we dry up that sea."
Bishop of Manchester David Walker added: "The way we defy terrorism is by not going down that path of hate."