By:
PTI
| Patna |
Published:July 27, 2017 8:13 am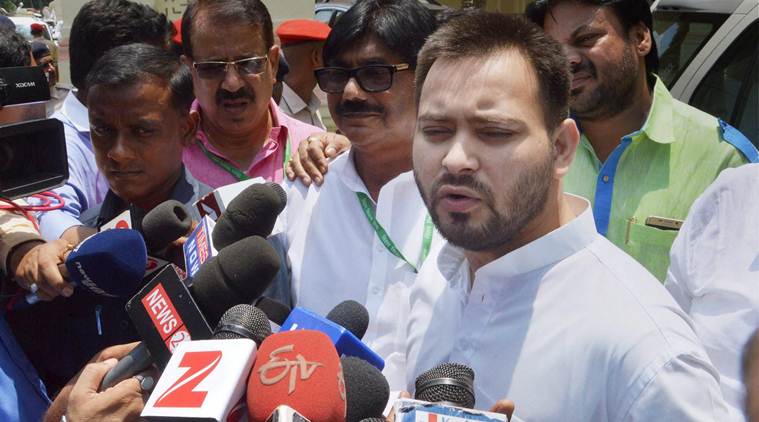 Bihar Deputy Chief Minister Tejashwi Yadav PTI Photo 
Tejashwi Yadav on Thursday met Bihar Governor Keshri Nath Tripathi in Patna to register protest over Nitish Kumar being invited to form his government ahead of RJD, which is the single largest party in the state Assembly.
Kumar has been asked by the governor to prove his majority in the Assembly within two days of taking oath at 10 am on Thursday. Kumar resigned as the chief minister last night. The ostensible reason for him to quit was his falling out with Tejashwi, the son of RJD supremo Lalu Prasad. Yadav is facing corruption charges but had refused to step down as the deputy chief minister despite Kumar's exhortations.
After Kumar's meeting with the governor late last night, Tejashwi, accompanied by some RJD MLAs and leaders, marched to the Raj Bhawan to meet Tripathi. "RJD being the single largest party should have been invited to form the government. We are taking legal advice and will move court against the governor's decision," he told reporters after the meeting.
He said the people of Bihar had given the grand alliance the mandate to run its government for 5 years which Kumar "betrayed".
He also threatened of protests across the state against Kumar "who will find it difficult to move around". Tejashwi claimed he had support of most JD(U) MLAs. "I'm confident that most JD(U) MLAs who are committed to social justice will vote against the government in the floor-test," he said. He said the governor told him that he has already invited Kumar for taking oath and it is not possible to take back the invitation letter.
Tejashwi was accompanied by brother Tej Pratap Yadav and senior party leaders — Abdul Bari Siddiqui, Raghuvansh Prasad Singh, Jagdanand Singh, and party spokesman Manoj Jha in the meeting.
He described Kumar's resignation as a "pre-planned conspiracy" between the former and the NDA, and also questioned the advancing of the oath ceremony timing from 5 pm to 10 am. "This whole drama was planned and Tejashwi was just an excuse for him (Kumar) to go with BJP," Tejashwi told reporters after the meeting.
For all the latest India News, download Indian Express App