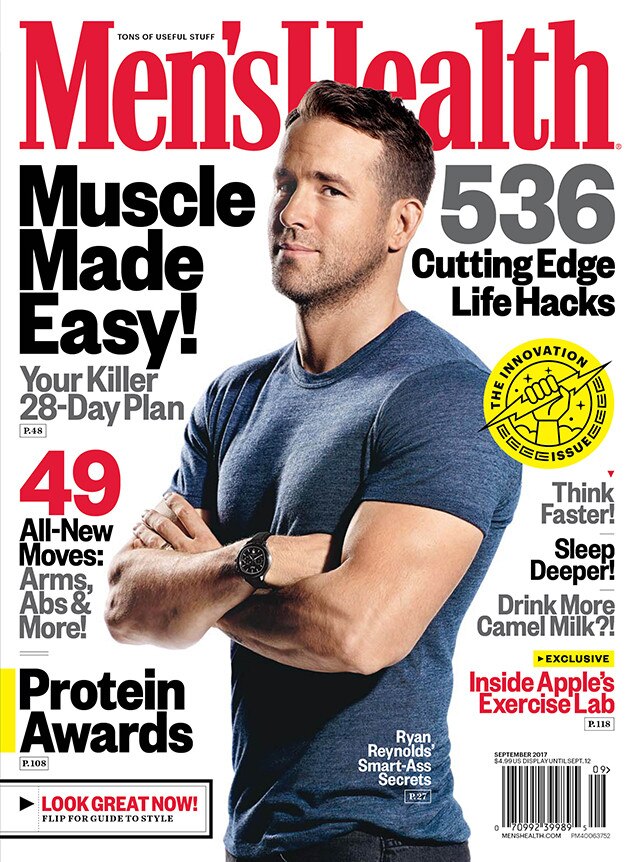 Art Streiber
Ryan Reynolds can be quite the comedian, on and off screen.
The Hitman's Bodyguard star takes the September issue cover of Men's Health magazine, showing off his muscular biceps and fit physique. Rocking a basic tee and jeans, the actor revealed why you won't find him in the kitchen, one thing he doesn't have in common with Hugh Jackman, and how he avoids morning workouts.
In an exclusive behind-the-scenes video during his cover shoot, Reynolds gave an inside look at the best prank he's ever pulled.
"A friend of mine left town for a week. When he was gone, I painted his entire office puce," admitted the actor. What is puce, you might ask? Well, he describes it as "a strange colo,  because it's kind of like this muddy, ugly sort of red."
"But we didn't just paint his office that color—we painted everything in his entire office that color," added Reynolds. They painted "the inside of his desk, every pencil, every pen—everything."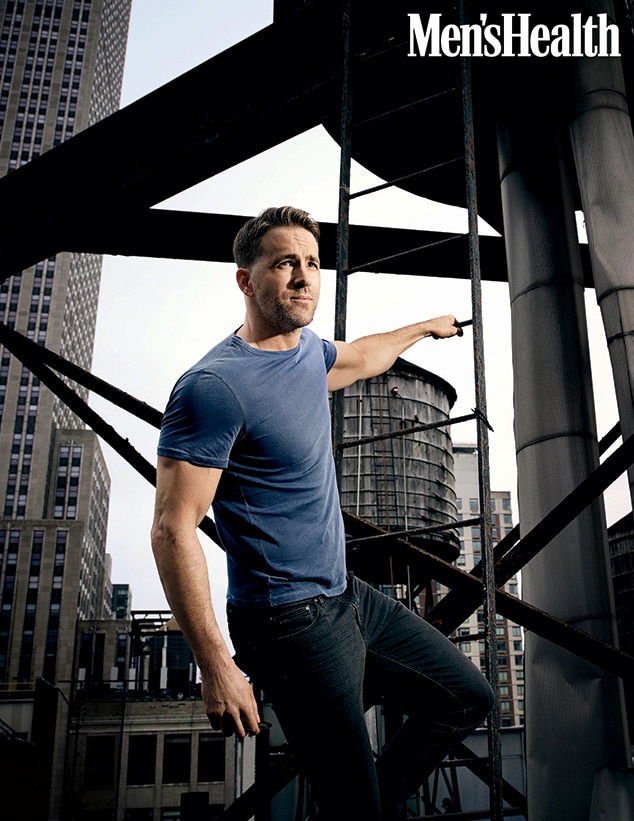 Art Streiber
While the Golden Globe nominee isn't pranking his friends or hunting down villains in Deadpool, the actor says he spends his cheat days at his favorite Manhattan pizza shop. "Patsy's Pizza…There's a Patsy's Pizza up in Harlem that's pretty much the best pizza…on the whole planet."
Although he considers Patsy's Pizza to be his cheat meal, he questions it, asking, "Is it really unhealthy if it makes you so happy?"
Whatever makes you happy is what makes us happy, Ryan.
To stay in superhero shape, Ryan works out with his longtime trainer, Don Saladino. "[Don] has programs that I can access online because when I'm shooting, my hours are so erratic. I don't want to have to meet someone at 4 in the morning in a dark gym. I just want to go when I can go," he said. But he's not as devoted as some stars are to their diet and fitness regimens. "Hugh Jackman has a dedication to his craft that I'm afraid I don't share," he said of the famously buff Logan actor. "If I'm up at 2 in the morning, it's because something has gone terribly wrong."