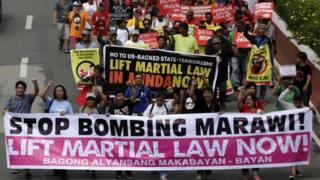 Legislators in the Philippines have voted overwhelmingly to extend martial law to deal with an Islamist insurgency in the restive island of Mindanao.
Militants linked to so-called Islamic State have been occupying parts of Marawi, a city in the south, since May.
President Rodrigo Duterte said the extension was necessary to crush the insurgency, but his critics say it is part of a wider power grab.
Mindanao is home to a number of Muslim rebel groups seeking more autonomy.
Martial law allows the use of the military to enforce law and the detention of people without charge for long periods.
It is a sensitive issue in the Philippines, where martial law was imposed by the late dictator, Ferdinand Marcos for much of his rule.
A previously imposed 60-day martial rule was due to expire on Saturday. It went into effect on 23 May, just hours after deadly clashes between the army and gunmen linked to so-called Islamic State.
The extension means the law will now remain in force until 31 December.