Phil Neville says Mauricio Pochettino is the modern-day manager he would most like to emulate.
Neville takes charge of England Women for the time on Thursday when they face France in the opening game of the SheBelieves Cup in Ohio.
The former England defender cites Sir Alex Ferguson and David Moyes as huge influences on his career but says Tottenham boss Pochettino is the type of figure he wants to mould himself around.
Speaking to Sky Sports News, Neville said: "Sir Alex had the greatest ability to walk into a room, look into people's eyes and see how they felt. Are they homesick, have they got problems – he knew it without asking. That's something I studied for 20-odd years and I think it's a big quality of mine.
"Then you think of David Moyes, who was an outstanding coach on the training field in terms of the detail that's going on. He taught me the actual details that's needed to produce a session.
"It's not just going out there throwing cones on the floor, it's every single facet of the preparation. Why are you doing that session? What are the players going to get out of it? Is it relevant to the game situation?
"Those two have been the biggest influences on me but in terms of modern day, Pochettino is the one I'm trying to mould myself around. I've managed to be in his company a couple of times.
"People say you can't be a nice guy and be a manager – I think he's a nice guy and a great manager.
"The way his teams play and the way he manages his players is similar to Moyes and Ferguson. He's the modern-day [manager] who I want to be like."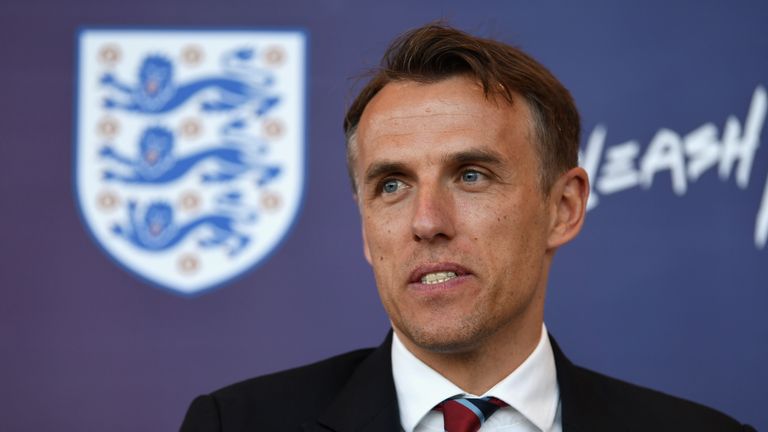 As well as France, England will face Germany and the United States in the SheBelieves Cup, with all three nations ranked in the top six of women's football.
It's a tough start for Neville but one he is relishing.
"The challenges and the way that I want to play, this will be the biggest test for us," he said.
"Can we play this type of football in the biggest arena in terms of the biggest crowd, against the best teams?
"The next three games will provide me with the best answers because we could play teams of lesser ability, win 4-0 and everyone think it's hunky dory. But actually you find out more about the character and ability of your players in the biggest games.
"The She Believes is where we want to be plying because this is almost like a mini World Cup."
Also See:
England Women v France Women preview