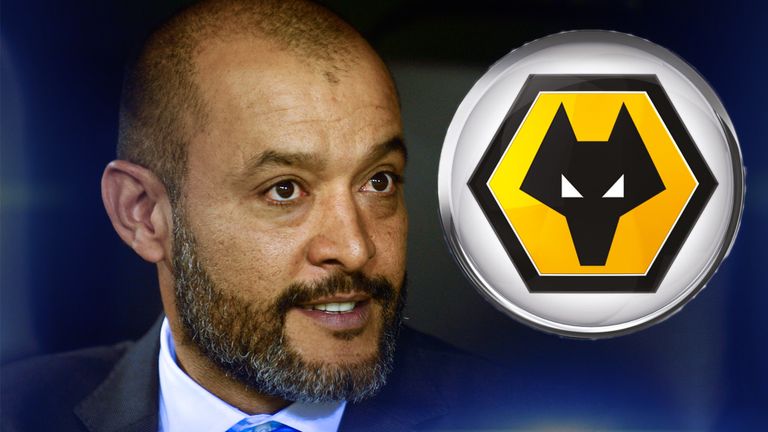 Wolves have appointed Nuno Espirito Santo as their new manager
Why the appointment of former Porto head coach Nuno Espirito Santo at Wolves underlines the club's ties to super-agent Jorge Mendes.
Perhaps the most impressive achievements of Nuno Espirito Santo's managerial career came in his first job. It was at Rio Ave in 2014 that Nuno took the Portuguese club to a cup final for the first time in 30 years. Two months later he did it again, ensuring that Rio Ave would face Benfica in both the final of the Taca de Portugal as well as the Taca da Liga.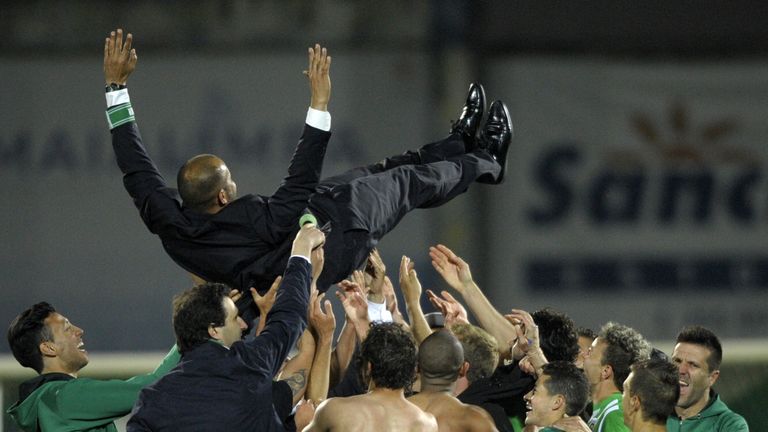 Nuno is tossed in the air after Rio Ave's cup win over Braga in April 2014
There was a joyous atmosphere in the Estadio dos Arcos on the April evening that Braga were beaten 2-0 to secure a second final berth. In the post-match press conference, a phone call interrupted events as a visibly emotional Nuno took the time out to share the moment with someone special. "Adoro-te," he told the person on the other end.
I love you.
"All the journalists in the room thought it was some relative," recalled Portuguese journalist Igor Goncalves. "But later he revealed that it was Jorge Mendes."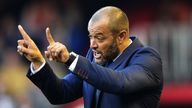 Wolves appoint Nuno
Wolves have confirmed ex-Porto boss Nuno Espirito Santo as their new head coach
The relationship between the game's most famous agent and his first ever client is no secret. Nuno was befriended by the owner of a nightclub in the Portuguese town of Caminha at a time when Mendes' dreams of power and influence were little more than that. But Mendes somehow secured the then Vitoria Guimaraes goalkeeper his transfer to Deportivo La Coruna.
The Spanish side were among the best in La Liga at the time so it required plenty of determination and a pinch of subterfuge to make it happen. Depor president Augusto Cesar Lendoiro was courted. Stalked, even. "Jorge knew exactly what time Lendoiro left the club every evening," Nuno told the Guardian in an interview last year.
"He would leave the office, go downstairs and walk to a restaurant 100 metres away. And Jorge would be there, walking side-by-side. He would drive two-and-a-half hours there from Portugal for 100 metres – but he knew those 100 metres were golden. Then he would drive two-and-a-half hours back to tell me."
An offer followed but when Vitoria president Antonio Pimenta Machado demanded more money for Nuno's services, Mendes had to get creative. He trashed the player's room and instructed him to appear dishevelled, feigning drunkenness. When Pimenta Machado got wind of it (thanks to Mendes, of course) he soon accepted the bid from Deportivo.
Job done.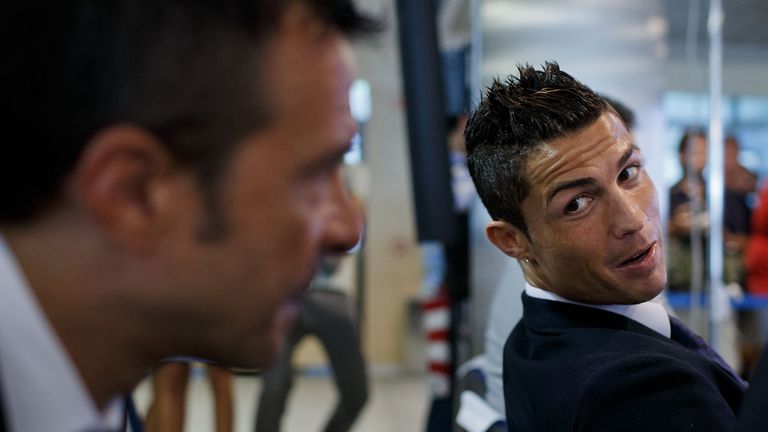 Jorge Mendes with his most famous client, Real Madrid's Cristiano Ronaldo
Nuno was on his way. His career later took him to Porto where he won the Champions League as a substitute goalkeeper under Jose Mourinho, a fellow Mendes client, and he even had a playing role off the bench in the forerunner to the Club World Cup final. As a coach, there have been stints at Valencia and Porto since his Rio Ave success.
It all began with a bit of deception, but Mendes has a way of seducing people nevertheless. Interestingly, it is not only the players who this particular agent is able to bend to his will but key club figures too. Deportivo president Lendoiro never forgot those 100 metre walks together. He never forgot their consequences either. And still he warmed to his wiles.
"Jorge is like a son to me," Lendoiro once said. "He is a charming boy, very polite, endearing and hardworking. He sometimes travelled for hours by car only for coffee. I always warned him: 'We drink a coffee, we talk, but nothing else!' And in the end it always happened to me that he would palm me off with player who I had never even heard of."
That last sentence might strike a chord with the current owners of Wolves. Chinese investment group Fosun have broken the Championship club's transfer record in each of the last two windows – paying a reported £7m for Ivan Cavaleiro before shelling out a £13m fee to convert Helder Costa's loan into a permanent deal. Both men are Mendes clients.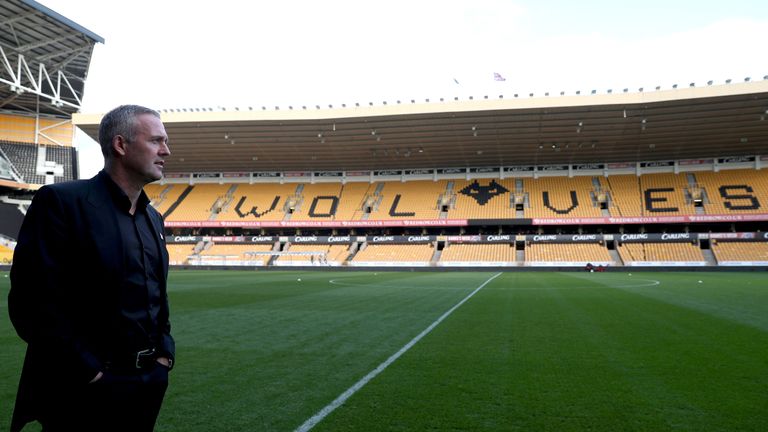 Paul Lambert was only appointed as Walter Zenga's replacement in November
That is no surprise given Fosun's relationship with GestiFute, the agency Mendes founded in 1996. A stake in GestiFute is owned by Foyo Culture, a company controlled by Guo Guangchang, the chairman of Fosun. The Football Association was satisfied that the ties between GestiFute and Fosun did not represent a conflict of interest.
The hope for Wolves is that it could yet prove a virtuous circle. Costa, after all, is the club's top scorer and standout performer. But the dance with the devil does not occur to the beat of your own drum. Despite Wolves director Jeff Shi insisting that Mendes is just "one of our agents", the feeling persists that his hand is guiding the club's transfer strategy.
As well as Costa and Cavaleiro, there were the loan signings of Ola John and Joao Teixeira from Benfica, a club with close ties to Mendes. Portugal international Silvio arrived too after a three-year loan spell in Lisbon. The trio made only two starts between them under Lambert from a possible 99 combined appearances.
Lambert recently told Sky Sports that there was no rift at Wolves
Lambert had been keen to maintain a balance between domestic and foreign players in the belief that this was the way to achieve success. The likes of Dave Edwards, Danny Batth and Conor Coady remained key. There were league debuts for academy graduates Connor Ronan, Bright Enobakhare, Morgan Gibbs-White, Donovan Wilson and Harry Burgoyne.
Mendes once claimed that his greatest triumphs was opening up the English market for Portuguese players. "I opened a path that many dreamed of opening before me without ever reaching it," he said. But placing the coaches there helps the process too. There's Mourinho, of course. He is an associate of Marco Silva too. Now there is Nuno.
Will the new Wolves head coach be more favourable to Mendes acquisitions? Certainly, there is nobody more likely to make those deals quite as straightforward as the man who put his future in the hands of an aspiring agent in a Portuguese nightclub two decades ago. The man whose transfer to Deportivo he helped engineer before turning him into a champion of Europe and the world.
The man who loves Jorge Mendes.