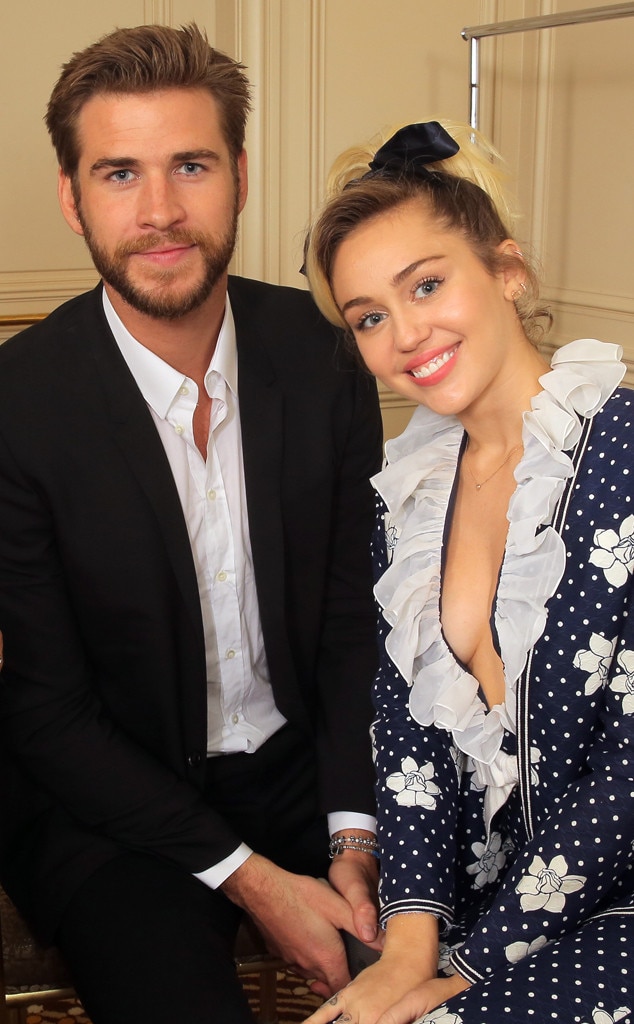 REX/Shutterstock
Just because Miley Cyrus and Liam Hemsworth haven't said "I Do" doesn't mean they've stopped loving one another.
Earlier this week, rumors swirled that the Hollywood couple had secretly tied the knot after Liam was spotted wearing a band on his ring finger. It also didn't help that the images surfaced at the Cyrus house in Kentucky. Nice possible wedding venue, right? 
Ultimately, a source tells E! News that this famous pair is not married. As for that piece of jewelry, there's special meaning behind it.
"He wears that ring as more of a 'promise' to Miley, but they are not officially married," a source shared with E! News. "The only thing that is missing is the legal piece of paper. The pair is not focused on planning a wedding at this time. They are more focused on making their love as strong as possible."
Back in January 2016, E! News confirmed that the couple was engaged more than two years after calling it quits. Since then, the twosome has stayed mum on any concrete wedding plans.
In fact, Tish Cyrus once revealed that an actual ceremony may not be on the agenda for a long time. Nonetheless, it hasn't stopped fans from wondering what's next for these two lovebirds.
"Miley and Liam are in a really good place because they truly understand each other. Their families spend a lot of time together and are basically one unit," our insider shared. "It is a really good situation right now and no one is in any rush to the altar. Their favorite thing to do as a couple is spend time with both of their families and they dedicate their weekends to family get-togethers."
And now the Kentucky pictures make even more sense, right?
"Miley and I, we always had this slogan—'If you ain't happy, it ain't working,'" Billy Ray Cyrus previously shared with E! News. "Just seeing these—I still call 'em kids—these two kids happy, that's all that matters."
For now, the couple will do their thang that includes a music career for Miley and more acting jobs for Liam. And yes, expanding the family has been brought up before.
"They both want kids and if anything, children would probably come first before the wedding," our source predicted. "Miley loves being an aunt to Liam's nieces and nephews, and knows Liam would be the best dad."