US Vice President Mike Pence has walked out of an American football game after some players knelt during the national anthem.
Mr Pence tweeted he had left because he "will not dignify any event that disrespects our soldiers, our flag and our national anthem".
More than a dozen players from the San Francisco 49ers had knelt for the anthem, while members of Mr Pence's home team, the Indianapolis Colts, linked arms in solidarity.
I stand with @POTUS Trump, I stand with our soldiers, and I will always stand for our Flag and our National Anthem.
In the NFL, some players are choosing to kneel, rather than stand, when The Star-Spangled Banner is played before games as a form of demonstration at police violence against African Americans.
The protests started when Colin Kaepernick sat down for the anthem before a game in August 2016.
He later told NFL Media he was "not going to stand up to show pride in a flag for a country that oppresses black people and people of colour."
"To me, this is bigger than football and it would be selfish on my part to look the other way," the San Francisco quarterback said.
"There are bodies in the street and people getting paid leave and getting away with murder."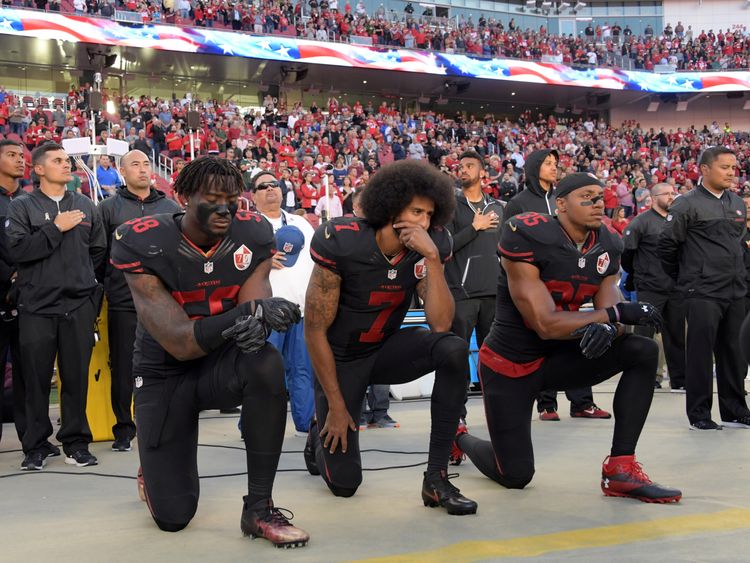 The wave of protest has been condemned by the US right wing and President Trump, who last month urged fans to boycott NFL games until "players stop disrespecting our flag & country".
The President even called on team owners to fire those taking part in the demonstration, referring to any protesting player as a "son of a bitch".
In his explanation for leaving Sunday's game, Mr Pence stressed that he stood with Mr Trump on the issue.
He had previously tweeted a photograph of himself at a Colts game, adding he was "looking forward to cheering for our Colts".
Twitter users later pointed out that the picture had been originally tweeted in 2014, however, and reused for Mr Pence's Sunday announcement.
Looking forward to cheering for our @Colts & honoring the great career of #18 Peyton Manning at @LucasOilStadium today. Go Colts!
Political objections show little sign of halting the spread of the protest, and some players have opted to link arms for the anthem in solidarity with those who are kneeling.
Many franchises have also released statements of support for their players, and a poll has also indicated a majority of Americans disagree with Mr Trump's demand for kneeling players to be fired.