It looks like filmmaking runs in the family, with Maddox Jolie-Pitt following in the footsteps of his celebrity parents Brad Pitt and Angelina Jolie.
In the new film about the Khmer Rouge genocide, First They Killed My Father, Jolie-Pitt earned his executive producer credit by sitting in on meetings, prepping for shoots and reviewing dailies. However, he was not alone in the creation of the movie based on family friend Loung Ung's memoir, with his mom in the director's chair and his 13-year-old brother Pax Jolie-Pitt working as a set photographer.
And in his first major interview, the 16-year-old revealed what it was like to work with his mother on the project. "[She's] fun, funny, and easy to work with," Maddox told Peoplemagazine. "She's a wonder."
Angelina, who adopted Maddox in 2002, recently told E! News' Zuri Hall at the 2017 Toronto International Film Festival premiere of the film that she would love to work with her children in the future, but that it's ultimately his choice.
Speaking of her son's role as executive producer and whether he will continue on this career path, she said, "Maddox worked hard. It's up to him."
"I was trying to help wherever I could," Maddox added to the mag.
In an interview with People, along with discussing her difficult divorce, Jolie says Maddox encouraged her to direct the film and the role he played in bringing it to life. "He goes back and forth [to Cambodia] a lot, but this would be over four months of just being in the country, really reading, listening, learning and absorbing all things about his culture and country [including] the very, very dark parts."

In addition to his dedication to the film, Jolie praised him for his intelligence and ability to learn languages. She spoke in admiration of his capabilities, saying, "He's been taking French and Russian and all these different languages. I hear him talking in full, fluent French, and they'll tell me he's reached a certain level in his German, and I have no idea. He doesn't do it in front of me."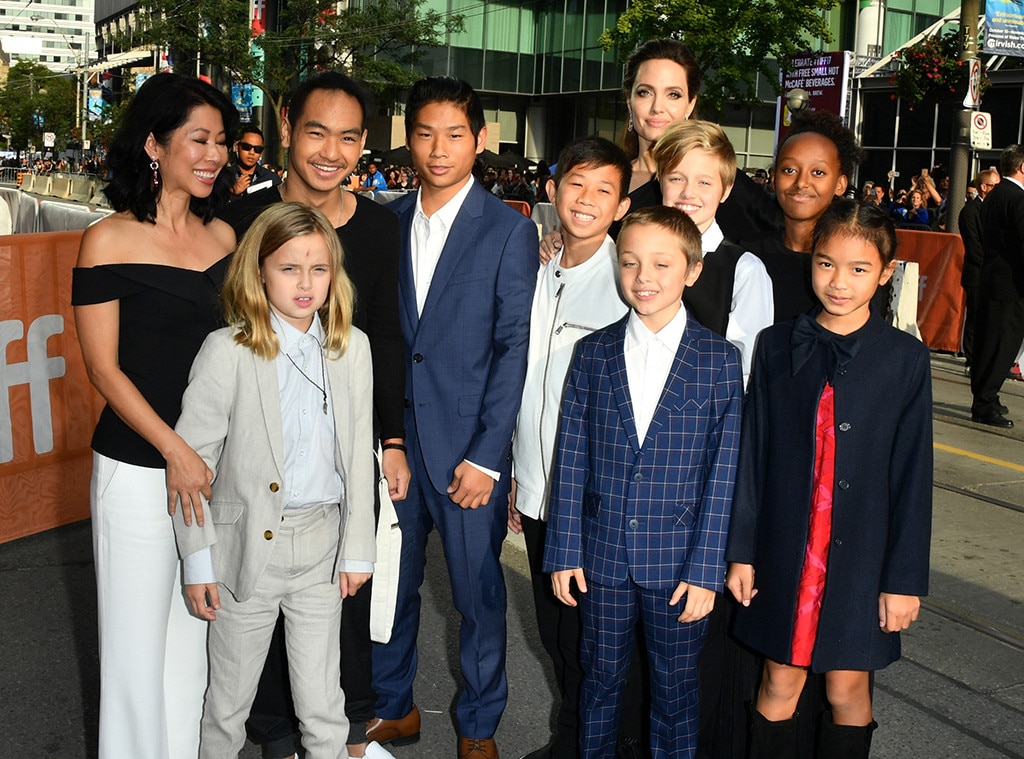 George Pimentel/WireImage
As for what Maddox loves most about his home country, he revealed, "the people by far. [They are] calm, relaxed, and when they want to do something wild, they do it—much like me in a way. I'm proud to be a Cambodian."

Angelina and her children, Zahara Jolie-Pitt, 12, Shiloh Jolie-Pitt, 11, Knox Jolie-Pitt, 9, andVivienne Jolie-Pitt, 9 were spotted at the 2017 TIFF screening of The Breadwinner. Following her divorce from Brad Pitt, sources told E! News that she and Brad are committed to putting their children first, but that it has not been easy. "We all have our difficult times, but as a mother you also have a responsibility first and foremost towards the kids. They are going through their formative years and everything else comes second to that."
The film, First They Killed My Father, which was set in the 16-year-old's home country of Cambodia, is in theaters and available on Netflix this Friday, Sept. 15.