There may not be bigger fan of the new Wonder Woman than actress Lupita Nyong'o.
The Oscar-winning 12 Years a Slave and Star Wars star has posted a rare, lengthy and glowing review of the superhero film. Wonder Woman marks the first big-screen adaptation of the DC Comics superheroine's story and stars Gal Gadot in the title role.
"Ok people, I just left the theater and KNOW for CERTAIN that the GODS have seen fit to BLESS us with #WONDERWOMAN," Nyong'o wrote on Instagram. "W.O.W. It is a superhero movie like none I have ever seen. Epic. FUN. Engaging. Stylistically Captivating. Funny in an honest, not-trying-too-hard way. Witty. Smart. Perfect length. Fierce. Sensual. Just amazing. @Gal_Gadot will glue you to the screen and at the same time make you want to run to the nearest costume shop to get your W on and join the #GODESSNESS right away (W = #WomanWarriorOfTheWorld)."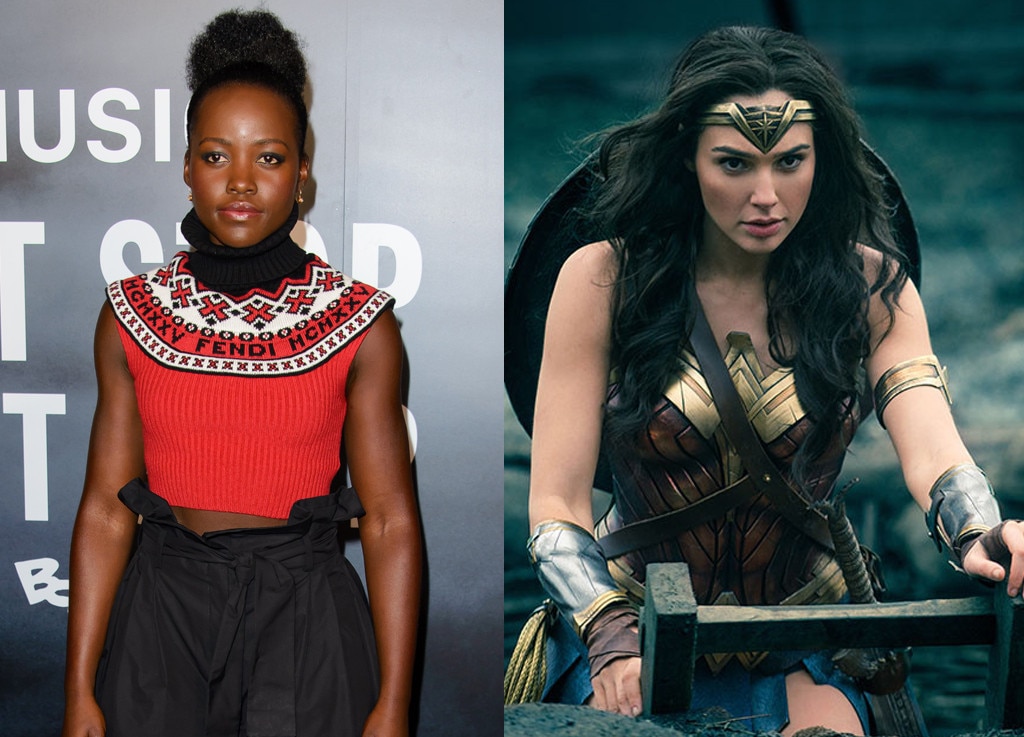 Getty Images; Warner Bros.
"Director #PattyJenkins IS NOT PLAYING AROUND, as she gives us some AMAZON REALNESS in an exquisitely directed story," she continued. "Chris Pine is irresistible. The score is KILLER. And it is the type of film that I think you can enjoy over and over. This movie definitely goes down as a classic in its genre for me. @wonderwomanfilm #RunAndGoSeeIt#HadToGush #PromotionFromTheHeart."
Fellow Oscar winner Octavia Spencer also posted a long, positive review of the movie.
"I am so stoked that #WonderWoman is having her moment," she wrote on Instagram Saturday. "To all of the mothers out there who want to influence your girls and educate your boys about the value of strong women, do yourselves a favor and make a date to take them to see this movie."
"The #Amazonians aren't just beautiful and fit, they are intelligent, speak many languages, and understand science. Yep, they have brains!!!!!" she continued. "Women of various body types and ethnicities had me on the edge of my seat. So much so, that I'm paying to see it again. But this time I'm going with friends. #BringABuddy."
Wonder Woman opened Friday to mostly rave reviews, making it the best-reviewed DC movie since The Dark Knight was released in 2008.
Wonder Woman is estimated to have already earned more than $38.8 million domestically and $47 million overseas and is projected to earn up to $100 million by the end of the weekend.