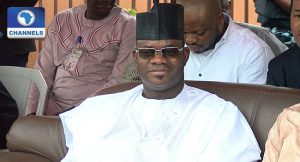 The Kogi State House of Assembly has shunned the call by Sen. Dino Melaye to mobilise state lawmakers to commence impeachment process against Gov. Yahaya Bello, over alleged involvement in double registration.
The Assembly has come out to openly said they cannot be coerced to go against the 1999 Constitution which restrains them from investigating the electoral process and instead unanimously passed a vote of confidence on the Governor Yahaya Bello.
In a press release signed by the Honourable Members and made available to journalist, the Assembly noted that they are not a robotic institution that can be influenced by external body unduly.
The statement went further to said the recent call by Senator Melaye for the impeachment proceeding against the governor is an insult to the constitution, and the members said they distanced themselves from the purported impeachment process.
According to the legislatures," the constitutional democracy which the country is presently practising, it is expected to operate in tune with the letters and spirit of the constitution".