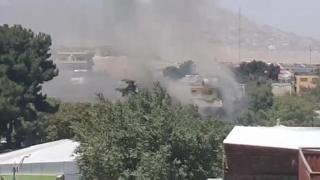 Afghan police say a suicide attack has taken place outside the Iraqi embassy in the capital, Kabul.
Gunfire was heard following several explosions in the central Shar-e-Naw neighbourhood.
Security forces are said to be battling gunmen. Civilians are being evacuated from the area.
So-called Islamic State said it carried out the latest attack. Kabul has seen a number of deadly assaults this year blamed on either IS or the Taliban.
Security officials said a suicide bomber targeted the area housing a police headquarters and the Iraqi embassy compound. Several other attackers appear to have entered the embassy building.
Pictures on social media show black plumes of smoke rising into the sky.
Correspondents say the Kabul attack comes two weeks after an event at the Iraqi embassy celebrating the defeat of IS in the Iraqi city of Mosul.
It is not yet known whether anyone has been hurt.
According to the United Nations, Afghanistan has seen at least 1,662 civilian deaths in the first half of the year, with about 20% of those in the capital.
Last Monday a suicide car bomb killed at least 30 people in a mainly Shia district of Kabul.
On 31 May, a huge bombing in the centre of the city killed more than 150 people, the deadliest militant attack in the country since US-led forces ousted the Taliban from power in 2001.