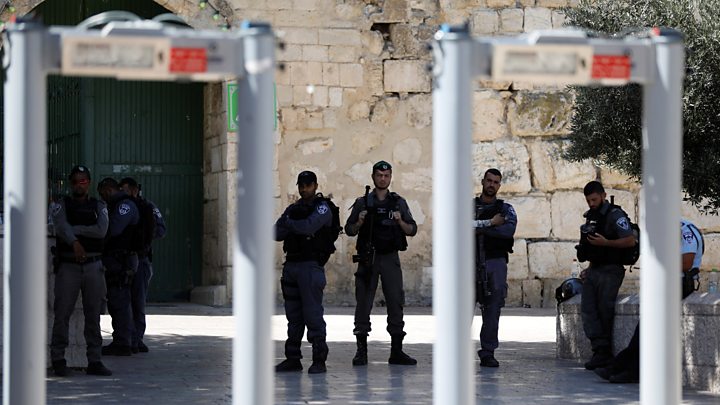 Israel is willing to consider alternatives to controversial metal detectors it installed at a holy site in Jerusalem, a senior official says.
Major General Yoav Mordechai called on the Muslim world to put forward other suggestions.
Israel installed the detectors after two Israeli policemen were killed near there earlier this month.
The measures angered the Palestinians, who accuse Israel of trying to take control over a sacred place.
Tensions over the site, known to Muslims as Haram al-Sharif and to Jews as the Temple Mount, have surged in the past couple of days.
"We hope that Jordan and other Arab nations can suggest another security solution for this (problem)," Maj-Gen Mordechai told BBC Arabic, referring to the metal detectors.
"Any solution be it electronic, cyber or modern technology: Israel is ready for a solution. We need a security solution; not political or religious."
The BBC World Service's Middle East editor Alan Johnston says it is the first sign of a softening of Israel's position over the measures.
Saturday saw fresh clashes between Palestinians and Israeli security forces. At least four Palestinians have been killed in the last two day's protests.
On Friday, Three Israeli civilians were stabbed to death at a settlement near Ramallah in the occupied West Bank.
The United Nations Security Council is to meet on Monday to discuss ways of defusing the violence.