When I first met Christopher John Rogers last April, it was over lunch at a mahogany-paneled tea room on the Savannah College of Art and Design's campus. Sipping iced tea (it was Georgia, of course), we touched upon all the normal topics of conversation one might have with a then-college senior, from how the Baton Rouge, La., native found himself at SCAD to what he had planned for after graduation. It was in the case of the latter that he struck me as being particularly interesting: As a 22-year-old, his aspirations were quite lofty, but even then, I had no doubt that he was poised to achieve them all.
When so many student collections now veer more contemporary than they do luxury, Rogers' aesthetic — bold and lavish, with silhouettes culled from decades of inspiration — was striking. Clearly, I wasn't the only one who saw potential early on.
He cut his teeth here in New York City, where he's currently based, spending his summers interning for top design talents like Azede Jean-Pierre, Rosie Assoulin and Tanya Taylor. At Taylor's suggestion, he applied for a highly coveted sponsorship from the Swarovski Crystal Design Competition, which — spoiler — he was awarded, in addition to supplementary support from the fur-heavy BCI International. And while still in Savannah, he was selected as the winner of the SAGA Furs International Design Competition, which provided pieces he incorporated into his final collection at SCAD.
Within the industry, the internal support is here, but Rogers is in no rush to take his eponymous luxury label to market. First, he wants to ensure that it's done right, as that's going to set the stage for the remainder of what he plans to be a trailblazing, decades-long career, which importantly includes creating safe spaces for people of color.
"I'm really trying to make sure everything is exactly what I want it to be — selling in really great stores and dressing real women, not necessarily just celebrities," Rogers told me over the phone from his Brooklyn studio. "I think that real women buying the clothes, loving them and being excited about the product is a lot more rewarding than just dressing figureheads."
As Rogers releases his Collection 001 — which you can view in the gallery below — and prepares a soft launch for the fall, I made a point to catch up with him to discuss his time at SCAD, recap the last 16 months of his business and consider all that he has planned next. His design aesthetic is bright, but as you'll soon see, his future is brighter.
Were you always interested in fashion?
I've always really been interested in visuals, anything emotive or expressive whether it be visual arts or anything auditory — like really great music — or anything that was emotionally provocative. I got interested in fashion when I was in fourth grade. I was really into anime, manga, cartoons, comic books and that kind of stuff, and my friend, Catherine, pointed out that one of the characters that I was drawing always wore the same thing. So then, she was like, "You should come up with something else you're going to wear." Then from there, I became obsessed with the idea of creating possibilities and narratives for characters through clothes. In fifth grade, I started looking up schools where I could study fashion. I didn't even know if that was an actual thing.
How did you end up at SCAD?
I toured all of the schools and I felt like SCAD was a nice middle ground. I'm from Baton Rouge, which is pretty much a really big small town. It was like a nice in-between, between the busy-ness and chaos of New York and a smaller town vibe, which I was used to. The facilities were really intimate, which I liked. There was a small student-to-teacher ratio. All of the equipment was really impressive, and it seemed a lot more conceptually driven, which I thought was interesting.
What lesson did you learn at SCAD that are still prevalent now?
I think I've always been pretty autodidactic. I knew who I liked and what I liked, and then the assignments that I was given in school only amplified that. They really focus on you getting a job after school. It's a really career-driven institution. They give us assignments designed for specific designers, but I'd always tailor it to be if I was the creative director at that house. What would I do for it?
I always was able to bend the project to be what I wanted it to be. I think my professors were interested in that approach to the assignment. They were always really supportive of that and pushed me to think of new ways to bend the rules.
With that, I took an opportunity to refine my aesthetic and the signatures that I wanted to do in my brand. I've always hoped that would happen, for me, to have my own label. I took every opportunity to refine exactly what I wanted to say.
Which brands and businesses do you most admire, either from a business or a creative standpoint or both?
Marco Zanini, Issac Mizrahi, Consuelo Castiglioni and Christian Lacroix. In both business and creative, I think Dries Van Noten is amazing. He's not for everyone, but the people he designs for are obsessed with him, and they love him. He tends to stay pretty self-owned. He owns 100 percent of the business, which is really something to be proud of. He's just really creative; he has a really strong point of view, and he is consistent every season, which I think is inspiring.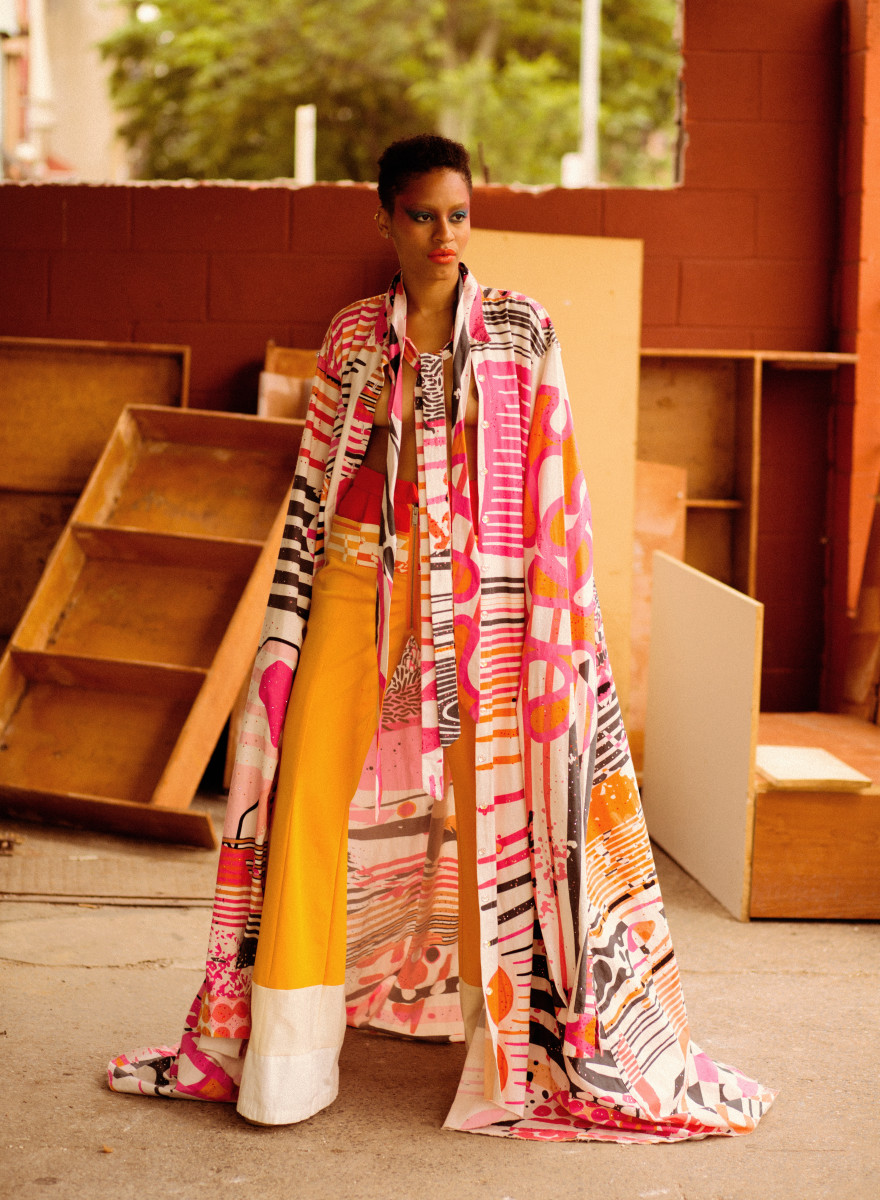 You've been selected for a number of sponsorships, including with BTI International. What have those awards meant for you as a young designer?
Before I applied for that competition, I never had a specific obsession with or interest in fur. I thought it was a cool textile, and I didn't really know much about it, but I applied anyway. I worked with it and designed with it in a really special way; I guess it impressed the judges in some way. [Laughs] It really helped me solidify my product as a luxury product, which is really great. To have that solidified so early on is really important. It's nice that important companies and heavy-hitters in the fashion industry are supportive of my work.
The luxury market is notoriously competitive, so I'm curious: What made you want to get into that space?
Through internships, I realized exactly what clothes could look like. You're able to see how much passion and dedication and craftsmanship goes into creating luxury products — this idea of passion and quality of what clothes can be. That intention is what I want to bring to my work. I never try to make something unattainable or out of reach for people. I just want to give the best that I can give them, and I think that through luxury that's possible.
What have you learned from the brands at which you've interned that you've carried into your own label now?
One of my favorite internships was with Tanya Taylor. She actually was the person who introduced me to the people at Swarovski. They actually applied for their own Swarovski grant, and I helped them illustrate Tanya's idea. She told me exactly what she wanted, and then I also did detailed sketches and a layout for them. Then, she in turn introduced me to their company, which was really great. She has a really strong [understanding of] what women want to wear.
Identifying as male and cisgender, I don't really have that much. I'm not a woman, right, so it's interesting how she navigates that and also keeps up creatively with what she does in terms of time and sub-development and the way that she works with color.
I also had an opportunity with Rosie Assoulin after graduation. She's the sweetest person, and I think that it shows that you can be successful and you can maintain your point of view while also being commercially viable and successful — and be the sweetest person and still have authority over your domain.
I see a lot of similarities between Rosie and your aesthetic, largely in terms of creating luxury and having the items remain completely wearable.
It's crazy because all of her pieces are so special, you would think I'm not going to buy this. I think that's why it does so well, because they're pieces that you're emotionally connected to that you have to have, if you're able to afford it.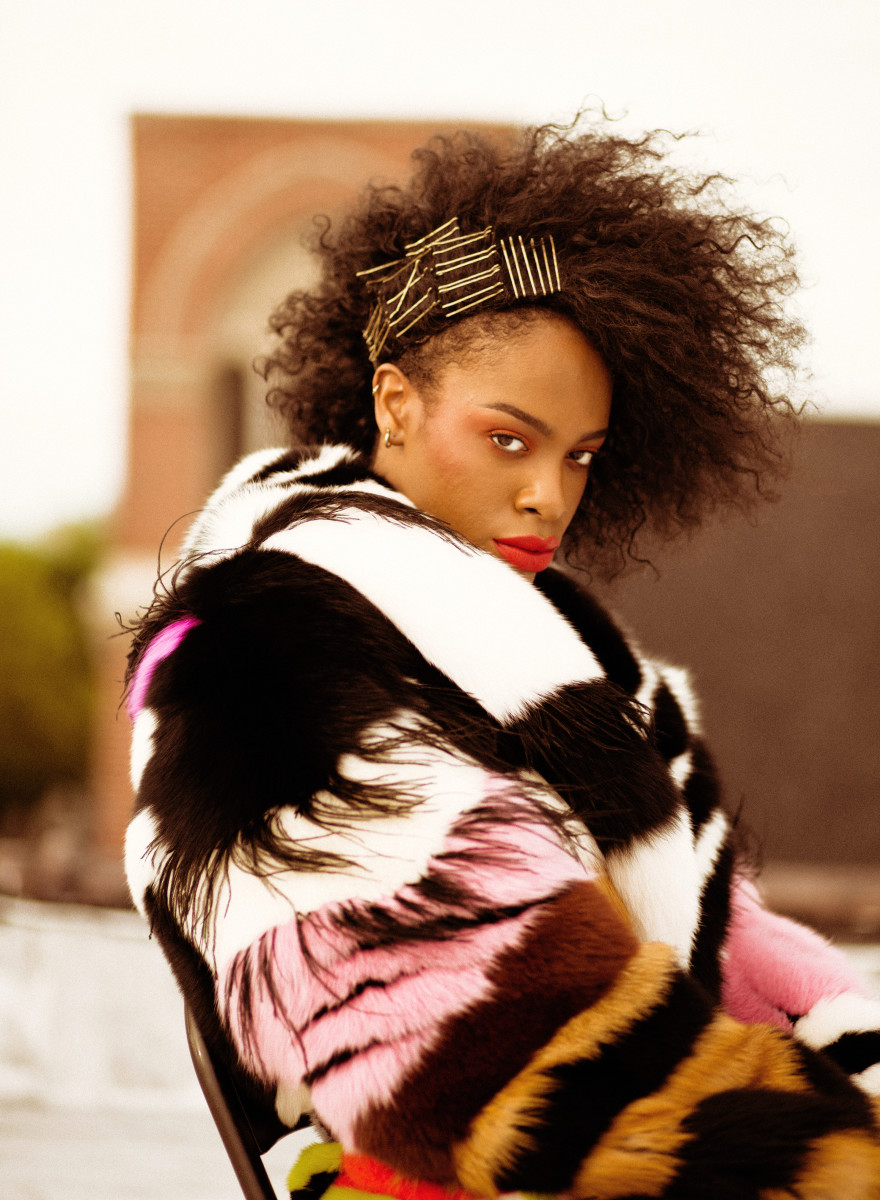 In the short-term, where do you see your label going?
In the next three to five years, I really hope to be developing products that people feel an emotional attachment to and have to own. I'm working on a soft launch.
I feel like I'm working on an album, and I feel like there are expectations for it. Not that I'm famous by any means, but I want for there to be an intention, and I want it to be really honest. Lately, I've been keeping up with shows and presentations, and with what emerging designers are doing, what accomplished designers are doing, and I felt like there was a lot of noise in the air. I've stopped looking at that and only looking at artists that I'm really interested in — just trying to create a signature for the soft launch that I think is really authentic.
I'm really trying to make sure everything is exactly what I want it to be — selling in really great stores and dressing real women, not necessarily just celebrities. I think that real women buying the clothes, loving them and being excited about the product is a lot more rewarding than just dressing figureheads.
Where do you do your sourcing and production?
Everything is made by hand. I make it by hand. I have someone that's helping me. [Laughs] I know, it's ridiculous.
I'm having someone help me for development and things like that. For all of the fabrics, we're sourcing them from factories in Italy. I'll be using Italian fabrics and then pretty much making everything for this next collection by hand. We thought then we'll be able to manufacture in New York.
Looking ahead, what's your ultimate career goal?
Ultimately, I really want to be a really influential player in the fashion scene and the fashion industry and with that voice, create safe spaces for people of color and introduce an influential representation of black and brown skin to fashion that's both interesting and celebratory. [That means] addressing what the politics of fashion can mean, [shedding light on] underrepresented people with clarity that will allow for a certain level of opacity and encouraging people who gravitate towards my clothes to tell their own stories through my clothes.
This interview has been edited and condensed.
Homepage photo: Lia Clay
Never miss the latest fashion industry news. Sign up for the Fashionista daily newsletter.