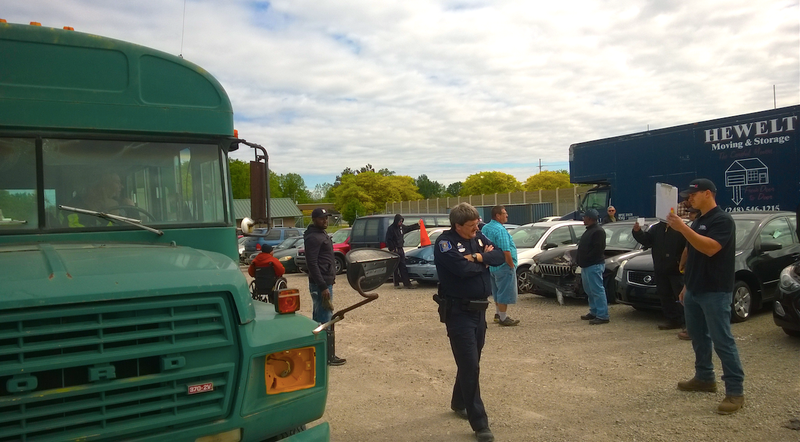 I've always heard that anyone off the street can go to police auctions and bid on hilariously inexpensive cars. But it wasn't until last week that I actually attended one of these bidding wars and learned how true that is. Let me tell you, friend: it was amazing.
I reached out to my friend Kevin, who manages my local junkyard, to see if he'd let me tag along for one of his car-hunting endeavors. So on Saturday morning, he drove me to a small gravel impound lot in the suburbs of Michigan, where a bunch of tattered old cars sat under the scrupulous eyes of potential bidders.
Before we started, Kevin checked in at the front desk (the window of a school bus), signed some paperwork and received a bidder card and an auction list.
From there we walked the yard, and while I was drooling over a 2001 Jeep Cherokee, he was looking over each car with a fine-toothed comb. In some cases, bidders couldn't pop the hoods, and they couldn't start any of the vehicles to see if they ran.
But Kevin has a sharp eye for VIN codes, which he can decipher to figure out more about the engine. Couple his VIN-reading skills with his knowledge of what engine and car parts are in high demand (and which parts fit which cars), and Kevin always knows exactly how much he wants to spend on each vehicle.
The cars at this auction weren't what I'd call "exciting," but it's still a good thing I didn't have a bidders number, because I would have been all over that 1985 Honda Spree motorcycle, the 1993 Ford Escort wagon, and probably that 1995 Chevy Astro Van. (I've got a weak spot for Astro vans.)
The cool thing about this police auction is that the auctioneer conducted all the bidding from a school bus. As he finished selling cars, he'd just crank up the bus's rough-running engine, and nurse that thing a hundred yards or so to auction off the next four or five vehicles.
The bidding started out fairly tame. Individuals there bought a beat up Impala for $525, a Chevy Astro van for $425, and the shittiest Chrysler PT Cruiser I have ever seen for $300. As for the awesome Ford Escort wagon? Well, it didn't do so hot, in part, Kevin told me, because it's so light and has low scrap value, and because parts are in low demand:
You could tell that most people knew each other. It felt like these few dozen bidders were part of exclusive network of junkyard owners and flip-artists who have been bidding on cars against each other for years. Every now and then, when one guy outbid another, you'd see the losing bidder lean over to a friend and talk shit on the winner. "He just buys cars for the sake of buying them. He probably makes no money," I hard one guy whisper. Police auctions are full of mysteries and secrets.
People were on their cellphones taking bids from afar, others were desperately eyeing the cars to see if the panels and bumper covers were in decent enough shape to make some cash at the current bidding price. Though there were only a handful of folks at this little auction, the dynamic—the subtle things people did to make sure they made a sound buying decision—was enthralling.
You could tell there was tension in the air as we started getting to the more desirable cars. Here's Kevin, duking it out with another gentleman for a 2003 Ford Escape. After a few back-and-forths, Kevin tapped out at $525, as the vehicle crossed the threshold from surefire-profit into "questionable."
The real crown jewel of this little police auction was a gorgeous 2013 Hyundai Elantra that, at least on the outside and in the interior, looked very well maintained. Plus, it came with keys, which is always a plus. Brought in for driving under a suspended license, the Elantra's starting bid was $2,145.
Getting that starting bid was no trouble, but from there, a white-haired gentleman went toe-to-toe with another guy in an orange shirt. The bid immediately jumped from $2,145 to $2,500, then up to $2,525, then a giant leap to $3,000.
The orange-shirted man then shot that bid up to $3,100, to which the white-haired fellow responded with a $400 increase. Orange fired back with an even higher hike, bringing the bidding up to $4,000.
White-hair then responded with $4,100, but orange-shirt didn't bat an eyelash, shooting bidding all the way up to $4,500. With these big jumps, it was obvious the orange-shirted man wanted this Hyundai. Still, white-hair—who had bought up a number of cars that day—wasn't backing down.
He cranked up the price to $4,700, forcing orange-shirt to move the needle to $4,800. White hair doesn't care; he offers $5,000. Orange shirt: $5,100. White hair: $5,200. Then a lull ensues. The auctioneer gets ready to conclude bidding, saying "Fifty-two, going once…"
After a bit of awkward indecision, orange shirt puts up his bidder's number and offers $5,300. White hair strikes back with $5,400, and orange shirt doesn't hesitate to pop his number up another time, ultimately winning the Hyundai for $5,500.
After the Hyundai came a white Jeep Cherokee, a vehicle that many junkyards would love to have in their inventory as Jeep parts tend to sell well. But at a starting price of $350, there wasn't a lot of money to be made on a vehicle that is so common, it has essentially become the go-to disposable off-roader.
After the Jeep, the auction finished off with a Pontiac Sunfire, a '90s Ford F-150, a Dodge Dakota, and then arguably the crown jewel of the show, a Honda Spree minibike. Just look at this marvelous piece of machinery:
Once that sold for $100 (even the police officer got in on the bidding for the Spree), everyone took their cash to the bus and paid up. In this auction, if someone bought a car for more than $1,000, they didn't have to pay the full amount immediately, just 20 percent to hold the vehicle.
After paying up or putting down the hold money, buyers had 24 hours to return and tow their newly purchased vehicles off the lot.
I returned home wishing I had never gone to this auction, because as someone trying to get over his junky-vehicle hoarding tendencies, I'm not strong enough to handle this kind of temptation. Sure, many of these cars were junk, but they were dirt cheap. And since most were impounded for some sort of driving infraction, there's a decent chance they move under their own power.
Needless to say, I've been browsing the web for the next Troy, Michigan police auction. I need that $350 Escort Wagon. And that $400 Jeep Cherokee.
And that Astro Van. And also the Spree. Lord help me.