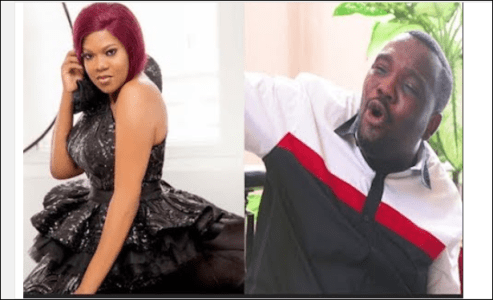 I Am Very Angry With Toyin Abraham – Yomi Fabiyi
Popular Nollywood actor, director, and producer Yomi Fabiyi is a very notable, in an interview with BIODUN ALAO, he addressed why he is always against Toyin Abraham and why he has decided to stand alone to make peace in the Yoruba movies industry.
Most people are of the opinion that you have something against Toyin Abraham, because you are always against her on social media. How true is that?
For those that probably get to know us when I am trying to correct some vices in the industry. I have always been there for my colleagues in the industry, not just in Toyin's case alone, even for my friend that are not in the movie industry, for my family members for people on the street, that I don't even know anything about. That is exactly who I am I and how God has created me. Maybe that is why, I have not been extremely rich, I care and fight for people more compared to myself. And I am not ready to change that for anything because that is exactly who I am.
In Toyin's case when I choose to stop our friendship several things that she has done, some that I noticed on social media, some came as huge surprise and I was like, it better not be you when some issues came up, I got angry, corrected her and forgive her immediately, because I thought it was not intentional. Take for example Baba Suwe denied being side, I was scared NDLEA was going to come for me, that God I managed the situation and God. Also managed it for me and the truth came out later. I never did anything wrong to her and I have always did anything wrong to her and I have always been there as a friend.
But honestly, what really annoyed me that also made me keep coming out against her is this. A lady that I have never met in my life, somebody that will probably be my fan and even respect me for my exploit in the industry could go to the extent to plot evil against me all because I was advertising my movie.
A particular movie Toyin wanted to act in but I said. I wanted a new face to play the lead, the movie is titled "Agbedi Meji's but I stood my ground on using a new face not because she is not a fantastic actress or I don't appreciate her talent, but because I feel it is wrong for me to keep using a particular face for my movies. If this does not go well with you, I expect that you will let me know. I have used you in some other movies, where you have won the best actor for my movie and I mean well for you. I never betrayed or hurt you, and all our secrets remain intact.
Eventually when the movie came out, when I should be doing well with my movie, it was suppose to be the next level because it was an old school movie and I shot it in Cinema standard though my intention was not Cinema I was only trying to test run and the audience love it and included it was a Cinema standard movie. I expected all the support I deserve from you, but all of a sudden a strange lady called Eunice Eniola Omoshalewa Lawal posted on instablog on the comment section of a particular article that was posted, wrote all manner of lies about me, and people started tagging me, so I went to check and also checked the persons name.
First thing I wanted to do was to Ignore because the moment you give it a response you have given the story life. Then the next day instablog munched that particular comment from the comment section added my picture and the lady's in question picture and gave it a headline. I looked at the story critically, added two plus two and went straight to her (Toyin)I wanted to see reaction, what I got was really disappointing, and that was won I told her, that I don't want to know the role she played in the whole issue but I will never be her friend again.
But that particularly lady Omoshalewa would have paid yearly for her mistake, I will definitely get to the bottom of the whole story. I might not be the first actor to be accused wrongly or have scandals in the industry but I was really angry with the whole issue. And I was like if this menace becomes a trend, it will definitely destroy the movie industry. I know the sacrices I have done for the sake of peace in the industry.
After the dealth of Moji Olaiya, during the burial, we had three different prayer sections for deaths to stop in the industry. I initiated it because I want the best for my colleagues in the industry I want all of us to live to eat. The fruits of our labour. I know how actors work so hard to get that stardom and keep it. What would I gain if anybody dies, what would I gain, if no one is making it. I have nothing to gain. As far as am concerned, they are all my first family. So if somebody for whatever reason will now use a fan, an innocent fan to perpetrate evil, violence, extreme witchcraft to a fellow actor and we all keep quiet, it will surely gets worst. I charged the lady to count.
I informed the Commissioner of Police, I wrote a petition that I need the case to be thoroughly investigated. I also submitted myself for any investigation low and behold those behind the lady made her leave the house, she started evading invitation from the Commissioner of Police I got so frustrated, in between the human affairs was involved, at that time, my health, reputation went through a lot in the industry. When I was invited to the human affairs and domestic violence office, I told the woman, first and foremost you called today and want me to appear before your immediately, things are not done that way. I said the lady in question that ran to you to complain at least should have evidence of what I have accused off, also that I don't know, and we don't have any sort of connection, she didn't respond. The issues went on for a while, she kept writing in her page and getting unnecessary support the next thing she wrote another petition to the AIG, the same day she wrote the petition, she got approval, next thing, was that they called me, and I should come to the PPRO office, that is Dolapo Badmus's office.
How can a criminal petition been written and it is the PPRO that will handle the situation. She is very familiar with lots of actors and actresses in the movie industry, I guess they just wanted her to settle us without so much drama because of her relationship with celebrities, and she can take care of issues like that easily. The lady kept posting on her page that I have been summoned to the AIG, and in other to scare me you went to higher rank. I purposely went to the AIG myself just to prove a point and when I got there, it really dawn on me, that I have never met this woman in question before, and I insisted that we must both be investigated, and I was ready to face any punishment if I was actually guilty of anything. Dolapo Badmus has video of everything that transpired between us that day at the office.
After instigation, they realized everything will she accused me of was totally false. If I have to go to court on this issue, I will appreciate her to release the video to the general public. So if somebody I have never met, and a fan can be used for such evil and dirty act. So the moment I suspect in this evil act is about to hurt another person, are you telling me to keep quiet. So I have been begging people to shop tagging me controversial, because I mean well for people, so I will not keep quiet and allow violence to prevail in the industry.
But lots of people believe I am doing it because I went fame and attention. I do good movies, I write very good scripts, I know how much it cost to do screenplay and I do that myself. You don't even know what I have upstairs, but you go to social media and say, am seeking for attention, for what most of this people fake their lifestyle, which I don't. I just want peace in the industry. While I was still at that, Mercy Aigbe was about to be given endorsement, the moment she was being unveiled, war started again. Just because the guy managing both of you and fight for endorsement for you both.
The moment Samuel Olatunji released footages from the endorsement deal, my friend and colleague Toyin looked at the timing and concluded, it is going to be wrong to create a fake account, and it will take a while to create a fake account to carry out any action, she used her own personal account to accuse Mercy Aigbe of what she never did, and subjected her to cyber attacks and bullying. I would not say, because I want to be loved by anybody, I will see things, keep quiet and not explain. If I do the same evil some else with expose me, that is why we need to be careful. It doesn't mean I don't like Toyin, or even wish her bad, but because I want her to stop the act, and the fans joining hard to perpetrated the evil, should show, this is what you are being used for. When the first attack came, Mercy got over 2367 attacks on Ig, nobody supported her, she was so scared to even speak out.
Not everybody can express themselves on social media, they might be misquoted. Toyin slammed the second attack. It was when the second attack dropped I was like, you are my friend and you are highly talented. Something keeps telling you, you have fans, you have followers and you can bring anybody down. If I decided to talk to you over the phone, you won't listen. You have done it to me and am still nursing movie.
Then I have to quickly speak up and immediately I did that. The so called fans are all on social media, none of them knows what is happening in the industry. I have the liberty to tell you the truth situation, and because it is about evil, if not immediately handled, it might lead into something else, the attacking each other spiritually and I don't want that to happen, this is what is happening why are you people insulting the wrong person. The guy managing them had to quickly step in and claim it was a stunt. They are trying to do damage control, damage control that will still damage things. If not quickly handle.
I don't care, if I stand alone, once my conscience is clear. So if someone read meanings to what I have said how is that my fault. The most important thing is that I have been able to prove a point, and you are not allowed to do evil beside me. that was how I was raised. That gave mercy courage that at least, there's someone who actually knows the truth, she now reacted to the story, in a very moderate way.
Then Toyin apologized for her actions, she has not grown above. Scolding in the industry I don't' dislike Toyin, when someone she was even in love with tried to treat her bad in the industry, I stood by her. Most people were like, why are you supporting her like that? I said No, you don't have any right to treat her that way. If we often do that in this country, it will be a better place for us to live in. At a people thought he was going to kill me but am still alive.
As far as my concern, am doing what is right, the fact that I didn't choose to behave like others. Doesn't make me bad. That should make sense to people I don't care if people don't love me out there. You don't need to like me because am doing the right thing. So that was why I voiced out on their issue.
Trying is a big brand and it is not like am trying in any way to bring her down but just wanted to change something about her, the whole idea of using fans, fake accounts to send negative information, damaging informations, going to other pages to troll and curse your colleagues is not acceptable. Just because some people decided not to celebrate you after you put to birth does not mean, they don't like you. Social media is not the only way and place to celebrate your colleagues social media is now the yardstick to measure who is more popular and who is more loved, then the moment, they see someone trending on the same social media, they want to use every possible means to bring such person down, and life is not like that.
The very day, they were celebrating with Toyin on the birth of her baby, another account went to Wunmi Toriola's page to wish her evil during delivery because she is not in good terms with Toyin. I don't need to grow gray hair before realizing, to some extent, am an elder in the industry and need to speak out on some issues. Because keeping quiet will not even make people love you at the first place, but will definitely put some certain things into places. So that is the main season I speak out on issues not necessarily because of Toyin.
There's no how the kind of love I have for her will disappear totally, but I can't keep quite, when I know, this is what you do indirectly, that I know. That your fans are using your name to do and you boldly came out to say that you can't control what your fans do.
No same person will say it, especially when your fans are using your name to cross the line, to do evil to your colleagues create social media violence, will somebody bully somebody, don't forget that anybody can be bullied to death or even commit suicide. Bullying is a very dangerous weapon, and you came out to say, I can't control them. It is so unfortunate that the whole industry has been watching things, then keep quiet, because nobody want to be tagged controversial. What if I create fake account and do same to her. Heavens known I can't even remember the last time I visited her page. I will never open any account to spy on anybody. I know almost all the Ig handle of all my colleagues.
I don't necessarily have to follow them or they follow me, but I know their handles. That is why, people see me talk most time and it will continue until I realize that has stopped in the industry.
To, me, am winning, not for myself though, but for common sense, peace. Look at the other lady that cried out, people ignored her pain, they don't even want to know. What made her come out to shout. They just feel, oh why should you react. You should act like a posh person. But honestly, which one of us knows went she went through and why she voiced out. Then the response of my deal colleagues was not encouraging at all. Somebody used your name to send a damaging report secretly to an organization, that should be a major concern to my colleagues that things like that should not be done.
No fan should do this in my name knowingly or unknowingly, this person will see me as any enemy, so I need to dear my name , but when you said no I can't tell them what to do, is the society expected to keep quiet about such an issues? If they pick that lady and trace that account property, we will be surprise that, it is someone that is behind it or it is not even exacting at all. I don't make troubles, I just want to be there for people, help people, the sky is big enough to accommodate enough stars. Lots of people misunderstand me and called me names.
I respected and keep friendship a lot but I don't support evil in whatever form.
I have had a good relationship with Toyin for over 10 years, it is now fans are advising her that am not her good friend. Am very sure deep town inside her, she will just say Ah Yomi is not like that, I have actually done something wrong. That is why, he is upset. If I have done the right thing. I would have loss such a friend. She knows that all those negative remarks about me is not who I am. I need to use social media to correct, the way they are using social media to attack. It is not like am attacking her or against her in anyway.
Far from it. Iyabo Ojo tried to make peace between us and I told her, you know once I make peace, I don't fight again. It is so sad that you place yourself in that situation, don't think oh you have lots of followers that will always support anything you do. You are bigger than that. Stay away from it. Express yourself with your craft and you will make good money. I want you to understand that using fake accounts to monitor your colleagues, you are indirectly exposing them to throlls, because away fans who from association to be used to throll other actors or actresses, I want you to understand that you have automatically became agent of destruction.
If those are the followers you have and rely on. You will just be there and remain empty and they will continue to cost you. So many pain and I don't expect such for you at this stage of your life.