It's been less than seven months since news broke ofPrince Harry and Suits star Meghan Markle's uncommon romance, but many of the details of their relationship are still a mystery to the world. What the public does know is slim—and that's mainly that the prince seems to be pretty serious about the American actress. 
So how do these two high-profile people keep the deets of their romance the best-secret in the world? We've got a few ideas…
Location, Location, Location: The Suits actress is from Los Angeles, where a celeb bumps into the paparazzi just going to the super market, but she actually lives in Toronto, where there are significantly less professional shutterbugs, most of the year. The 35-year-old American also films in Norway, so she can be hard to pin down if you're a pap on the prowl.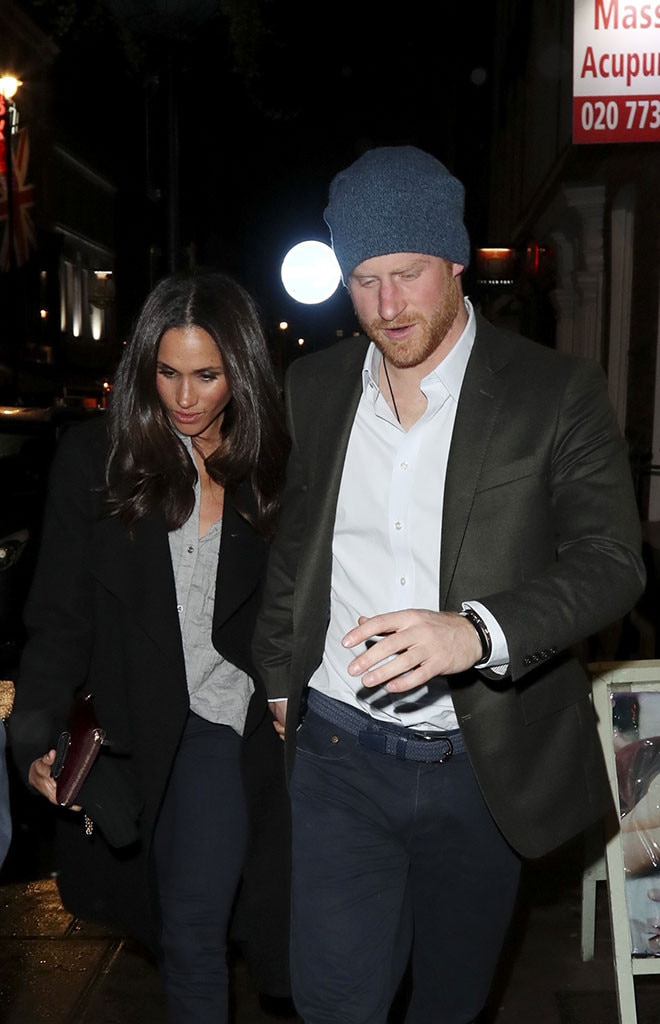 FameFlynetUK/FAMEFLYNET PICTURES
Loyalty Is Big: Neither Meghan's friends or Harry's friends have sold them out for a big payday. Even ones who do, like Priyanka Chopra, are very tight lipped. Loyalty is priceless. 
Jet-Set Life: Money also affords you the means to travel. On several occasions, Meghan has reportedly been flown to meet Harry via private jet. Not being photographed arriving at the airport or leaving the airport by photographers, or on the flight by fellow travelers has allowed the couple to many of their keep their meet ups private. 
Social Media Lock Down: Meghan has barely posted anything on her social media since news broke late last October that the Suits star was dating Prince Harry. Often spying eyes can figure out some private intel from a celeb's Instagram posts, but Meghan's have been few and far between, essentially revealing nothing. Although her October post of two canoodling bananas seemed to send the public off and running at the time. The actress has since stopped posting anything cutesy.
Tight Lipped: Neither Meghan nor the royal have given interviews about their relationship. So if their friends aren't talking about what's going on with them, and they aren't talking about what's going on with them, then no one really knows what's going on with them.
Confirmation Is Key: Many celebs keep the rumor mill spinning by saying nothing when they are in a new relationship. Speculation of are-they-or-aren't-they often fuels the fire for the public's thirst for more information and for prying eyes, but Harry and Meghan took an unorthodox approach when rumors swirled at the end of October 2016 that the two were an item, and the way they shut down the dating rumors was by confirming them. 
Buckingham Palace issued a statement on Nov. 8, 2016: "His girlfriend, Meghan Markle, has been subject to a wave of abuse and harassment. Some of this has been very public—the smear on the front page of a national newspaper; the racial undertones of comment pieces; and the outright sexism and racism of social media trolls and web article comments."
Cash Is King When It Comes to Privacy: Meghan and Harry aren't hanging out where the plebs go. They're either behind the gates at Buckingham Palace, or spending time at Harry's heavily guarded apartment next to Prince William and Kate Middleton's home at Kensington Palace, or on ultra-luxe trips to places like Jamaica where you pay a big price tag for a lot of privacy. 
Harry's the Prince of England and if that doesn't buy you some serious security, we don't know what does. And while these two have been very private about their love, they appear to be making their romance more for all to see, so it's possible that in time, the public won't have to speculate…