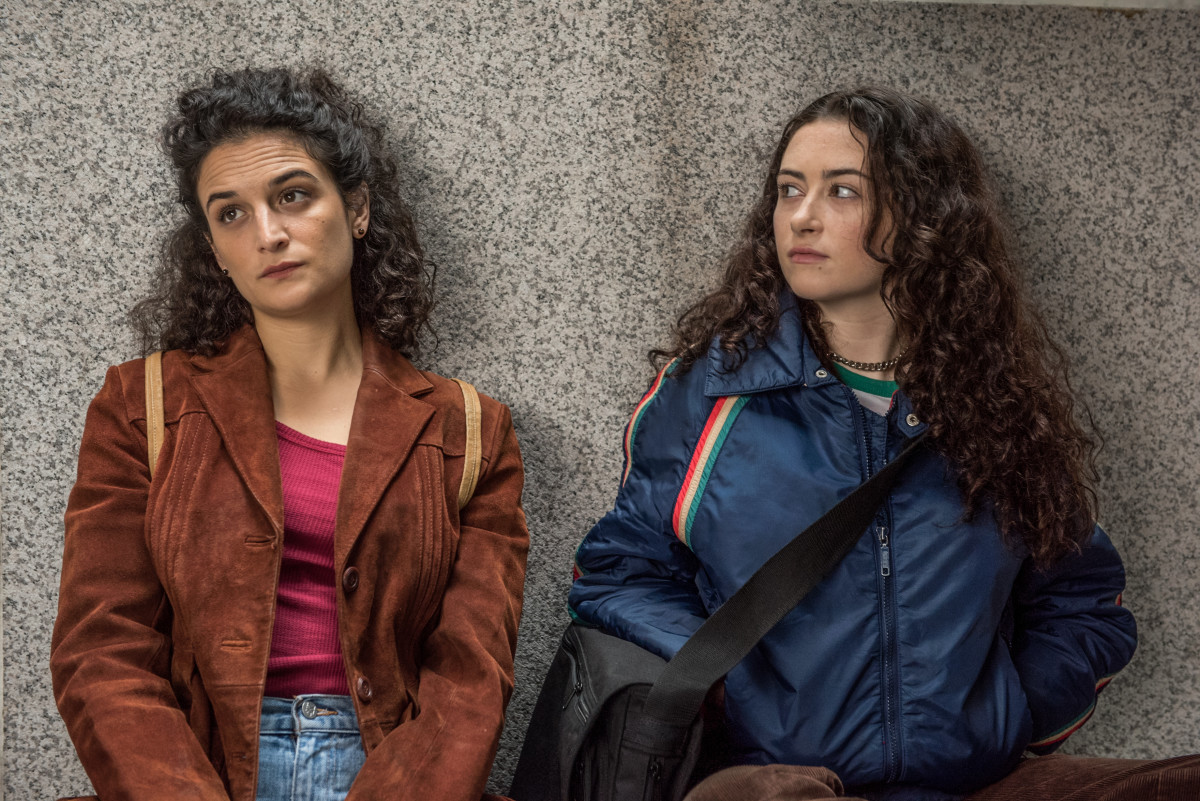 We'd take the dream team of writer/director Gillian Robespierre, writer/producer Elisabeth Holm and actor extraordinaire Jenny Slate any way we can get them — especially when the "Obvious Child" trio reunites for some '90s nostalgia in the Amazon Studios movie, "Landline."
The movie's analog and pre-smartphone setting of 1995 offered the perfect opportunity to honestly explore life, love and relationships — especially since texting, DM-sliding and all the ways we avoid actually talking to each other now didn't exist yet. "Landline" (get it now?) focuses on the members of the Manhattan-based Jacobs family, who are each in the midst of their own existential crisis. There's ad exec dad Alan (John Turturro) who might be cheating. Mom Pat (Edie Falco) handles her high-level EPA job by day and her rebellious 17-year-old daughter, Ali (Abby Quinn) by night (when the smack-talking teen isn't sneaking out to raves, because it's the '90s). And Slate plays older sister Dana, who's freaking out about her engagement to sweet, steadfast Ben (Jay Duplass). Plus, the '90s backdrop also allowed the film-makers to highlight a gritty, pre-Mayor Rudy Guiliani New York City, which is when and where Robespierre, Holm and costume designer Elisabeth Vastola grew up.
While the movie is subtle when it comes to blatant throwback nostalgia, mid-'90s-era gems are smoothly (and delightfully) integrated into scenes: Zima, floppy discs, Sassy magazine and CD listening stations at a Tower Records-esque store. Plus, listen for the dulcet tones of '90s hits, like Steve Winwood's "Higher Love" opening the movie and the screech of a dot matrix printer. Of course, there are the period costumes, which Vastola took care to keep authentic and "real" to the era and characters. Instead of referencing immediately recognizable pop culture icons for costume inspiration, she researched everyday mementoes: like, high school yearbooks, family photos and documentary footage, plus reached into her own memory vault for visual experiences she had living and breathing the era. To develop the character of each Jacobs family member, Vastola assigned and highlighted specific '90s fashion trends that will definitely give you the warm and fuzzies.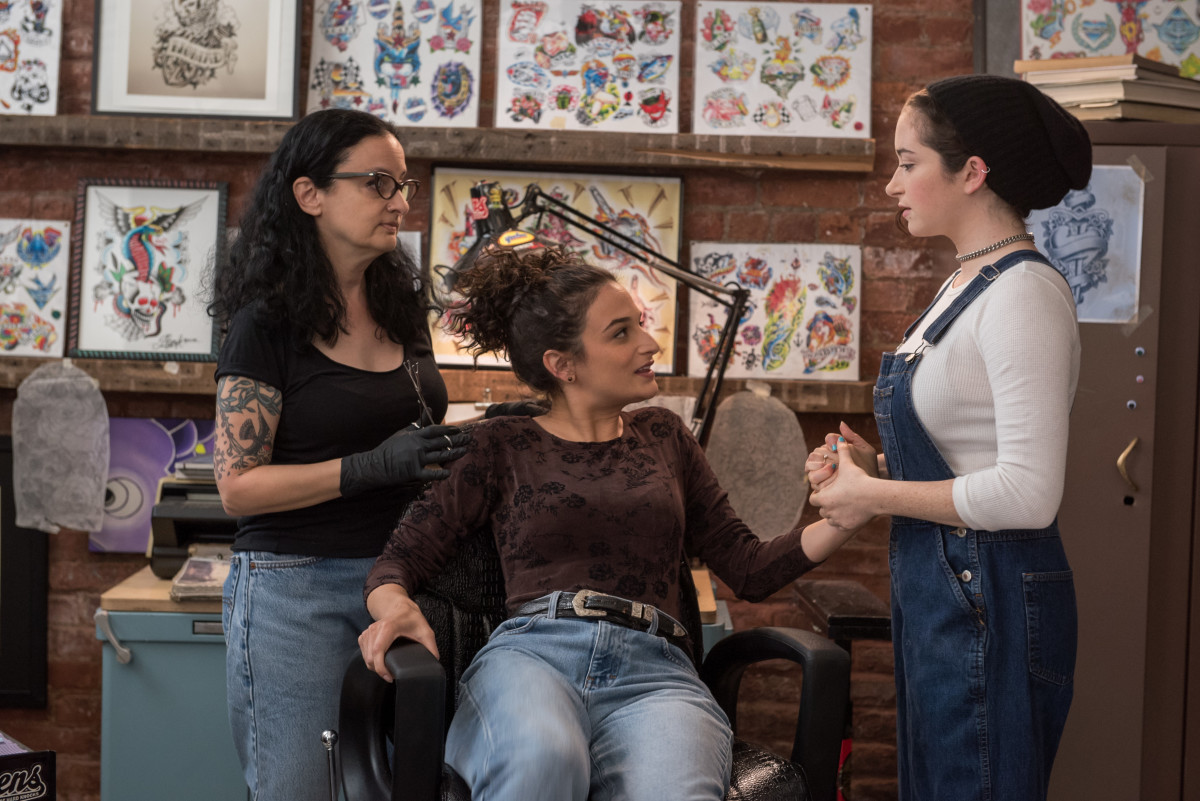 "[Dana is] exposed to a little bit more of a mature '90s style," says the costume designer, who's currently working on a different version of New York City in the second season of "Jessica Jones," over the phone. Slate's character is more straight-laced and "bookish," while working a downtown media job at Paper magazine. (Ah, print.) Dana's aesthetic is the '90s version of "bohemian" (not boho as we know it now): earthy '60s-inspired deep burgundies and browns, rich natural textures, like knits and suede and body-conscious silhouettes, like a snap-crotch bodysuit that has a particularly glorious moment. Baggier, stone-washed high-waisted mom jeans were also in order — but real vintage (not contemporary '90s-inspired) ones. 
"It was important for Jenny to not wear jeans that she could necessarily wear in Williamsburg today," Vastola says. "She wanted them to feel a little more specific and more appropriate of '95 and less of 2017."
Back-talking, trouble-seeking little sis Ali kind of wears her feelings. "I like to call it a 'baby doll grunge' kind of feel, which is pretty exemplative of her character," the costume designer says. Ali definitely shopped in the skater-grunge section of the Delia's catalog: chokers, Dickies overalls, baby T-shirts, sidewalk-dragging flared jeans, knit beanies, thick-soled work boots (referred to by her parents as "corrective-looking") and rainbow-sleeved skater girl jacket. "She's definitely influenced by the rave and grunge culture of the '90s that came to exemplify rebellion and independence," says Vistola.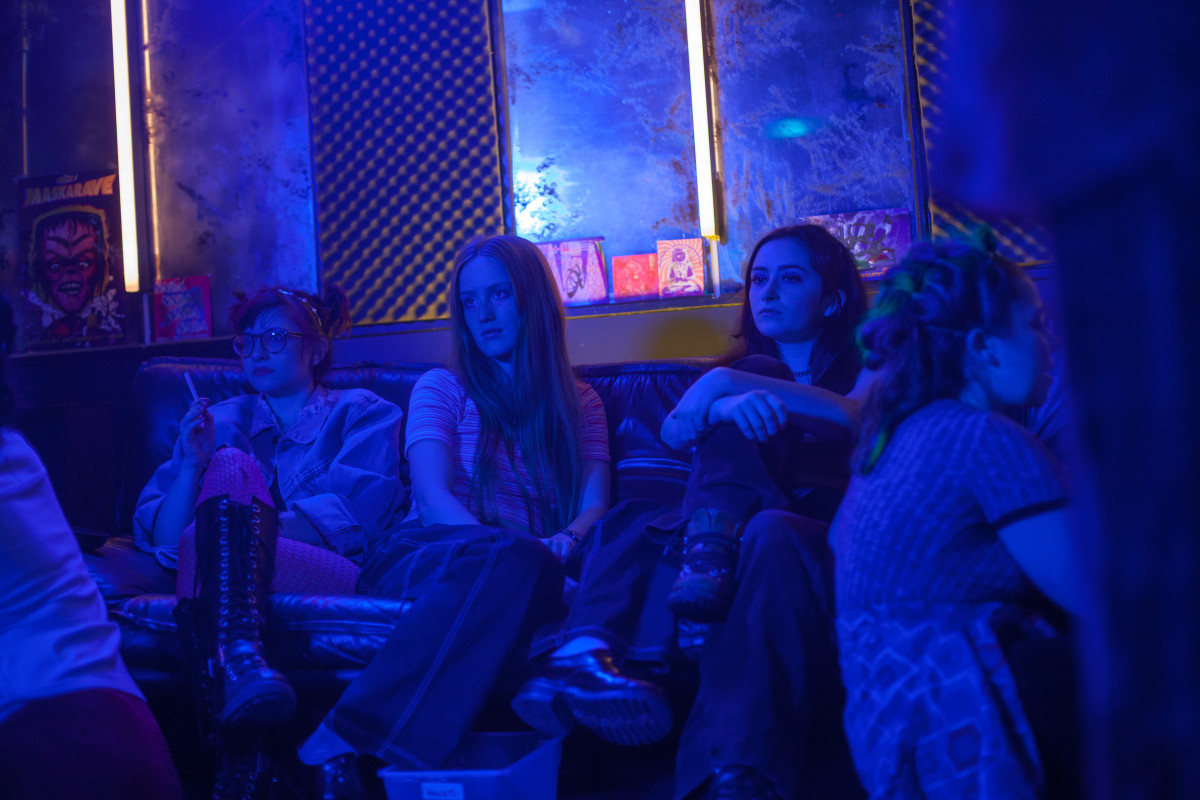 At one point Ali sneaks out to meet her friend at a meticulous replication of the famed N.A.S.A. non-alcoholic (a.k.a. teen) night at house and techno club, The Shelter, which Robespierre herself frequented. To outfit approximately 50 raving extras for that scene, Vastola looked to, of course, old Delia's catalogs and images from popular brands at the time, like JNCO jeans. She also watched YouTube footage from The Shelter in its heyday and promos for theme nights at the subversively cool church-turned-club (and now gym, sigh), Limelight. Then, she scoured eBay, Etsy and thrift stores to find pieces and exact brands from that era.
"It was fun to dress present-day teenagers in those outfits and have them feel like, 'whoa, this is so weird. These pants are so big … and this shirt is so tiny," laughs Vastola.
Successful working mom Pat wears the slightly softer '90s update of the big shouldered '80s power skirt suit, while emulating strong female figures that she admires, including a particularly poignant sartorial homage to then-First Lady Hillary Rodham Clinton. In one scene, Pat watches a TV clip of the future presidential candidate wearing a distinctive pink skirt suit while delivering a speech at the Fourth Women's Conference in Beijing in September of 1995 — fitting right into the scripted moment's timeline and messaging.
"There's something about that suit to me — just from a fashion perspective — that was almost aggressively feminine. It's this Pepto Bismol-color pink and it's almost grating," Vastola says. "I have to believe there was something about that that was subliminally working [in Clinton's mind]." Pat then buys her own version to wear to her own male-dominated workplace, which entailed Vastola and her team sourcing about 20 pink vintage suits from all over the country before settling on what looked like a more mass fashion, department store version of Clinton's pink skirt suit.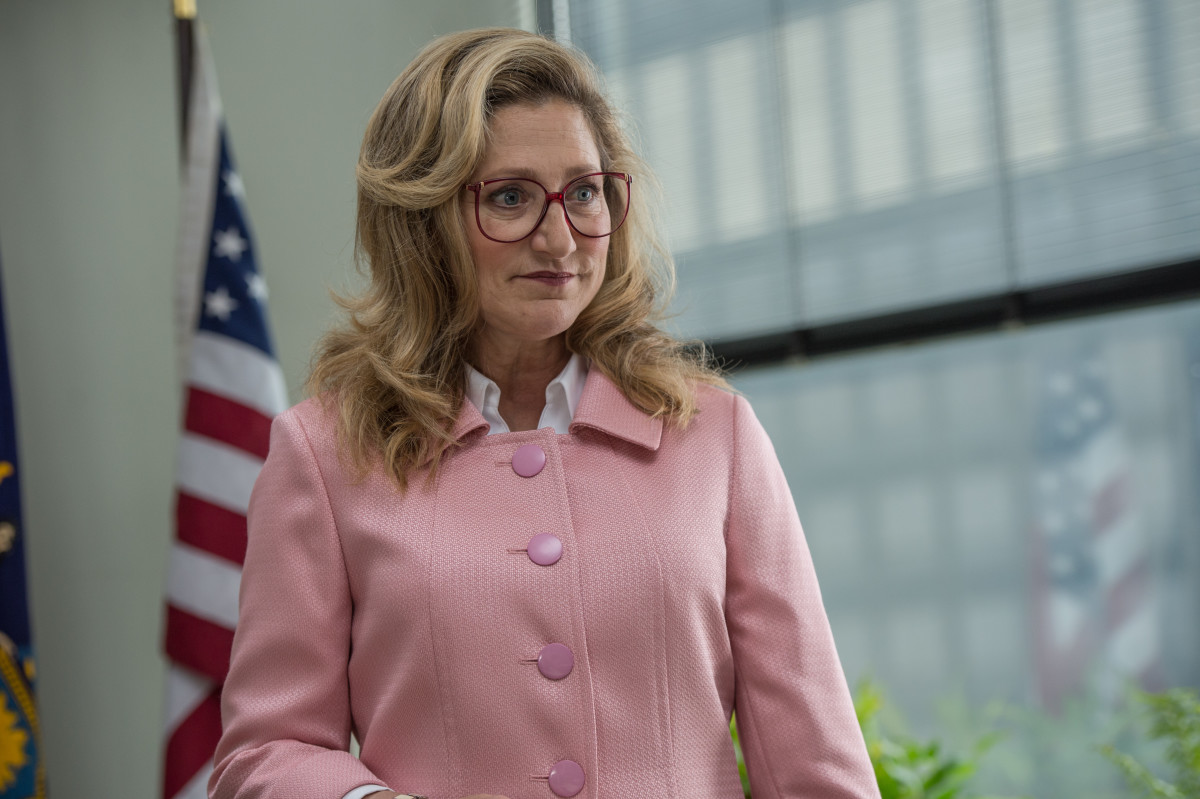 "It's sort of like being a member of the men's group, but also grasping your own femininity and your own power in the same outfit," Vastola says about the look. "It's this push and pull. It's a conservative skirt suit, but it's an almost aggressive color." 
The vast majority of the costumes in the movie are authentic vintage '90s pieces, which also helped the actors get into their characters. "It helps inform the way you carry yourself and the way you feel," she says. In addition to shopping online, Vastola and her team scoured local New York staples like the Brooklyn locations of L Train Vintage and Beacon's Closet. A couple notable pieces — Pat's black sweater and Dana's baggy wool suspender pants worn to family dinner at Benihana — were actually shopped right out of Holm's and Robespierre's moms' closets. 
Although there was one exception. Vastola had to buy contemporary Lee Chinos for Ben because the script called for multiples due to, um, the development of a bodily fluid stain, which a feisty Abby points out during a family road trip. "It would have been very difficult to just have one version of pants for that scene," she laughs.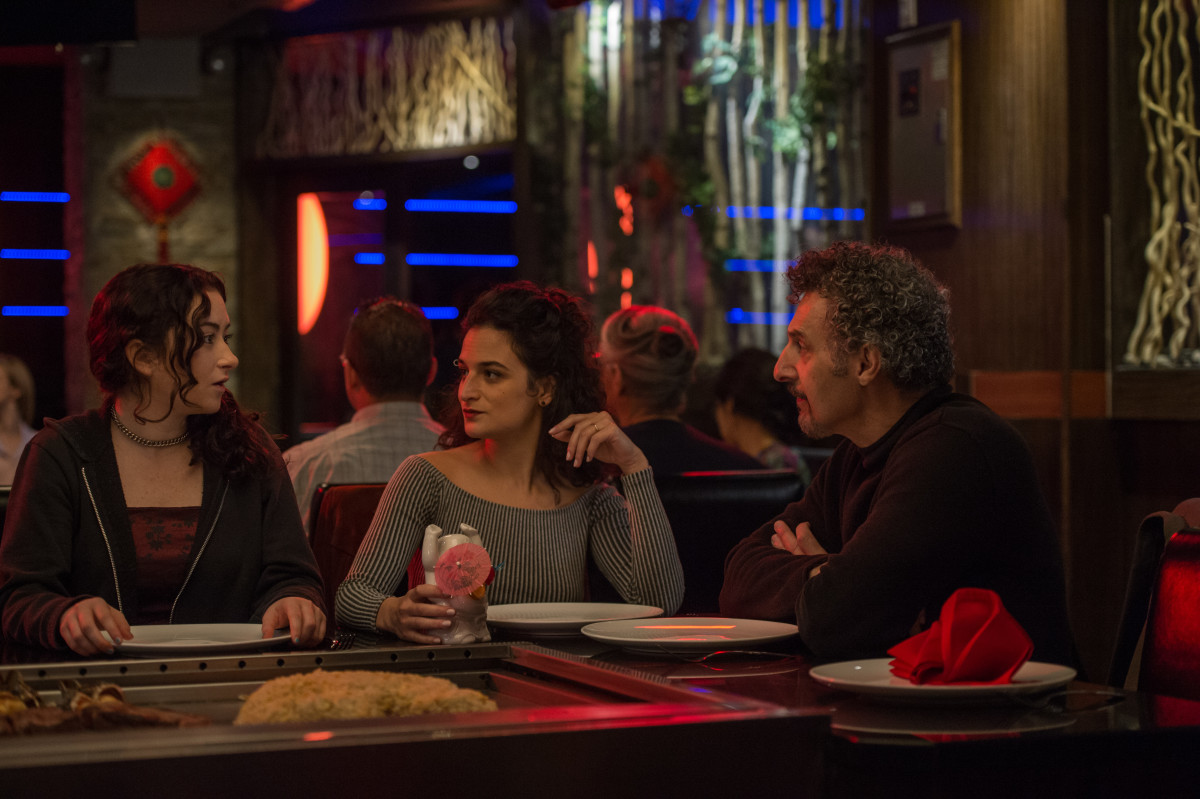 Vastola tried to not outwardly reference obvious pop culture or television figures from the era, but made another exception when it came to dressing Alan, an arty aspiring playwright hidden under corporate suiting. Researching the fashion aesthetic of "middle class men in New York in 1995" proved to be a challenge — menswear wasn't having a moment like it is today — so she turned to a '90s television icon: "Seinfeld. "But not one of his more outré moments like, The Puffy Shirt. 
"I pretty assuredly can say that on 'Seinfeld,' the clothes were just a matter of fact in a really wonderful way," says Vastola. "Jerry was a bit of an influence on Alan, just in the way he wears sweaters and pants." 
But wait, there actually is one pretty spectacular openly pop culture-referencing costume moment, but only becauseDana and Ali head to the famed Greenwich Village Halloween Parade. Vastola avoided the generic "ghosts and clowns" guises to instead pepper the background players in costumes that mimicked real life. You know, how people like to buy or make costumes reflecting the pop culture moments of that year. So keep an eagle eye out for some costume Easter Eggs wandering about in the background. Plus, Dana and Ali's costumes are their own DIY mid-'90s moment.
"If you look closely in that scene, you'll see Ace Ventura and the Kool Aid guy," says Vastola. "But we were careful to make sure no one looked like anything that would exist beyond 1995."
Follow Elisabeth Vastola on Instagram @lizvastola. 'Landline' opens in select theaters on Friday, July 21.
Want the latest fashion industry news first? Sign up for our daily newsletter.