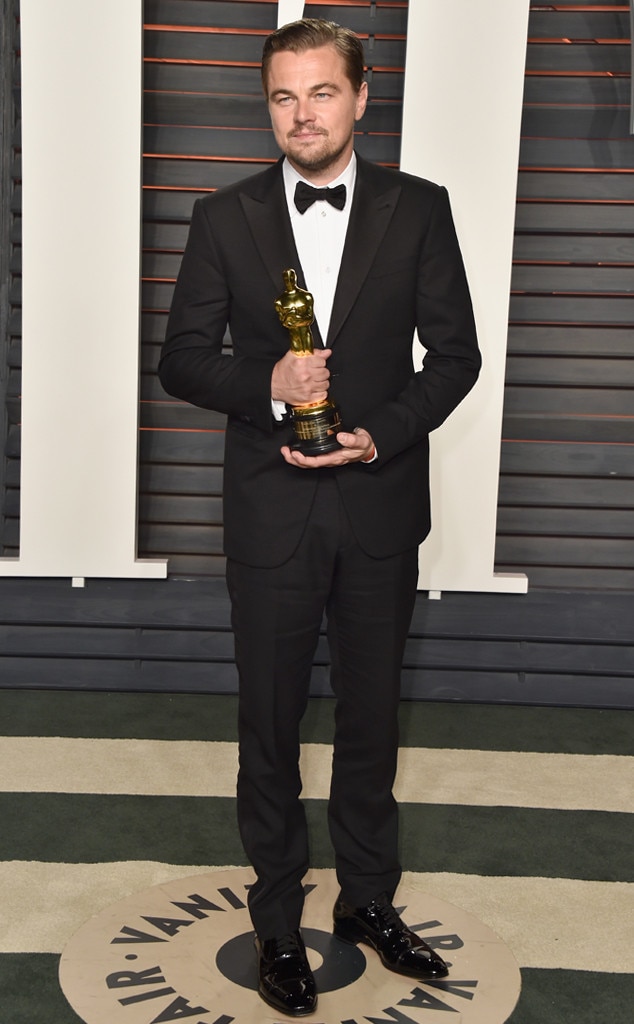 Pascal Le Segretain/Getty Image
Leonardo DiCaprio had to give up an Oscar recently…but worry not! It wasn't the Best Actor trophy he won for The Revenant. 
A few years ago, the actor was gifted Marlon Brando's statuette by The Wolf of Wall Street production company Red Granite as a means of celebrating the film's wrap.
However, similar to the DiCaprio's character in the film, Red Granite is allegedly tangled up in its own money-laundering scheme, which has lead to an investigation by the Department of Justice as well as a new government filing by the U.S. Attorney's Office's Money Laundering and Asset Recovery Section.
According to Deadline, the filing states that funding for Red Granite films—such as Dumb and Dumber To and Daddy's Home—allegedly came from stolen Malaysian funds. The filing also claims that some of the artwork Red Granite gifted to DiCaprio (including the Oscar) was purchased with the alleged embezzled money.
Thus, DiCaprio was proactive and voluntarily surrendered the Oscar to the government as the investigation continues.
A spokesperson for the actor released a statement, saying, "Last July, upon hearing of the government's civil action against certain parties involved in the making of The Wolf of Wall Street, Mr. DiCaprio's representatives—working under his instruction—initiated contact with the Department of Justice. This effort was to determine if there were any gifts or charitable donations originating from the parties named in the civil complaint, and to offer the return of any such gifts or donations with the aid and instruction of the government."
The statement continued, "Prior to the government's filing of the civil pleading…Mr. DiCaprio initiated return of these items, which were received and accepted by him for the purpose of being included in an annual charity auction to benefit his eponymous foundation. He has also returned an Oscar originally won by Marlon Brando, which was given to Mr. DiCaprio as a set gift by Red Granite to thank him for his work on The Wolf of Wall Street. Mr. DiCaprio is grateful for the support of the government in this effort, and continues to hope that justice is done in this matter."
A spokesperson for Red Granite also commented, saying, " As we have previously disclosed, Red Granite is actively engaged in discussions with the Justice Department aimed at resolving these civil cases and is fully cooperating. In the meantime, Red Granite remains an active production company, moving ahead to complete post production work on its next feature film while developing exciting new projects."