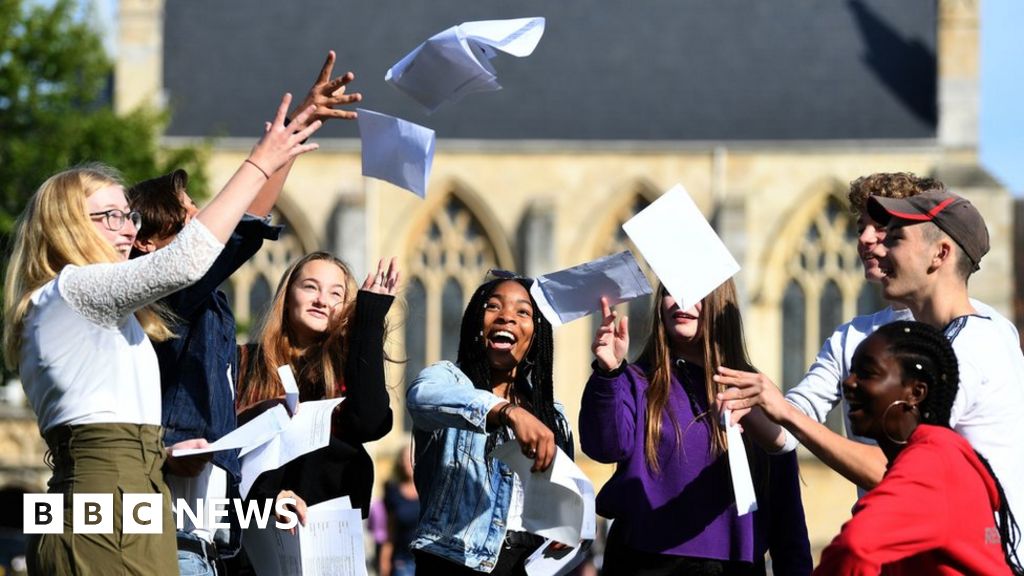 There has been a slight increase in the GCSE pass rate and the percentage of top grades this year, despite concerns about the difficulty of exams.
The pass rate edged up to 67.3% in England, Wales and Northern Ireland – up 0.4 percentage points on last year.
The percentage of papers given a top grade (7 or A and above) rose 0.3 percentage points to 20.8% on 2018.
The rise comes as head teachers in England warned toughened GCSEs were demoralising some candidates.
More than 700,000 teenagers are receiving their GCSE results in England, Wales and Northern Ireland, after a string of reforms to the exams system.
Exam boards and exam regulators make efforts to hold standards steady so as not to disadvantage pupil sitting new exams.
A new numerical grading system and tougher exams have been introduced in England, while elsewhere many GCSEs are still graded A* to G.
In England, 837 candidates got a clean sweep of 9s – the very top grade – in all their subjects.
However, head teachers have warned that some lower-attaining pupils have been so disillusioned they refused to sit the exams or even their mocks.
Why pass rates never change much
England's exams regulator Ofqual and the exams board insist they are keeping standards the same over time through a system of comparable outcomes.
Exam boards do this by making adjustments to grade boundaries during the marking process, having married the difficulty of papers with the predicted ability of the group of students sitting the exams.
This means the percentages achieving different grades nationally never changes very much from year to year.
But where exams are perceived harder, the grade boundaries may be lowered. For example, on Pearson/Edexcel's higher maths paper, the pass mark – (a 4 in England) – was just 22%.
Schools Minister Nick Gibb said the comparable outcomes system ensured that candidates were not treated unfairly by the raising of standards.
But Geoff Barton, general secretary of the heads' union ASCL, said while the increased rigour may have been in the interest of the more able students, it had come at the expense of the more vulnerable ones.
He called for the exams to be tweaked to make them "less of an ordeal" and said a more "humane way" to assess the abilities of young people was required.
How hard are the GCSEs?
An illustration of how tough some of these exams were is shown by where grade boundaries were set for Pearson/Edexcel's science papers.
In the chemistry paper, a pass was awarded at 22.5% while those getting a grade 9 (the equivalent of an A**) could afford to get 20% of the paper wrong – as the very top grade was awarded at 80%.
In physics, the pass mark was 26.5% – and to get a 7 (formerly an A), 62% was required. Grade 9 candidates needed to get 77% of the paper correct.
While in French, for the same exam board, a pass was a score of 30% and a grade 9 was 81%.
The National Education Union warned of the impact these tougher exams were having on student mental health and wellbeing, adding that many young people were left feeling "disillusioned, disengaged and stressed".
And the National Association of Head Teachers said there was a risk the "general" element of the GCSE was being lost, which was a "disservice to all concerned".
Other key facts
There were an estimated 5.2 million GCSE entries – up 50,000 on 2018, a 1.4% rise, reflecting a 1.5% rise in the 16 year-old population.
But entries in some subjects, notably those included in the English Baccalaureate (EBacc) group now used as a school performance measure, are rising at a faster rate:
English: 4.4%
maths: 4.2%
double science: 4.8%
history: 7.1%
geography: 3.4%
modern languages: 3%
computer science: 7.2%
Art and design also saw an increase, of 9.5%, as other equivalent arts subjects declined.
The results also show:
Boys continue to do better than girls in maths
Boys continue to do better than girls in physics and chemistry but by less than in 2018
Girls continue to do better than boys in biology but by less than in 2018.