By AbdulSalam Muhammad
KANO- Governor Abdullahi Umar Ganduje of Kano state Tuesday distributed drugs, malaria test kits and treated mosquito nets worth over N350m to 748 healthcare facilities across the 44 local government areas of the state.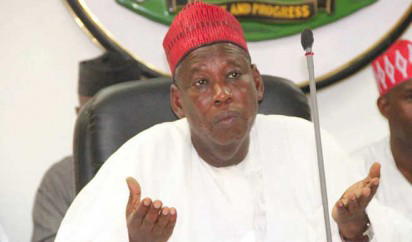 Ganduje
Similarly, no fewer than 11 motorized fumigation machines were also distributed for regular fumigation of the environment against mosquitoes.
Consequently, the state government has engaged the Services of 3000 health workers that included over a thousand workers.
Speaking during the distribution of the materials at the government house, Governor Abdullahi Umar Ganduje charged members of the general public on cleanliness saying it is the only way to guard against infection.
Ganduje reiterated the commitment of the state government in ensuring that the people of the state stay safe from menace of malaria.
''Already we have introduced one programme, ''keeping our drainages clean''. We are reconstructing our drainages, we're rehabilitating our drainages, we are making our drainages covered so that we can control
the menace of mosquitoes, cockroaches and other infectious insects''.
Earlier in his speech the state's commissioner for health Dr Kabiru Ibrahim Getso described malaria as the common health problem in Kano accounting for over a million outpatient visits and consultations at
the health facilities across the state every year.
According to him "In Kano malaria is the single most common reason for outpatient consultation and visits, it is estimated that in 2016 alone more than one million hospital visits are due to this preventable
disease(malaria). In economic terms, malaria morbidity and mortality has led to loss of billions of naira in cost of drugs."
"Since the inception of this administration in 2015, Kano state government has consistently demonstrated its support and commitment to
significantly reduce morbidity and mortality resulting from malaria.