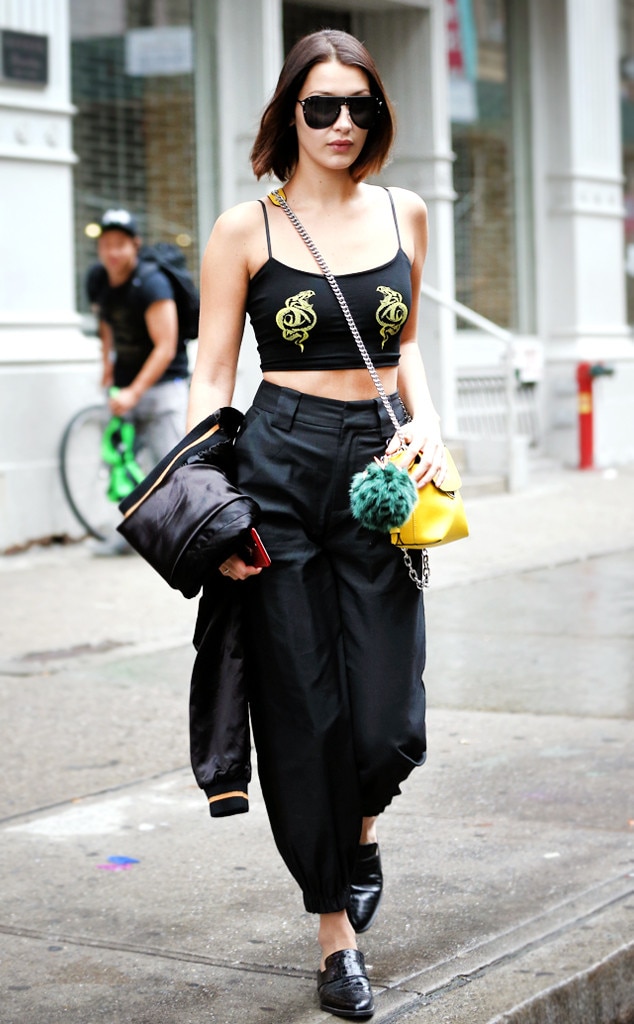 Christopher Peterson/Splash News
Do our eyes deceive us or is Bella Hadid a hardcore Harry Potter fan?
The model was photographed outside an Alexander Wang fitting in NYC, wearing black oversize sunglasses, loafers and high-waist pants for an almost incognito look. What gave her away? Her crop top, which featured two large, yellow serpents on both sides of the tank top.
At first glance, we were overcome with glee with the thought that the top model might be a fiction nerd and even a fan of "those cunning folk" who "use any means // To achieve their ends," as the wise old Sorting Hat would suggest.
After more careful expectation, it turns out that Bella was taking more inspiration from Asian motifs than the great House of Slytherin. She paired her all-black ensemble with an I.Am.Gia Samurai Crop in Black Yellow ($48!) and I.Am.Gia Cobain Cargo pants, which you can pre-order for $88. Considering the thousands of dollars the model is about to flaunt during jaunts down the runway, we're pretty impressed by this relatively affordable look. The furry Fendi Fruit Charm on her bag, which comes in at a whopping $750, however, kind of puts her outfit over our budget.
This isn't the first time Bella's been spotted in the brand, which puts an edgy, It Girl spin on styles found during underground fashion movements—she once stepped out in a khaki version of the same black pants above, pairing it with a white crop top, red crocodile handbag and matching sunglasses. Another time, the model stepped out in the brand's Keidis top, a tied-up plaid blouse, and Tyler skirt, a black denim bottom with studs accentuating the sides.
Whether it's Slytherin or alternative fashion, she looks badass either way.