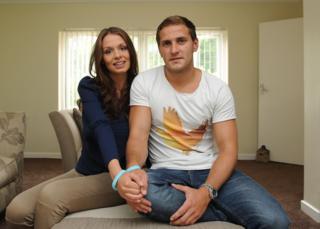 Derby County FC has handed a lifetime ban to a fan who posted "abusive" tweets about the death of Sheffield United striker Billy Sharp's son.
The boy, Luey Jacob, was born with his intestines outside his body – known as gastroschisis – and died just two days after his birth in 2011.
Derby County officials tracked down the fan and interviewed him.
He has since deleted the tweets and the club said he had apologised to them for what he did.
The tweets were posted after Derby County played Sheffield United at Bramall Lane on Saturday.
More stories from the East Midlands
The fan, called Jordan Byrne on Twitter, retweeted a message from the official Derby County Twitter feed about Sharp scoring a goal, but added the words "Dead son".
A friend then asked him: "Everything okay at home Bernie?x"
He responded by saying: "Billy Sharp's son is dead x"
The tweets came to the attention of Sharp and his partner Jade Fair, who both tweeted about it.
The couple previously set up the LJS Foundation to raise awareness of gastroschisis and money for research.
Derby County said in a statement: "While he apologised for his actions, Derby County stand firm that behaviour of this nature is entirely unacceptable and requires strong action.
"Derby County condemns all forms of abuse and will act quickly to punish anybody who is responsible for this type of grossly offensive behaviour."
The lifetime ban prevents the fan from attending any Derby County games, home and away, with immediate effect.